Featured Video
This Week in Quality Digest Live
Creaform Inc.
CMSC
Creaform's MaxSHOT Next Receives Red Dot Award: Product Design 2017
Published: Tuesday, August 8, 2017 - 10:49
(Creaform: Costa Mesa, CA) -- Creaform, a global leader in portable 3D measurement solutions and engineering services, has announced that its latest product innovation is the recipient of the prestigious Red Dot Award: Product Design 2017, one of the most sought-after international quality marks for good design. The MaxSHOT Next optical coordinate measuring system was selected among 5,500 entries from 54 countries for its high design quality and innovation.
The new MaxSHOT 3D is designed to provide users, and not just metrology experts, with photogrammetry abilities while enabling them to move freely around the parts, thanks to its new design and enhanced capabilities. Building on the product's portability and unique characteristics that make it ideal for photogrammetry applications, the MaxSHOT 3D features simple lines that are integrated into a sleek, funnel design that evoke precision:
• Lightweight proportioned construction and well-balanced center of gravity for maximum freedom of movement
• Intuitive grip designed for effortless operations around large parts
• Integrated laser indicators that reflect on parts for live feedback, which guides users to take the right pictures
• Heat-sink optimized with computational fluid dynamics (CFD) heat transfer analysis
• Multifunction buttons that ensure increased user efficiency and complete integration with Creaform's VXelements 3D software platform and application suite
"The MaxSHOT 3D represents an accomplished interplay of geometric forms," notes the Red Dot Design Award jury. "Moreover, thanks to its optimally balanced center of gravity, the device rests well in the hand."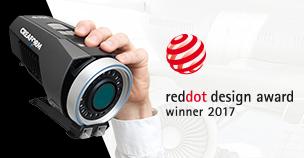 "The MaxSHOT 3D is a great design at the intersection of form, function, and user experience," comments Nicolas Lebrun and François Lessard, the two industrial designers behind its design. "Ergonomics were a priority to achieve a product design that is functional and meets application requirements. Since photogrammetry includes taking pictures all around a measured part, from several angles, the device had to be easy and comfortable to operate. The MaxSHOT 3D offers an experience that sets it apart from traditional photogrammetry devices—all the while being a sensible alternative to laser trackers."
"The MaxSHOT 3D is the third technology in our lineup of metrology solutions to win a Red Dot Design Award," says Marco St-Pierre, vice president of innovation and technology at Creaform. "It follows the HandySCAN 3D in 2015 and another quality control solution last year that included the MetraSCAN 3D, HandyPROBE and C-Track, which also caught the eye of the jury.
"Recognition by such a reputable organization is a mark of excellence and a testament to the quality products we strive to develop for our customers," he adds.
The MaxSHOT 3D made its first appearance in May 2017 at CONTROL in Stuttgart, Germany, and moves on to other trade shows across America, Europe, and Asia. For a complete list of upcoming events, visit Creaform's website.
About The Author

Creaform Inc.
Creaform helps companies seamlessly create, simulate, verify, and collaborate in 3D, significantly enhancing their turnaround times and profitability. In addition to designing and selling its 3D laser scanners/systems, 3D digitizers, portable CMMs, dual camera sensors, and distributing other 3D measurement systems and software, Creaform offers design and engineering services, reverse engineering, finite element analysis, 3D and long-range scanning, inspection, training, and staff outsourcing.