Featured Video
This Week in Quality Digest Live
Creaform Inc.
CMSC
Creaform Launches VXelements 6.0
Published: Wednesday, May 17, 2017 - 12:25
(Creaform: Costa Mesa, CA) -- Creaform, the worldwide leader in portable 3D measurement solutions and engineering services, recently announced the launch of its latest version of VXelements 3D software platform and suite of applications, bringing a more comprehensive experience for users with unmatched hardware-to-software synergy for reverse engineering, rapid prototyping, and dimensional inspection.
Some of the key additions in both modules include:
VXinspect—Dimensional inspection software module

• Optical probing with MaxSHOT 3D. Users can extract entities automatically from targets and combine scan with optical probing data to get more complete inspection results. Even better, it's possible to get a colormap from best-fit photogrammetry model to CAD files in a simple mouse click.
• Faster inspection from scan data. With the VXelements' improved workflow, alignment methods for enabling surface best-fit constrains and new interactivity in its 3D viewer for feature creation, users have the tools to work faster and smarter.
VXmodel—Scan-to-CAD software module

• Interoperability with Solid Edge. With a single click, users can now transfer data from VXmodel directly to leading third-party software, including SOLIDWORKS, Autodesk Inventor, and now Solid Edge, providing even more flexibility and integration into user workflows than before.
• Alignment optimization. Enables simplified management of its alignment process for projects with multiple STL files.
"The VXelements algorithms seamlessly simplify metrology for users from different levels of expertise so they can access a wide range of powerful new features to improve productivity, time-to-market, and operating costs," explains Daniel Brown, product management director at Creaform. "New software capabilities and improvements made to the VXinspect and VXmodel modules address the industry's needs for fast highly accurate results—in both design and inspection workflows. We are excited to put more power, as well as user-friendly photogrammetry capabilities, into the users' hands so they can be confident their results meet their industries' strict requirements."
You can see Creaform's new products at www.creaform3d.com.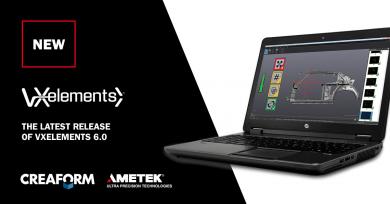 About The Author

Creaform Inc.
Creaform helps companies seamlessly create, simulate, verify, and collaborate in 3D, significantly enhancing their turnaround times and profitability. In addition to designing and selling its 3D laser scanners/systems, 3D digitizers, portable CMMs, dual camera sensors, and distributing other 3D measurement systems and software, Creaform offers design and engineering services, reverse engineering, finite element analysis, 3D and long-range scanning, inspection, training, and staff outsourcing.