This Week in Quality Digest Live
Hexagon Manufacturing Intelligence
CMSC
Hexagon Manufacturing Intelligence Features Carbon Composite Inspection System at WESTEC 2017
Published: Wednesday, August 16, 2017 - 09:07
(Hexagon: North Kingstown, RI) -- Hexagon Manufacturing Intelligence today announced it will showcase a new carbon composite inspection system for the aerospace industry in booth No. 1303 at WESTEC 2017, taking place at the Los Angeles Convention Center from Sept. 12–14, 2017. Based on Apodius 3D technology, the new technology offering features advanced inspection and analysis of lightweight carbon-fiber components at an unprecedented level of speed and detail. The unique solution automates the manual visual inspection process of carbon composites, and helps to reduce component weight and material usage. The system is comprised of a portable ROMER Absolute Arm with Integrated Scanner, the HP-C-V3D Apodius Vision Sensor camera-based scanning hardware, and the custom-built Apodius Explorer 3D real-time software package. For more additional product details and an informational video, visit online here.
Also at WESTEC, Hexagon thought leaders will speak during WESTEC's new Smart Manufacturing Seminar Series designed for manufacturers who rely on Industry 4.0, and those who have not made the move. On Tuesday, Sept. 12, at 1 p.m., Scott Everling and Don Manfredi will present "Automation and Smart Quality for Aerospace Application." During this presentation, manufacturers will learn from an automation viewpoint how to leverage flexible measurement technologies to validate processes and enable data-driven decision-making throughout the product lifecycle. Metrology and automation will be explored in terms of driving continuous improvement in every stage of the manufacturing process. The speakers are both members of the Integration Solutions Business Unit at Hexagon Manufacturing Intelligence.
"Our focus for WESTEC is smart quality and the potential of smart, data-driven manufacturing. We are excited to showcase a significant measurement offering for the carbon-fiber composite industry, a sector that continues to experience exponential growth," says Zvonimir Kotnik, director of business operations at Hexagon Manufacturing Intelligence North America. "The composite inspection system merges the existing strengths of the ROMER Absolute Arm product line with the sensor and software expertise of Apodius. This collaboration has produced a quality assurance solution that will fuel further advancement of this sector."
The ROMER Absolute Arm SI acts as a global reference system for data collected by the composite inspection system, addressing a wide range of industries including aerospace, automotive, transportation, marine, electronics, infrastructure, and more. This solution delivers high-definition fiber orientation and geometry measurement, as well as complete three-dimensional model creation and analysis. Operators can perform actual-to-target value comparison and detect, document, and classify previously difficult to define composite production errors. The new product is compatible with all ROMER Absolute Arm SI models and is available worldwide through local Hexagon Manufacturing Intelligence sales offices.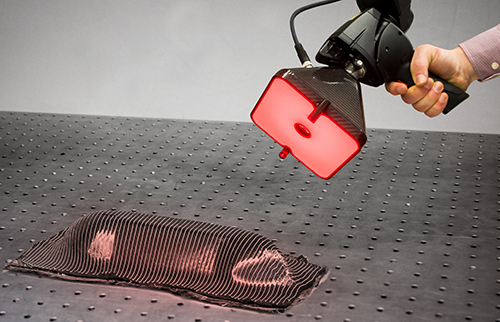 About The Author

Hexagon Manufacturing Intelligence
Hexagon Manufacturing Intelligence helps industrial manufacturers develop the disruptive technologies of today and the life-changing products of tomorrow. As a leading metrology and manufacturing solution specialist, our expertise in sensing, thinking and acting – the collection, analysis and active use of measurement data – gives our customers the confidence to increase production speed and accelerate productivity while enhancing product quality.
Hexagon Manufacturing Intelligence is part of Hexagon, a leading global provider of information technologies that drive quality and productivity across geospatial and industrial enterprise applications.