This Week in Quality Digest Live
Belinda Jones
CMSC
CMS to Conduct Pilot Testing for CMM and 3D Scanner Certifications at CMSC 2018
Published: Wednesday, March 28, 2018 - 15:03
In 2013, the Coordinate Metrology Society (CMS) launched the first level-one certification for 3D portable measurement professionals. Since that time, the organization has consistently rolled out additional assessments to support the industry. This year is no different. The CMS has announced plans to launch two new certification programs in 2018. First, the CMS Certification Committee will offer a pilot examination for the industry's first level-one certification for coordinate measuring machines (CMM) operators. The proctored, online assessment consists of about 200 multiple choice questions covering foundational theory and CMM common practices. The CMM community is invited to take the pilot exam at no cost during the Coordinate Metrology Society Conference (CMSC) in Reno, NV from July 23–27, 2018. To participate, candidates must register online at http://cmscevents.org/2018_CMM_pilot.html.
Next, the society will offer a pilot assessment for a new CMS level-two certification for 3D scanner users. The 3D scanner community is invited to take the pilot exam at no cost during CMSC 2018. The hands-on, device-specific assessment will be conducted by CMS-authorized proctors. Applicants for CMS level-two certifications must register online at http://cmscevents.org/2018_3dLaserScannerPilot.html. First come, first served. Early registration is encouraged.
"Industry demand is driving our efforts behind these two new certifications designed to recognize critical knowledge and skill sets needed in manufacturing and scientific research," states Randy Gruver, chair of the CMS Certification Committee. "We are pleased to expand our traditional membership of portable metrology users to include CMM professionals, a community that has lacked the opportunity to gain credentials for their specialized expertise in measurement and inspection. The pilot testing phase is an important step in the development of the CMS level-one certification for CMMs and the CMS level-two certification for 3D scanners. Users are encouraged to take the pilot exams to prepare for the official assessments to be rolled out later in the year."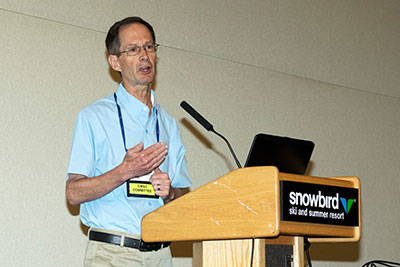 Image: Randy Gruver, CMS Certification chair, gives the organization a progress update at CMSC 2017.
The Coordinate Metrology Society offers a comprehensive, two-tiered certification program for metrologists to reach their professional development goals. The CMS certification credential aids in quantifying an employee's knowledge of metrology, which is essential to ISO-certified manufacturers and companies with quality management systems. The current portfolio includes a level-one certification for 3D portable metrology users that covers foundational theory and best practices. Level-two certifications recognize specialized hands-on knowledge used to perform tasks with specific measurement devices. The level-two certification examinations are conducted by CMS-authorized proctors for users of articulating arms and laser trackers. All candidates must complete the application process and qualify to take the assessments.
Level-one certification applicants must meet eligibility requirements, sign the CMS code of ethics, and pass a peer review. CMS level-two certification applicants must have a level-one certification and two years of experience (minimum 400 hours) on an articulating arm or laser tracker. In addition, they must submit an application with two references who can attest to the applicant's hands-on expertise. The CMS Certification Handbook, with guidelines and application forms, is available online at the CMS website at https://www.cmsc.org/cms-certification. For more information, contact the CMS Certification Committee at certification@cmsc.org.
About The Author

Belinda Jones
Belinda Jones is the founder and owner of HiTech Marketing LLC located in Westbrook, Connecticut. For more than a decade, Jones has written articles and commentaries about manufacturing, engineering, quality assurance, CAD/CAM/CAE applications, and other high-tech topics. She has extensive experience in marketing communications, technical sales, and applications engineering. Before joining the computer industry, she was a broadcast copywriter for four years. Jones holds degrees in fine arts and mechanical engineering, and studied cultural arts in Europe.