Featured Video
This Week in Quality Digest Live
API Services
CMSC
3D Imaging Proves Insight into Civil War Ship
Published: Thursday, August 18, 2016 - 13:33
Although it sank more than 150 years ago, the USS Monitor has an everlasting place in history.
As one of the first of the so-called "ironclads," the Monitor, along with its Confederate Army foe, the CSS Merrimack, fought to a draw at the Battle of Hampton Roads, VA, on March 9, 1862. From that day forward, all other wooden navies in the world were obsolete.
Later in 1862, the Monitor sank in a storm off Cape Hatteras, NC, where the rusting hull rested until it was recovered by divers in 2002. Artifacts from the craft, including its revolving, cylindrical, 20-ft, two-gun turret, were taken to the Mariners' Museum in Newport News, VA.
Without question, relics from the Monitor are important to history, and the key to future study is preservation. That's where Automated Precision Inc. of Rockville, MD, comes in. Their 3D scanning hardware, not to mention the expertise of their engineers and support of software partners, enable artifacts such as the Monitor's turret to be recorded in the kind of minute detail that would not have been possible even in the recent past.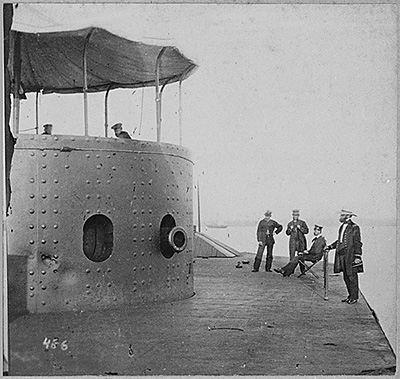 "The technology we have now gives us abilities we didn't have 10 years ago," says Stephen Strand, an applications engineer for API. The technology that Strand is describing here is API's high-accuracy Surphaser laser scanner, which is an exceptionally handy tool for measurement tasks that require complex 3D models. The Surphaser scanner is often used to reverse-engineer objects of mid-size range, including cars, planes, military vehicles, boats, and buildings. The Surphaser laser scanner is capable of taking up to 800,000 points per second.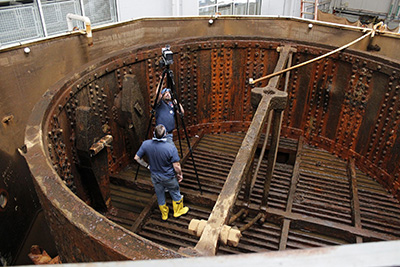 "We're shooting a laser onto the surfaces of the turret and we're using that laser to give us XYZ coordinates," continues Strand. "The Mariners' Museum can then use that data to measure things like dents from cannonballs or the size of the nuts."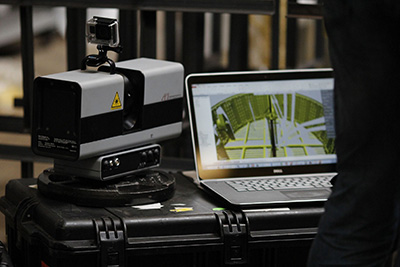 Indeed, for the team at The Mariners' Museum, scans like the one that API has performed, which are analyzed through Geomagic Design X software from 3D Systems of Rock Hill, SC, will assist with the conservation as well as the archaeological research of the turret. "One of the things we're hoping API can do is laser scan this, so we can record data like this cannonball dent and we can look at it, measure it, and do research on it," says Hannah Fleming, maritime biologist and USS Monitor Center coordinator. Fleming has a special interest in the scans: Determining when each cannon ball indent was made, the distance from which the shot was made, which ship was responsible, and in which battle the damage occurred.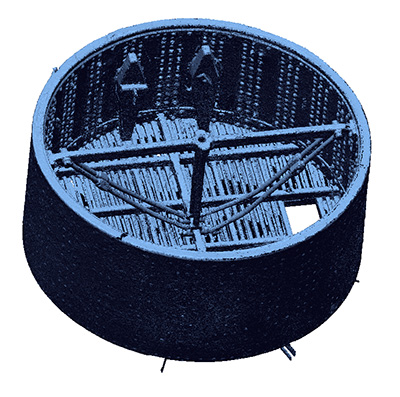 Fleming can certainly tell you a lot about the ship. She's hoping that API's technology and measurement expertise will give her even more insight.
"Using imaging like this, we'll be able to actually see all the dings, all of the dents, all of the imperfections in the surface and we'll be able to study those," Fleming says. "So they can go in and take a measurement, and say, 'This dent is six inches deep,' so we know how big the cannonball was from that, and then we can figure out what ship fired that cannonball."
With this technology, there is hope to discover more about the life of the historic warship.
The Monitor Foundation will be processing the data collected over the next year. For more on this story, check out the following video, courtesy of www.wavy.com.
About The Author

API Services
API Services, a metrology and machine tool calibration service company, has been in business since 2008 and is headquartered in Newport News, Virginia. API Services offers machine tool calibration and repair, contract measurement services, tracker and software training, on-site laser tracker calibration and certification, 3-D laser scanning, customized maintenance and support services, and you can rent or be trained on API equipment. Visit www.apitechnical.com for more information.