This Week in Quality Digest Live
Georgia Institute of Technology
Quality Insider
Wet Dog Trick Leads to Process Improvement
Physics of the furry shake more efficient than mechanical counterparts
Published: Monday, January 10, 2011 - 04:30
If you've ever bathed a dog, you know firsthand how quickly a drenched pup can shake water off. Now researchers at the Georgia Institute of Technology are studying the physics of the wet dog shake to possibly improve the efficiency of washing machines, dryers, painting devices, spin coaters, and other machines.
David Hu, assistant professor of mechanical engineering at Georgia Tech, and mechanical engineering graduate student Andrew Dickerson, who led the project, recently captured 40 different animals—13 species total—using high-speed videography along with X-ray cinematography to see the details of how a mammal shakes itself dry.
The new research was presented at the 63rd annual meeting of the American Physical Society's Division of Fluid Dynamics last month.
"We hope the findings from our research will contribute to technology that can harness these efficient and quick capabilities of drying seen in nature," Dickerson says.
The Georgia Tech researchers found that animals oscillate at frequencies sufficient to lose water droplets, and that shaking frequency is a function of animal size.
The larger the animal, the more slowly it shakes dry, say Hu and Dickerson. For example, a mouse moves its body back and forth 27 times per second, but a grizzly bear shakes four times per second. The tinier mammals can experience more than 20 g of acceleration.
Mammals with fur, unlike humans, tend to have loose skin that whips around as the animal changes direction, increasing the acceleration. This is crucial to shaking success, and subsequently, body heat regulation.
"What would you do on a cold day if you were wet and could not towel off or change clothes?" says Dickerson. "Every warm-blooded furry creature faces this dilemma often. It turns out that oscillatory shaking exhibited by mammals is a quite efficient way to dry."
Hu and Dickerson will continue to look at how animals interact with water in the natural world. Specifically, the researchers want to investigate how animals, such as beavers and otters, have adapted to life in the water and how water droplets interact with hair.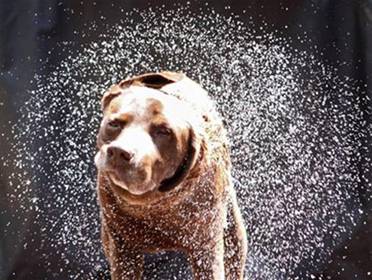 About The Author

Georgia Institute of Technology
The Georgia Institute of Technology is one of the nation's top research universities, distinguished by its commitment to improving the human condition through advanced science and technology. Georgia Tech's campus occupies 400 acres in the heart of the city of Atlanta, where 20,000 undergraduate and graduate students receive a focused, technologically-based education.