Featured Video
This Week in Quality Digest Live
Direct Dimensions Inc.
Metrology
College Race Car Team Designs New Engine with Laser Scanning
3-D CAD model helps reengineer snowmobile engine
Published: Tuesday, November 2, 2010 - 06:00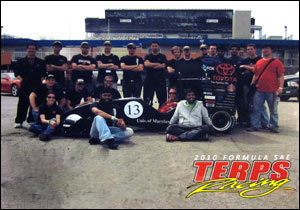 (Direct Dimensions Inc.: Owings Mills, MD) -- Every year a select group of students in the mechanical engineering program in the A. James Clark School of Engineering at University of Maryland in College Park, Maryland, compete in the Formula SAE (Society of Automotive Engineers) competition. The FSAE competition requires the team of students to design, build, and race their own open cockpit race car.
The University of Maryland team, called Terps Racing, consistently finishes in the top 10 against 80 to 120 other school programs annually. Aiming for a first-place finish in the upcoming races, the team is experimenting with a new engine design.
The small autocross cars, usually weighing between 300 and 500 pounds, typically run on modified motorcycle engines. But Terps Racing is experimenting with using a snowmobile engine for the upcoming 2011 races.
During the design phase for a new gearbox for this engine, the students realized they needed a 3-D CAD model of their snowmobile engine so that they could accurately design within the tight tolerances necessary to the mounting points.
Terps Racing approached Direct Dimensions Inc. (DDI) for help with creating a dimensionally accurate 3-D model of the engine to aid in their design. Following is a review of the major steps in this process: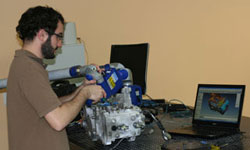 Step 1: Using a combination of FARO's portable coordinate measuring machine arm and laser scanner, Direct Dimensions' engineer Michael Lent digitized the important geometric interface features on the engine. He then captured the complex casting shape with an attached laser line probe. The FARO system was a great fit for this project, because it provides a contact probe for high-accuracy geometric features and a noncontact laser scanner for the complex contoured surfaces.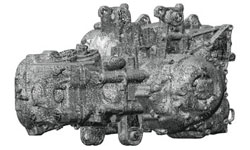 Step 2: Using a variety of software, including PolyWorks, Geomagic, Rapidform, and SolidWorks, the Direct Dimensions engineers quickly merged and modeled the 3-D digitized data with the laser-scanned point clouds into a hybrid of a parametric, solid-based feature model with the watertight complex NURBS surfaces.This file is readily usable within CAD software, such as SolidWorks, for the redesign effort.
Step 3: This final hybrid model, which offered the exact representation of the mounting interfaces as well as the accurate contoured cast surfaces, will be used by Terps Racing to design its 2011 car.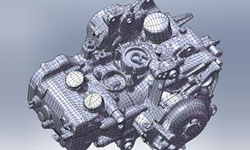 This isn't the first time DDI helped a race car team at the University of Maryland. One of the first projects ever performed by the DDI engineers back in 1995 involved the use of the FARO Arm to align the wheels of the university's solar car prior to a critical race. How fitting to come full circle with this new project.
Good Luck Terps Racing in the 2011 races!
About The Author

Direct Dimensions Inc.
Direct Dimensions Inc. (DDI) provides products and service solutions to complex modeling and manufacturing problems, specializing in the on-site application of digitizers, laser scanners, and the conversion of complex 3D data into 3D computer models. DDI enables innovators to capture, model, and modify complex physical shapes, such as organic human forms, that would otherwise be impossible to design even with today's advanced CAD systems. DDI's engineers provide data measurement, inspection, and reverse engineering solutions in product evaluation, development, and manufacturing; in cultural preservation; medical prosthetics; and color 3D imaging for consumer applications.