This Week in Quality Digest Live
Direct Dimensions Inc.
Metrology
Case Study: Moving a Five-Piece, 70-Foot Sculpture
3-D laser scanning and digital modeling allow precise repositioning
Published: Wednesday, October 6, 2010 - 16:08
"The Awakening" is a 70-foot sculpture by J. Seward Johnson that depicts a man struggling to free himself from the earth. The installation, which has been a landmark for nearly three decades in Washington D.C.'s Hains Point, is comprised of five aluminum body parts: a right foot, a left knee, a right arm, a left hand, and a bearded face. It was originally installed in 1980 and became a well-recognized attraction next to the Potomac River. It has been on loan to the U.S. Park Service by the artist.
In 2007, the piece was sold to a developer and it became necessary for the sculpture to be moved.
Moving the sculpture and reinstalling it in its intended orientation proved to be a true logistical and spatial challenge. Jon Lash, CEO of Digital Atelier, called on Direct Dimensions Inc. to find an affordable and accurate solution to document "The Awakening" in its exact current state and provide him with a 3-D plot showing the intersections of the sculpture's mating surface with the ground. The plot would then be used to prepare the new site to receive the sculpture in its original configuration.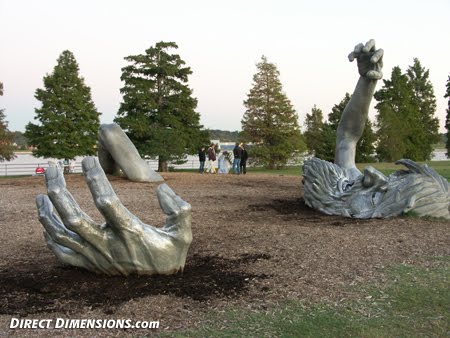 In November 2007, 52 scans of the sculpture were taken on site in Hains Point, both with the Konica Minolta Vivid 9i camera and with the Trimble FX scanner. A spherical scanner such as the Trimble FX captures everything in its line of sight, radiating outward from the scanner's origin.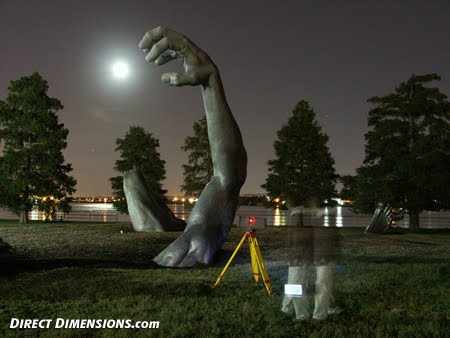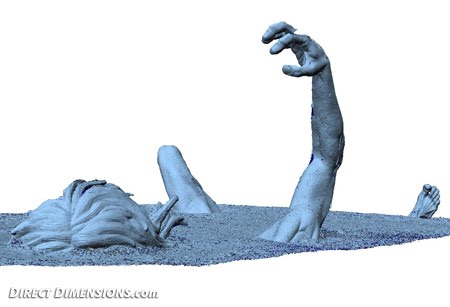 During the scanning process, the sculpture was treated as five individual pieces, with the scanner capturing each individual piece in its entirety, as well as some of the surrounding pieces. This allowed the Direct Dimensions team to reassemble all the pieces together in a single coordinated model, using PolyWorks software. Each scan was scrubbed to pinpoint only the data set required, then properly aligned and polygonized into an integral model.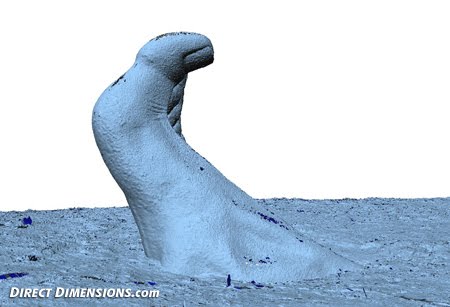 The final deliverables to Digital Atelier were complete 2-D and 3-D plots, which showed the entire sculpture aligned into a single coordinate system. These plots allowed the project's engineers to prepare the new site for the sculpture's relocation, which occurred on Feb. 19, 2008.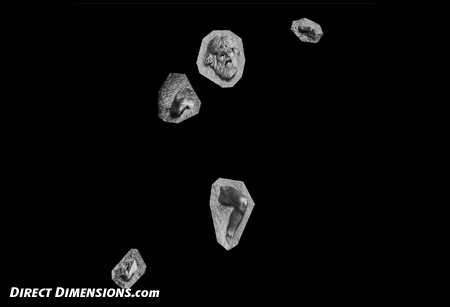 "The Awakening" now rests in its intended orientation at National Harbor, on the eastern bank of the Potomac River.
About The Author

Direct Dimensions Inc.
Direct Dimensions Inc. (DDI) provides products and service solutions to complex modeling and manufacturing problems, specializing in the on-site application of digitizers, laser scanners, and the conversion of complex 3D data into 3D computer models. DDI enables innovators to capture, model, and modify complex physical shapes, such as organic human forms, that would otherwise be impossible to design even with today's advanced CAD systems. DDI's engineers provide data measurement, inspection, and reverse engineering solutions in product evaluation, development, and manufacturing; in cultural preservation; medical prosthetics; and color 3D imaging for consumer applications.