This Week in Quality Digest Live
Sam Golan
Supply Chain
Overcoming Supply Chain Challenges and Seizing Opportunities
An aerospace case study
Published: Tuesday, October 24, 2017 - 11:02
In today's economy, almost all manufacturing organizations are part of a supply chain, either as a buyer or a supplier themselves. Quite often they are both.
Outsourcing in traditional as well as new industries is growing rapidly. Consider that Boeing's outsourcing evaluation grew from 400,000 parts with the 737 airliner series to 6,000,000 parts with the new 747-800 and it is easy to understand supply chain challenges as well as opportunities.
The complexity of today's global supply chain introduces new business requirements that are far more demanding than most current quality management systems can handle. Many such systems still require manual data entry and other labor-intensive processes. Quality systems (homegrown or not) often include multiple software solutions, many forms, documents, standards, analyses, and reports that may be stored in fragmented file systems instead of a database. This disjointed type of system introduces difficulties in collaboration, lack of internal communication and alignment, and provides minimal to no value to the organization in the form of improvements, prevention, cost reductions, or shortened delivery times. In addition, current quality management systems are missing capabilities, such as the ability to automatically and securely manage quality requirements directly from a file and seamlessly communicate and integrate with the supply chain.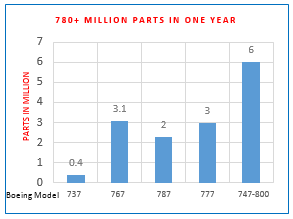 A supply chain network is comprised of all the individuals, organizations, resources, activities, and technology involved in inventing, designing, creating, selling, and supporting a product, from the delivery of source requirements (material and/or data) to the buyer or assembly line and, finally, to the end user. Managed properly, this process clearly has a very positive effect on the entire manufacturing supply chain, but at the same time it increases the business risk for original equipment manufacturers. A break in the supply chain can negatively affect company revenues, market share, costs, and reputation.
Data shows that many manufacturing companies fail to meet their customers' goals. Manufacturing organizations that understand the importance, challenges, and complexity of their supply chains will ensure that they have the right manufacturing and quality infrastructure and will be ready for the rapidly growing market—not to mention their rapidly evolving competition. If manufacturers better understand supply chain challenges and requirements, they can adopt and implement the right enterprise quality management system.
Case study: tier one Boeing supplier
This example involved our customer, a tier one Boeing supplier for commercial airplanes employing more than 40,000 employees worldwide, with annual revenues of $26 billion. The supplier has multiple plants located in different cities across the United States, making key body parts for the new 777 series. Being a key supplier to Boeing for a new model requires state-of-the-art facilities, highly experienced engineers, technicians, quality experts, and managers, all working with the most advanced manufacturing and quality capabilities. Based on Boeing's experience with the Dreamliner, in which the company suffered from multiple late deliveries caused mainly by supplier quality issues, Boeing suppliers are now tightly monitored to avoid future supply chain management failures. Getting supplied parts to the assembly line "just on time" and "just on quality" is a must.
The challenge
One of the key challenges our customer was interested in solving was reducing the large amount of human errors induced by interpretation and manual tasks in general. There was very little automation associated with their inspection process. The preparation for inspection planning alone involved days of getting acquainted with very large detailed prints, including thousands of fasteners of multiple types, followed by manual inspection and data collection.
The solution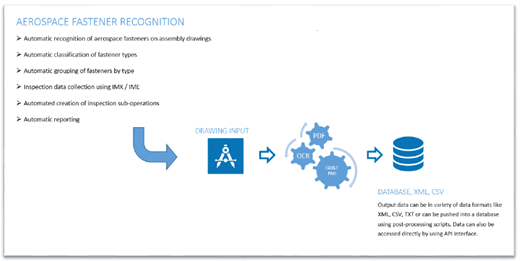 Click here for larger image.
We were approached by the customer to find the right partner, with the best technology infrastructure and an expert team. The process of system development was split up into several phases to allow effective collaboration and concurrent work on multiple software solution components. The supplier and the HighQA team were working together on several build-test-rework cycles until a working prototype was ready. Teams on both sides had to face and overcome some monumental challenges as no one else before could automate the complex process of finding and classifying tiny fastener symbols on a billboard-size sheet of paper. High QA's Fastener Ballooning and Recognition module became an indispensable tool to automatically find, map, and classify thousands of fastener symbols scattered across these immensely complicated airplane body assembly drawings. An additional capability was the Inspection Manager Xpress, a centralized tablet-based shop-floor data-collection application that allows inspectors to conveniently collect measurement information right at the actual place of measurement.
The implementation
The production rollout included multiple factories scattered hundreds of miles apart. The configuration involved dedicated centralized server, multiple workstations, and mobile devices. The HighQA implementation team was installing, configuring, and training the supplier's IT and software users in multiple locations and facilities. The implementation process went smoothly and finished ahead of schedule thanks to careful planning and a proactive support strategy.
Summary
The Boeing supplier received productivity gains, labor cost savings, and expedited delivery time, with the result being the acquisition of a unique technological advantage over its competitors. HighQA applications facilitated technological breakthroughs in the assembly fastener quality inspection field that has had a significant positive effect on overall product quality.
About The Author

Sam Golan
Sam Golan is the founder and CEO of HighQA enterprise quality management systems. He has more than 25 years of continuous success in building, leading, and managing multinational organizations and expanding them internationally. Among the numerous software companies he has developed through all stages across a range of industries include Cmatron (Currently 3D Systems) and Enovia/Dassault Systèmes. HighQA Quality 4.0 enables manufacturers to automate their entire internal and external manufacturing and quality processes, there by eliminating user errors, managing corrective and preventive measures, and significantly improving customer satisfaction.