This Week in Quality Digest Live
Barbara A. Cleary
Statistics
What Will You Do With Your Next Vacation?
Assuming you take one, of course
Published: Wednesday, October 25, 2017 - 11:01
Taking time off for vacation seems to be a diminishing phenomenon among U.S. workers. Each year, Americans fail to use 662 million vacation days, and with those days $236 billion in economic opportunity is lost, according to the U.S. Travel Association.
Aside from the economic impact, there are clearly personal benefits that accrue from time away from work. The American Psychology Association reports that "we emerge from a successful vacation feeling ready to take on the world again. We gain perspective on our problems, get to relax with our families and friends, and get a break from our usual routines."
Increasingly, Americans are forfeiting vacation time—as many as 54 percent of us—citing reasons from "can't afford" to "too busy." Some worry about the work that will pile up while they're gone, and others just want to make a good impression on their bosses.
In the midst of this trend, the national parks continue to draw record numbers of visitors. For those who live close to any of these parks, they may represent a quick weekend trip, while others will haul their families across the country to spend their breaks camping or hiking. Which parks draw the greatest number of visitors? These data may help you make a decision about where to travel, once you've made up your mind to actually take that paid time off and garner the psychological benefits that it promises.
This SQCpack chart not only reflects the number of visitors to national parks, but also demonstrates the growing number of visitors to Smoky Mountains National Park.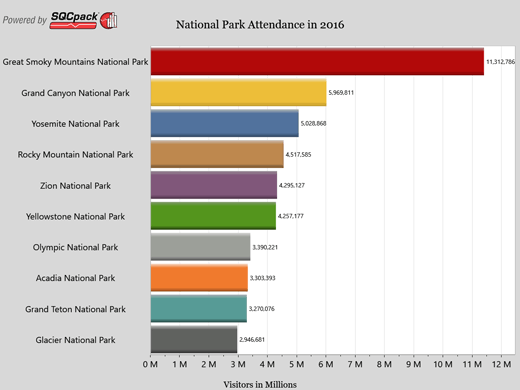 About The Author

Barbara A. Cleary
Barbara A. Cleary, Ph.D., is a teacher at The Miami Valley School, an independent school in Dayton, Ohio, and has served on the board of education in Centerville, Ohio, for eight years—three years as president. She is corporate vice president of PQ Systems Inc., an international firm specializing in theory, process, and quality management. She holds a masters degree and a doctorate in English from the University of Nebraska. Cleary is author and co-author of five books on inspiring classroom learning in elementary schools using quality tools and techniques (i.e., cause and effect, continuous improvement, fishbone diagram, histogram, Pareto chart, root cause analysis, variation, etc.), and how to think through problems and use data effectively. She is a published poet and a writer of many articles in professional journals and magazines including CalLab, English Journal, Quality Progress, and Quality Digest.