This Week in Quality Digest Live
Standards Store
Standards
Standards Stores' Registrar Finder Simplifies Certification Quotes
Find reputable, accredited registrars within 72 hours
Published: Monday, June 18, 2018 - 12:00
(Standards Stores: Excelsior, MN) -- The Registration Quote service, launched by Standards Stores, is a free service that simplifies the process of receiving management-system registration services quotations from accredited registrars. An organization only has to complete one application, and it is sent to the three registrars (certification bodies) of their choice.
This free, secure, online service is easy to use. Organizations simply:
1. Select the management system standard (e.g., ISO 9001) they are interested in
2. Choose up to three different registrars accredited to that standard
3. Complete registrar application form
Finding the right registrar can be confusing, time-consuming and expensive. This service centralizes and simplifies the certification quote attainment and registration process, saving companies precious time and resources with the following benefits.
Clients benefit by:
• Reducing the time spent on the phone talking to sales representatives, only needing to complete one form for multiple quotations—simple!
• A guarantee to receive a response in 72 hours—no waiting.
• Quality assurance. Because Standards Stores only partners with reputable, accredited registrars, companies can be sure they don't fall victim to certification mill scams or other fraudulent or unethical business practices.
• Reducing research time spent online searching for information and completing separate form requests, which can be quite lengthy.
Registrars benefit by:
• Receiving very qualified leads with all of the pertinent client information
• Not spending time soliciting this information—it's already populated on a form
• Reducing online advertising fees because clients are matched to the registrar's capabilities
Registration Quote simplifies this process by "saving clients from having to complete intake forms on several websites, assuming they can even find the correct spot on a registrar's site," says Standards Stores president Joe Pfankuch
This process is proven to decrease the time needed to find the proper registrar and complete required audits for ISO management system certification. Companies that spend less time searching and researching competitive quotes can make informed, cost-effective decisions about registration faster. In addition, Registration Quote is the only service that factors in travel costs by the registrar, a key element that can often surprise would-be registrants if it's not specified ahead of time.
How it works
Registration Quote immediately sends clients' form requests to the registrars that the clients have selected for follow-up, and Registration Quote stays out of the process after that. On the form, users select from 17 different management system standards, including AS9100, ISO 9001, ISO 14001, IATF 16949, ISO 13485, ISO 45001, and many others. Clients can also customize their quote requests to include cost for a pre-assessment and a surveillance audit, if they desire. Finally, they will provide basic business details necessary to obtain the quote, including company size and previous certification experience, if any. After submitting the form, clients receive a copy of their submission and receive quotes within 72 hours, allowing them to select the registrar that best fits their unique requirements.
The service is 100-percent secure. No data are shared with third parties other than the registrars, and the information clients provide is sent only to the providers they have chosen—without sharing which registrars were chosen.
Standards Stores has partnered with many reputable registrars around the world to make it easy for companies to find, choose, and hire the right fit to complete their registration audit or other business improvement needs.
Organizations exploring either new standards adoption or planning a transition to an updated version of their standard can give this free, guaranteed service a try by visiting RegistrationQuote.com.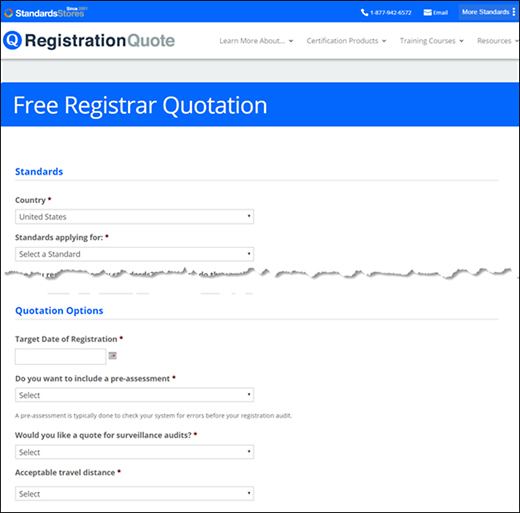 About The Author

Standards Store
Since 2001, Standards Stores has provided affordable, effective, easy-to-use tools and training to achieve and maintain certification to management system standards like ISO 9001, AS9100, AS9110, AS9120, ISO 13485, ISO 14001, IATF 16949, ISO 17025, OHSAS 18001, ISO 45001, ISO 5001, as well as integrated standards. Standard Stores' products are guaranteed and have helped thousands of companies achieve certification to one or more management system standard.