Featured Video
This Week in Quality Digest Live
Mark Whitworth
Standards
Your Transition to IATF 16949: Five Critical Things to Think About Right Now
Get ready for the evolved standard
Published: Wednesday, December 14, 2016 - 16:33
For 17 years, ISO/TS 16949 was the leading standard for quality system requirements in the automotive industry. The technical specification was jointly developed by the International Automotive Task Force (IATF) and the International Organization for Standardization (ISO) in 1999. In October 2016, IATF 16949 was released; it replaces ISO/TS 16949.
Automotive organizations currently certified to ISO/TS 16949 must comply to IATF 16949 by Sept. 14, 2018. There are critical insights and decisions that need to be considered along the way. I'll highlight five key factors, what they mean, and why your organization should start thinking about them now.
Expect more frequent changes in the future
ISO/TS 16949 was published in 1999 and updated in 2002 and 2009. It has been closely coupled to ISO 9001 updates. In transitioning to an International Automotive Task Force (IATF) standard, there's a greater likelihood of more frequent guideline updates. This is largely a reflection of more holistic ownership from stakeholders in the automotive industry. We can expect the IATF's constituent groups to be more actively involved as well.
Start the recertification process now
After Sept. 14, 2018, all ISO/TS 16949 certifications will no longer be valid. It should go without saying that organizations who fail to comply with the new standard will lose their ability to deliver parts and services to their biggest customers, which would obviously be catastrophic to business. Although the looming deadline may feel far off in the future, organizations now recognize they have to plan time for the unknown complications that can slow the recertification process. Organizations will need to begin considering the costs of recertification, and how to reduce those costs. (For this, implementing an auditing software platform can provide the artifacts needed to help reduce recertification costs.) Also, organizations will need to reevaluate their quality system documentation to make sure it is aligned with the new requirements. The bottom line is that it's simply too risky to delay the recertification process—take action now.
Map out the steps of your action plan
Building on the last point, think about some actionable steps you can take that will help you get started. It's important to note here that, according to the IATF, organizations transitioning to IATF 16949 must do so through a transition audit that is in line with an organization's current ISO/TS 16949 audit cycle. Consider the following high-level framework to guide your action plan. You can reference the IATF's 16949 Transition Strategy and Requirements Guide for more details, but in summary it advises to:
• Understand your timing requirements and audit requirements
• Complete an organizational gap analysis against ISO/TS and IAATF 16949 to ensure that your quality management system (QMS) meets new requirements
• Develop an implementation and training plan specific to your organization
• Update your organization's documentation to show proof of compliance
Consider evolving customer expectations
Under the IATF 16949 format, several "customer-specific requirements" that were previously just recommendations are now mandated. As a result, in addition to the tighter mandates, organizations in the automotive industry will likely face tougher, more stringent expectations as well from their biggest customers, many of which will be original equipment manufacturers (OEMs) that those organizations rely upon for the most business. It's likely that these expectations will continue to trend yet higher as the likelihood of more frequent updates under IATF will drive changes in customer requirements. As we all know, customers typically use these standards as only a base upon which to layer their own additional rules and requirements. In an increasingly competitive industry it's absolutely essential to continue to stay on top of such changes, or else you'll risk of losing business to competitors who are doing a better job of it.
Recognize the need for more transparency
For both first- and second-party auditors, IATF 16949 imposes additional standards in areas such as the documentation of processes, internal auditor training, and the minimum competencies required of auditors. So it makes sense that, along with those updated requirements, comes the need for more visibility throughout the audit process, whether it's conducted internally or by another party. External auditors don't eliminate risk, either. There can be significant consequences for failures—to the auditor and also to your organization. This is another reason it is particularly helpful to have an audit management platform which provides visibility into status, performance, and the artifacts associated with these activities. Tools such as Ease Beacon can provide this transparency throughout the process, while making the entire process faster, cheaper, and easier.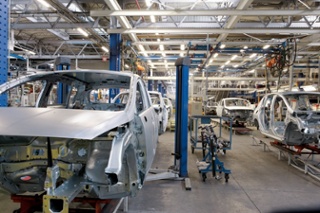 All in all, the changes that are unfolding in the automotive industry are significant. They are set to redefine compliance mandates, reshape the competitive landscape, and rewrite the operational playbook for many automotive companies. With the September 2018 compliance deadline set, it's not enough to simply have a high-level awareness or distant action plan. The clock is ticking now—so the sooner you take into account these key considerations, and implement the tools or systems that are necessary in helping you through them, the better you'll set yourself up for future success.
About The Author

Mark Whitworth
With nearly 25 years of management, technology, and entrepreneurial experience, Mark Whitworth specializes in architecting global, cloud-based software platforms and developing partnerships to help clients enhance performance, control and flexibility throughout the production and process life cycle. He is extensively familiar with operational improvement frameworks—having run a successful management consulting firm catering to Fortune 500 clients, including Toyota and Johnson & Johnson—and has worked with regulatory bodies in the audit and assessment space for more than two decades. As chief operations officer at Ease Inc., Whitworth provides the leadership, management, and vision to ensure stable company growth and dependable, high-quality customer support.