This Week in Quality Digest Live
Dawn Marie Bailey
Innovation
Baldrige and the Challenges Facing Public Schools
In a state where education funding has plummeted, continuous improvement thrives
Published: Tuesday, September 27, 2016 - 13:56
Public schools across the country are facing significant challenges. Lisa Muller, assistant superintendent for Baldrige Award recipient Jenks Public Schools, says schools are dealing with an increase in student needs, while at the same time managing declining revenues and attempting to prepare students for the demands of life in the 21st century.
"Students in public schools increasingly come to us facing challenges with poverty and other societal issues, or needing support for English-language development or learning challenges," says Muller. "Effectively meeting the needs of this more diverse student population requires resources. However, the 'Great Recession' affected funding for school districts across the country. And despite a recovering economy, funding for public education remains below 2008 levels in half of our states." The state of Oklahoma, home to Jenks Public Schools, leads this list of the 25 states (see figure 1) where general funding per student is still lower than it was in 2008. Oklahoma has grappled with a 24.2-percent decrease to state-formula funding between 2008 and 2016.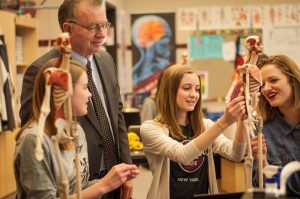 Photo used with permission of Jenks Public Schools
According to Muller, "Increased student needs and decreased resources make the third challenge an even greater one: How do schools effectively equip students with the knowledge and skills they will need to be successful citizens in our 21st-century world? Schools must think beyond the traditional curriculum to help foster innovation and creativity in our students."
Muller addressed this question and more during her presentation, "How Baldrige Has Helped Address Challenges in Education" at the 2016 Baldrige regional conference that was held in Dallas on Sept. 22, 2016.
I had the pleasure of a virtual interview with her to learn more about how Baldrige resources have helped.
Can you give us a sense of what your presentation covered?
Our focus on continuous improvement and use of the Baldrige Criteria have helped Jenks Public Schools address challenges in multiple ways. In my presentation, I focused on how implementation of the Baldrige model helped the district develop a student learning culture, encouraged a systems approach, and promoted process management across district school sites and departments.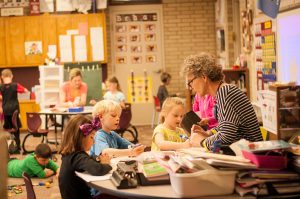 Photo used with permission of Jenks Public Schools
One piece of the systems approach that occurred after our receipt of the Baldrige Award in 2005 was the development of the district's core competencies. This concept wasn't in the Baldrige Criteria at the time of our award application, but we continue to use the criteria to drive continuous improvement efforts in the district. When the concept of core competencies was introduced, we conducted a process to identify our own. This resulted in three core competencies: excellence in the "five A's": academics, activities, the arts, attitude, and athletics; focus on fiscal stability; and a vision for tomorrow. During difficult economic times, asking how various economic decisions will affect our ability to maintain and strengthen our core competencies has allowed the district to address our challenges with a systems focus.
What are your top tips for using Baldrige resources to support education?
In talking to other education organizations, I find that many see Baldrige as something that is more applicable to the operational side of their organization than it is to the instructional side. We have found quality principles and tools to be very applicable to improving teaching and learning, as well as to streamlining our operational processes.
Once you have decided to move forward with using Baldrige, be sure you truly view this as a journey rather than a destination. The work is very valuable to organizational effectiveness, but it is not fast! Jenks Public Schools dates the official "beginning" of its continuous improvement journey to 1995. Receiving the Baldrige Award in 2005 is now the midpoint of our efforts, and we still have many areas in which to learn and grow.
Because continuous improvement is a way of thinking and, hopefully, something that will become part of your organizational culture and not an initiative or program, my last tip is to resist naming it and instead just do it. Jenks Public Schools began working on continuous improvement prior to education organizations being eligible for the Baldrige Award, so we began that work under the umbrella of total quality education (TQE) rather than as a Baldrige initiative. Some members of our organization were resistant to the changes brought on by the implementation of TQE and quality principles, and stated that they were opposed to TQE. Once we shifted our language to speaking about continuous improvement and the desire always to be better tomorrow than we are today, much of that resistance went away. After all, it's difficult to say, "I'm opposed to continuous improvement. I'm as good now as I ever want to be!"
What else did participants learn at your conference session?
Our organization continues to use Baldrige to drive the continuous improvement efforts in the district under the leadership of the Continuous Improvement Leadership Team (CILT). This cross-functional team is responsible for overseeing the Baldrige category teamwork in the district, and identifying districtwide goals for continuous improvement. In recent years, examples of these goals include improving the teacher onboarding process in an effort to decrease teacher turnover; identifying ways to increase community engagement and ensure the passage of bond issues to support capital improvements; and ensuring that our teaching and learning processes support and foster innovation and creativity.
What are the key reasons organizations in your sector can benefit from using the Baldrige Excellence Framework (Education) and its Criteria?
The Baldrige Excellence Framework helps schools and districts look at improvement efforts in a systematic, thorough way. Too often, school reform efforts come from outside the organization, but the Baldrige Excellence Framework promotes self-assessment and identifying and developing practices that uniquely address your organizational context. The framework provides a proven set of criteria that can be used to drive improvement, and it also encourages education organizations to reach out within their own and other sectors to identify performance exemplars.
Holding your organization up against world-class standards helps frame the areas worthy of celebration, as well as highlights opportunities for improvement. When education organizations take on this type of continuous improvement work, it benefits not only themselves but also their students and the community as a whole.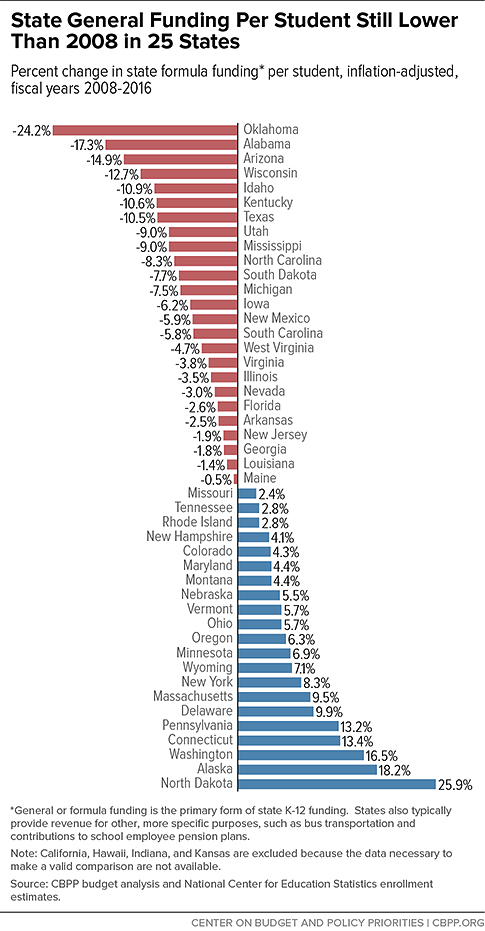 Figure 1: List of 25 states where general funding per student is still lower than it was in 2008
Click here for larger image.
First published Sept. 8, 2016, on the Blogrige blog.
About The Author

Dawn Marie Bailey
A writer/editor for the Baldrige Performance Excellence Program since 2002, Dawn Marie Bailey is part of the Baldrige Program's Education Team. She is the recipient of the George A. Uriano Award for outstanding leadership in developing Baldrige Case Studies, the premier annual training tool for using and learning the Baldrige Criteria. Bailey also works on strategic planning and the Quest for Excellence Conference, and has served as a team leader. Bailey has bachelor's degrees in English and journalism, and a master's degree in creative writing and editing.