This Week in Quality Digest Live
David C. Crosby
Six Sigma
Zero Defects vs. Six Sigma
The differences may surprise you.
Published: Tuesday, April 18, 2006 - 21:00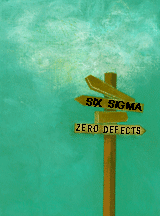 Zero defects is an idea that was discovered in the early 1960s. It was articulated by Phil Crosby and first implemented at the Martin company in Orlando, Florida. Zero defects enjoyed widespread popularity until the mid 1970s, and almost every major company and their suppliers had a zero-defects program.Then quality programs such as Total Quality Management (TQM), Malcolm Baldrige, and statistical process control (SPC)—as well as the rush to ISO 9001 registration—sucked up all the oxygen, and now the zero-defects approach is practiced by only a few companies. Except for those who profit from it, zero defects is forgotten. You may find it interesting that zero defects is now very popular in China. My book is being translated into Chinese, and I do ZD consulting with Chinese businesses via e-mail.
In the late 1980s, Six Sigma came along. It was an offspring of the capability study used in SPC. It's taken on a life of its own and is very popular today. Legend has it that an engineer from Motorola came up with the idea that if a four sigma process capability was good, a six sigma capability would be even better. A friend of mine attended one of the early Motorola Six Sigma training programs. Being a long-time quality control professional, he questioned the idea and was told, "It's just a motivational gimmick." No truer words have been spoken.
The following table points out some of the differences between Six Sigma and zero defects.
Zero Defects vs. Six Sigma

Category

Zero defects

Six Sigma

Purpose

Defect prevention

Defect management

Understanding

Everyone understands zero, and everyone knows what a defect is.

Few people can tell you what sigma is.

Training

Only the normal job training for the production workers.

Extensive training for the nonproductive, technical, Six Sigma staff.

Manpower required

Few or no extra employees are required.

Added Green Belts Black Belts and other positions.

Cost of operation

Small cost, and that only to communicate the performance standards.

High cost for training and added staff salaries.

Concept

Work right the first time and every time.

Three defects per million opportunities.

Technology

Leadership

Standard quality control tools plus problem solving methods.

Performance standard

No defects are acceptable

A few defects are acceptable.

Application

Applies to every job in an organization.

Limited to the quality of the product or service.

Employee involvement

Employees can identify problems.

No employee involvement.
About The Author

David C. Crosby
Dave Crosby is president of The Crosby Company, a firm he created to develop and deliver software and training in the field of quality management. His SPC software was the first on the market for the personal computer. His books include, How To Get Your People to Do Things Right, Quality is Easy, How To Run a Zero Defects Program, and The Zero Defects Option.
Crosby served as corporate director of quality for RCA Corp., General Instruments Corp., and Portec Inc. He was awarded the "Outstanding Civilian Service Medal" by the U.S. Army for his work with the Army Zero Defects Program. His web site is www.zdoption.com.