Featured Video
This Week in Quality Digest Live
PQ Systems
Quality Insider
PQ Systems Employee Named as STEM Exemplar
Middle-school students learned to create mobile applications, websites, and more
Published: Thursday, September 3, 2015 - 09:38
(PQ Systems: Dayton, OH) -- The Ohio Academy of Science has named Hanen Alkhafaji, a PQ Systems software development team member, as one of 58 Ohio's "Believe in Ohio" STEM Exemplars. She was one of only two Daytonians named.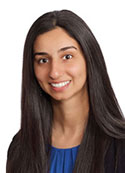 Exemplars are named for their science, technology, engineering, and mathematics (STEM) workforce perspective. They serve as role models for students to encourage them to pursue STEM careers and become entrepreneurs and innovators. Alkhafaji worked with middle-school students enrolled in Chaminade-Julienne High School's STEMM (Science, Technology, Engineering, Mathematics, Medicine) summer camp, introducing them to statistical concepts in an interactive analytical activity. A team of five PQ Systems collegiate interns, led by Alkhafaji, taught the students how to create mobile applications, introducing them to programming languages and design, as well as website development.
Honorees are graduates of Ohio high schools, have attended higher education in Ohio or elsewhere, and are gainfully employed or retired in a STEM field in Ohio. Alkhafaji is an alumna of Chaminade-Julienne High School and Wright State University.
PQ Systems is a privately-held company headquartered in Washington Township, Ohio, with distributors or offices in Europe, Australia, Central and South America, and Africa, and customers in more than 60 countries. For more than 30 years, the company has been providing solutions to help organizations implement quality improvement programs and demonstrate proof of their quality performance.
About The Author

PQ Systems
PQ Systems www.pqsystems.com is a privately-held company headquartered in Dayton, OH, with representation in Europe, Australia, Central and South America, Asia, and Africa and customers in more than 60 countries. For more than 30 years, the company has been helping businesses drive strategic quality outcomes by providing intuitive solutions to help manufacturers optimize process performance, improve product quality, and mitigate supply chain risk. The company's scalable solutions include SQCpack® for data analysis and statistical process control and GAGEpack® for system management. PQ Systems' world-class consulting, training, and support services ensure that clients receive the maximum return on their software implementations