Featured Video
This Week in Quality Digest Live
Mike Richman
Quality Insider
The Lean CEO
Practical insights into organizational transformation
Published: Thursday, May 7, 2015 - 15:05
If there's anything we can count on in putting together Quality Digest Daily each and every day, it's that good, in-depth case studies will be well read. When those case studies also offer real context in terms of the historical underpinnings of movements or methodologies, all the better.
The Lean CEO: Leading the Way to World-Class Excellence (McGraw-Hill Education, 2015) by author and consultant Jacob Stoller, fits the above description to a T. The beating heart of this book comes from the very top—chief executive officers and their direct reports, all of whom accepted the challenge to implement lean transformations at their respective organizations. Stoller focuses on organizations such as Danaher, Ingersoll Rand, ThedaCare, and the state governments of Connecticut and Washington, all of which overcame crises, challenges, and resistance both internal and external to achieve a lasting culture of continuous improvement.
Each chapter has extensive, first-person recollections about these and many other issues, allowing the reader a unique level of access to the kinds of decisions that top leaders must make to commit and then drive home a lean culture within an organization. In many cases, these were companies in severe trouble, and the turnarounds in terms of dollars and cents are startling. But when you read of the alignment in vision between these leaders and their workforces, you really see the positive effect that can be achieved when the phrase "management commitment" goes from words to actions.
Stoller grounds these stories and insights with relevancy by offering a concise yet far-ranging overview of the origins of lean. He first looks at the work of Henry Ford, Alfred Sloan, and Frederick Winslow Taylor, and considers their contributions through the lens of early 20th century manufacturing realities. Their solutions to the problems confronting them and their organizations led to innovations that hardened into standard practices through the decades, bringing legacy processes, not only on the shop floor but also in the finance department, that supported and failed U.S. companies in turn down through the years.
Next Stoller turns to the incubator of lean, cutting through hagiography to present the Toyota Motor Co. of 70 years ago as just another struggling organization in crisis. As he does later in the book, Stoller offers the same insights into the fears, struggles, and decisions of Toyota's top managers as they reinvented the company. Of course, in the years after the Second World War, Toyota did not have the advantage of benchmarking against the Toyota Production System, because they were busy inventing it. The actions of Taiichi Ohno and Eiji Toyoda in creating the pillars of lean at Toyota, W. Edwards Deming in teaching the Japanese the principles of enterprisewide quality management, and Masaaki Imai (and late-career Deming) in transferring lean knowledge to U.S. companies, are all sketched with broad strokes.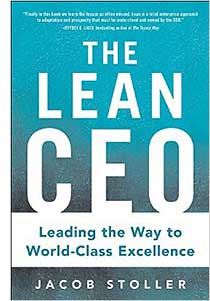 The author takes pains to explain that The Lean CEO is neither a comprehensive history of lean nor an implementation guide for practitioners. He offers a reading list at the end of the book for those who want to learn more about these topics and begin a further exploration of lean. Rather, the book is an extremely readable account of how lean came to be and how top leaders can understand and harness its power for sweeping improvement. The CEOs presented here are "true believers" who speak passionately and eloquently about lean. Anyone in top management at a company considering lean would be well served to read this book as a primer at the start of the journey.
For more information on The Lean CEO and Stoller, visit his website. He will also be joining Dirk Dusharme and me for an interview on Quality Digest Live this Friday afternoon, May 8, at 2 p.m. Eastern, 11 a.m. Pacific. Tune in then to find out more, and write us if you have a question about this topic that you'd like us to address with Stoller on the air.
About The Author

Mike Richman
Mike Richman is Quality Digest's publisher.