This Week in Quality Digest Live
Mike Micklewright
Quality Insider
We Gotta Make Quality Cool Again
Random thoughts on the quality movement
Published: Tuesday, January 25, 2011 - 05:30
A few years ago, I mentioned to Clare Crawford-Mason that we need to make quality cool again. Crawford-Mason is the lady who helped bring Deming into public consciousness with her production of the 1979 NBC White Paper "If Japan Can, Why Can't We?"
Of course, the Deming Institute ain't gonna make quality cool again. They can hardly draw any interest to their annual conference, much less realize they have a product in Deming's message and that they should innovate to sell that product, as Deming would have advocated. That's not gonna happen anytime soon.
I recently pondered the future direction of the quality movement with Jeff Dewar, CEO of Millennium 360, parent company of Quality Digest. Is there a movement? Should there be a movement? Or is it just floundering with no real direction as more consulting firms try to invent new twists on the same old topics and sell them to suckers who are looking to be at the forefront of a new movement? Is there a direction, or should there be?
The quantity movement?
"Quantity" didn't have a movement, and yet quantity has been very successful. We don't have quantity gurus, and yet there are plenty of quantity experts, some of whom are in jail because they were so good at capturing quantity.
How did they do it? There was no American Society for Quantity, which did not evolve from an American Society for Quantity Control. That would never have worked. Who in their right mind would have wanted to control quantity? I never read an article from Quantity Digest. So how did quantity become so popular without a movement, society, or gurus? Perhaps quality could learn from quantity.
Where oh where have our quality gurus gone?
Remember the quality gurus we once had? They were cool. Do we have any quality gurus today? Not really. We have lean gurus, but we all know that lean has nothing to do with quality. We have Six Sigma gurus… I think… but Six Sigma just deals with financial payback, not quality.
Remember Feigenbaum? What a cool and tough name. It always made me think of a headline from a WWII-era newspaper—as in, "Germans Advance on Western Front at Unprecedented Speed with Howitzers and Feigenbaums."
And Juran. So cool, you had to say his name twice—Juran Juran. Or was that Duran Duran?
Remember the running feud between Juran and Deming? Now that was a quality movement we had, just like the old boxing movement. I can remember hours of fun that my nerdy quality friend and I had cutting out little pictures of Deming and Juran and gluing them on to the faces of our Rock 'em Sock 'em Robots and having them go at it. I would always try to be Deming and say to my friend, "Come on, you were Deming last time! I want to be Deming this time!" Sometimes I'd cry until I got my way.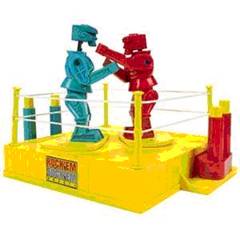 Deming vs. Juran
Remember when lots of people used to show up at ASQ meetings?
And then there was Bill Cosby, or wait, was that Bing Crosby, no wait—it was Phil Crosby. Deming and Juran didn't like him, either, or his slogans like zero defects. But you gotta admit, he had a knack for making simple processes very complex.
Remember when people under 50 used to attend ASQ meetings?
Are Six Sigma and lean still in the crystal ball?
What will the next quality movement be, now that Six Sigma has run its course? Well, hasn't it? Lean may stick around, if Toyota doesn't screw up anymore. If Toyota does screw up, then the I-told-you-so's will come out of the woodwork and denounce the Toyota Way and claim that it's time to go back to the American Way of department focus, short-term focus, inventory, and treating employees like children. If Toyota does bounce back in the public eye, eventually some large consulting company will change the Toyota Way to something catchy like "Waste Watchers."
Interesting thought. Six Sigma was started by the likes of Motorola and GE. Lean was developed by Toyota. Lean Six Sigma was initiated by a large consulting group. Hmm... suckers!
Are Six Sigma and lean really quality things, anyway? Lean is often spearheaded by operations people using the lean name to do what they've always done—reduce costs without improving quality. Many quality people are not even involved in the lean movement, especially if they are involved with maintaining their ISO 9001-based quality management system, which has nothing to do with lean. The fact that all walks of life (including accounting, marketing, sales, and IT) are all attracted to Six Sigma's colored belts is due to the lure of another hot resume-padder. But do these people really understand quality and the need to reduce variation?
One might say that employees finally understand the financial side of the business because of Six Sigma. It is indeed good to gain more knowledge. But more important, do CEOs really get the quality side of the business?
Can you imagine your CEO listening to a statistician speak for hours on end as the Japanese CEOs did during the 1950s when Deming visited?
Remembering the good ol' days
ISO 9001 is dead. There's no excitement with it anymore, as if there ever was. It's just like calibration now—we just need to "maintain" the quality management system. Could it be exciting and fresh and drive improvement? Absolutely, but why break our backs when it's so easy to get certified and maintain our certification? Ma and Pa registrar will accept anything we do, or don't do, to maintain our business.
I miss benchmarking. That was fun, going on boondoggle visits to other companies for the purpose of copying best-in-class activities, even though we didn't know why we were copying them. Copying is still in, though. Isn't everyone copying what Toyota does? I wonder if everyone is going to copy the way Toyota abandoned some of its key principles in favor of volume. You know, the quantity movement? Or maybe they are going to copy Toyota's arrogance and dismiss customer complaints. Wait, a little confusion here; didn't Toyota copy the U.S. auto industry on that one first? Who should really get the credit?
Who cares? All I know is that benchmarking (which is also what a male dog does in the park) is still alive and well. All my kids were taught to "benchmark the best in class" in school so that they can get good grades. I taught them well. I taught them that it's all about the grades—that's what will get them into a good college and a good job. Forget about the knowledge and learning stuff; it's overrated. "Go forth, my dear children, and benchmark!"
Whatever happened to the reengineering movement? I always thought the prefix "re" meant waste (e.g., rework, repair, reinspect). Wasn't reengineering about doing it all over again because you screwed up the engineering the first time? Was the "engineering" process ever fixed in the first place?
I went back to school and got my reengineering degree. Our new janitor wants to be called a "custodial reengineer."
Remember when your company used to pay for your ASQ membership, dinner meetings, and training when quality was cool?
Maybe "work arounds" will be the next wave. We're really good at those, and they are so much more efficient than "root cause analysis."
Onshoring?
Perhaps the new movement will be onshoring or reshoring or insourcing. No one seems to agree on what to call it. An entire program could easily be put together on the correct processes for bringing back what we all sent away.
Perhaps it should be called "de-offshoring," "anti-offshoring," "Amerishoring," or "Bring Back Manufacturing of our Products that Should Have Never Left in the First Place if Top Management Wasn't So Shortsighted and Quit on Its Own People Before Even Trying to Fix Its Lousy Processes and Conference-Room Management Style."
OK, that's a little long. How about the acronym "BBMOOPTSHNLINTFPITMWSSAQOIOPBETTFILPACRMS?" That's much better.
Perhaps risk management will be the next wave? But it just sounds so boring. Maybe a new name will help ensure that this new quality movement occurs because we all need a good quality movement. How about "brisk risk, "rerisk control," "frisky risky," or "risky business aversions?"
Quality is just a commodity now
Why do we need to look toward the next quality movement? Is it to gain fame, fortune, notoriety, sell products, services, or ad space? Do we need to justify our existence?
It's as if we are saying, "We've mastered the old stuff. We did Deming, Juran, total quality management (TQM), reengineering, benchmarking, lean, and Six Sigma. Check it off the list. What is the new frontier?"
I mean, really: Quality is a commodity, especially outside the manufacturing world. We can safely go to a hospital and know that we will never catch an infection of any sort, and we know that they will never perform the wrong procedure on us, and that we are in the safest place possible, so we will never die there.
And we know that our local and federal governments are really good at doing root cause analysis because they keep making more laws and giving our messed-up companies money to mess up some more. Government is really, really effective and efficient, and quality is just a commodity there, too.
Maybe we should run our businesses like a government. We'll elect the president and vice president of the company every four years. We'll have another group of elected employees that just makes procedures, policies, and laws constantly, slowing down the pace of progress and putting us further in debt. We already have the judicial branch within the organization—the annual performance appraisers—and they are really good at judging people. A few tweaks here and there, and every company can be as effective as the U.S. government.
Quality is a commodity in our schools as well. Our kids love to go to school every day. They hate weekends because they are not in school. They can't wait for Mondays. They get so much joy from learning just because of the quality of education they receive and the competition.
Our service industries also know quality really well, and it's just a commodity for them. This includes industries like airlines, insurance, real estate, financial, construction, restaurants, banking, call centers, and of course, attorneys.
Conclusion
I hope I've given you a lot to think about. But seriously, what do you think will be the new quality movement? Let me know your thoughts.
Me? I think all we need to know is in our rearview mirrors. Focus on the principles, not the tools. We need to infiltrate the halls of government, schools, Wall Street, and financial institutions, as well as services and manufacturing, with the principles of quality and ethical business practices based on a long-term focus rather than the myriad tools that exist to address short-term results.
But will it catch on? Could the older quality stuff be cool again? Bell-bottoms once became cool again after a long hiatus. Perhaps it's possible.
I'd also like quality-minded individuals to take the lead in teaching leadership. But that's a stretch, because I forgot, once again, that leadership has nothing to do with quality, and quality has nothing to do with leadership.
About The Author

Mike Micklewright
Mike Micklewright has been teaching and facilitating quality and lean principles worldwide for more than 25 years. He specializes in creating lean and continuous improvement cultures, and has implemented continuous improvement systems and facilitated kaizen/Six Sigma events in hundreds of organizations in the aerospace, automotive, entertainment, manufacturing, food, healthcare, and warehousing industries. Micklewright is the U.S. director and senior consultant for Kaizen Institute. He has an engineering degree from the University of Illinois, and he is ASQ-certified as a Six Sigma Black Belt, quality auditor, quality engineer, manager of quality/operational excellence, and supply chain analyst.
Micklewright hosts a video training series by Kaizen Institute on integrating lean and quality management systems in order to reduce waste.