This Week in Quality Digest Live
Davis Balestracci
Quality Insider
There Is No Such Thing As 'Improvement in General'
Matching customers' expectations to their perceptions
Published: Friday, October 4, 2013 - 15:53
I just got through looking at an expensive 186-page quarterly summary of (alleged) customer satisfaction data for a hospital. My head was spinning by page 28.
There were lots of bar graphs, "trending," correlation analysis, and "top box" and percentile rankings on every—and I do mean every—aspect of a patient's experience, e.g., "Did the TV call button work?" In addition, numbers that were "above average" (> 50th percentile) were blue, and numbers that were "below average" (< 50th percentile) were red.
In my opinion, it was all pretty worthless. I'm not sure how the sample was chosen or if it was the typical "let's send out a bunch of surveys and analyze what we get back" sample.
Let's take a step back and reframe customer satisfaction in a more holistic perspective.
Leadership expert Jim Clemmer talks about three rings of service:
1. The quality of your core product or service
Customer: Does the product (or service) meet my needs, standards, and expectations?
2. The quality of your organizational design or processes that provide your core product or service
Customer: Is the product (or service) convenient, efficient, and easy to access or use?
3. The quality of the customer's experience of both your product or service and how it was delivered
Customer: How do they make me feel?
From the customer's perspective, it's all one ring, and it creates his perception of quality.
Surveys like the one I described above focus pretty much exclusively on the individual elements (touch points) comprising item No. 2 and how the customer felt about those... individually. What about the overall experience?
Amusing aside: Regarding item No. 3, the current trendy question to ask as a proxy is, "Would you recommend this product or service to your family and friends?" Many times, the results are published in newspaper articles to "inform" the consumer. Here's an actual example comparing 20 health systems of a large metropolitan area that makes the choice "obvious."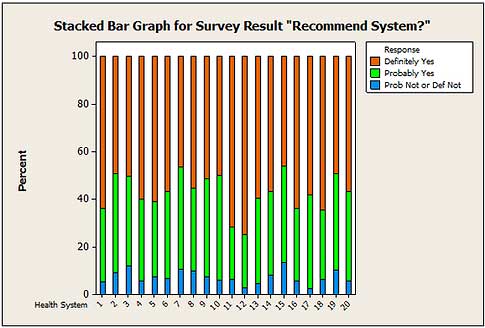 A Harvard Business Review article stated that organizations that move beyond focusing mainly on touch points to "the customer's end-to-end journey" have 30-percent to 40-percent higher customer satisfaction and higher revenues, repeat business, positive word of mouth, and higher customer retention.
These top organizations tend to use four steps to improve the customer journey:
1. Identify the journeys in which they need to excel.
2. Understand how they are currently performing in each.
3. Build cross-functional processes to redesign and support those journeys.
4. Institute cultural change and continuous improvement to sustain the initiatives at scale.
The article concludes with this key point:
"Optimizing a single customer journey is tactical; shifting organizational processes, culture, and mindsets to a journey orientation is strategic and transformational... it engages the organization across functions and from top to bottom, generating excitement, innovation, and a focus on continuous improvement. It creates a culture that's hard to build otherwise, and a true competitive advantage goes to companies that get it right." (My emphases.)
An initial survey could help identify the journeys in which they need to excel—with a well-chosen, appropriate sample. A less cumbersome alternative could be several well-run focus groups.
Actually, in the case of a hospital, this may not be necessary. Quint Studer's excellent book, Hardwiring Excellence (Fire Starter Publishing, 2004) advocates calling every patient at home the day they are discharged. The customer perception it creates is pure gold—as is any information you get on their experience of the discharge process and, in many cases, their overall care experience. The call is scripted and based on data to gain maximum information on which to take action.
I can hear some of you now: "Are you crazy? People are already too busy. It's too much work, and the culture will never go for it!" If that's an accurate assessment of your culture, then why do patient satisfaction surveys at all? Until that attitude changes, patient satisfaction efforts are pretty much a waste of time.
I remember a conference I attended 25 years ago that made two key points:
• You cannot even begin to satisfy external customers until everyone is satisfying their internal customers.
• Stop talking about "full customer satisfaction" until your workforce knows its jobs.
Measures, priorities, and resource allocations with an internal perspective are a root cause of the large gaps between what customers expect and what they perceive as being delivered. As many organizations work to focus on customers and increase service and quality levels, a growing problem is "internal customer tyranny." That's where people in one department use their status as "customers" of another department or support group to make their own lives easier. Too often there's little or no connection to whether the real customer—those paying the bills or being served by the organization—gets better service or quality. In fact, the service or quality real customers get is usually worse.
So, how do you create an organization that keeps everyone looking at what they do from the outside in, one in which employees define, plan, implement, and measure their jobs around external customer expectations? For the many people who are not dealing with external customers directly every day, how can they define their contributions based on how well they are serving their internal partners so that external customers can be better served?
Maybe some serious thought should be given to diverting money being spent on routine, ongoing, and expensive surveys to creating such a culture. Then you can invite anyone to survey you any time. I guarantee you will be top-rated.
For those of you who continue to say, "I can't recommend that," keep wasting, er, spending your money on those expensive surveys. But remember: There is no such thing as "improvement in general." Statistics on performance by themselves don't help to improve performance—especially if exhortations in reaction to such data have become a routine "input" to your organizational process.
In fact, I heard of one executive team that went to every unit every week and planted a red, yellow, or green flag in reaction to the latest survey result....
About The Author

Davis Balestracci
Davis Balestracci is a past chair of ASQ's statistics division. He has synthesized W. Edwards Deming's philosophy as Deming intended—as an approach to leadership—in the second edition of Data Sanity (Medical Group Management Association, 2015), with a foreword by Donald Berwick, M.D. Shipped free or as an ebook, Data Sanity offers a new way of thinking using a common organizational language based in process and understanding variation (data sanity), applied to everyday data and management. It also integrates Balestracci's 20 years of studying organizational psychology into an "improvement as built in" approach as opposed to most current "quality as bolt-on" programs. Balestracci would love to wake up your conferences with his dynamic style and entertaining insights into the places where process, statistics, organizational culture, and quality meet.