This Week in Quality Digest Live
Matthew Barsalou
Six Sigma
Cleaning Up Misconceptions of the 5S Methodology
However you say these five actions, just be sure to do them—regularly
Published: Monday, March 17, 2014 - 09:29
While reading a list of 5S activities, I thought, "Am I mistaken?" The activities on the list didn't match what I thought they should be. I dug a little deeper and discovered there has been a lot of variation in the translation from Japanese to English for the methodology called 5S, which is often used for achieving and maintaining a clean and orderly workplace.
I sent the 5S terms to a Japanese-speaking friend and asked for his translation. After thoroughly confusing my friend by contacting him out of the blue to ask about the Japanese words for concepts such as "health and cleanliness," he provided the correct translations and information about Japanese characters.
5S elements: seiri, seiton, seiso, seiketsu, shitsuke
Masaaki Imai introduced the 5S concept and the original translation. In his book, Kaizen (McGraw-Hill, 1986), Imai provides these definitions:
• Seiri (整理) means to "straighten up"
• Seiton (整頓) means to "put things in order"
• Seisō (清掃) means to "clean up"
• Seiketsu (清潔) refers to "personal cleanliness"
• Shitsuke (躾) means "discipline"
By the time Imai published Gemba Kaizen (McGraw-Hill, 1997), the 5S elements were better known by the English interpretations: sort, straighten, scrub, systemize, and standardize. Although these steps accurately reflect the actions taken during each phase of 5S, they are not accurate translations from the original Japanese terms, contrary to what many authors write.
A major problem with finding suitable translations is finding English words that begin with an S. The actual translation for seiri means "order through throwing things away," so it is translated as "scrap." Seitin means "to put things in order by arranging them," so the word "sort" is used. Seisō means "clean," and there is no direct English translation that both begins with the letter S and means clean; hence, it is translated as "scrub."
Imai translated seiketsu into "personal cleanliness." The word actually refers to the health and cleanliness of the individual and has no direct English equivalent. Imai's original definition was close to the correct translation; however, it does not fit well with 5S. A more appropriate 5S-oriented, but less correct, translation is "standardize" because this is the point in 5S where standardization should be implemented. Shitsuke means "being disciplined through training or repetition," and this is easily translated into "self-discipline."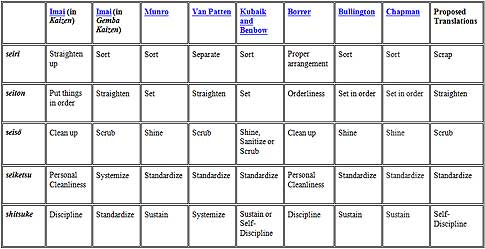 Figure 1: Japanese-to-English translations according to various authors and proposed translations. References to the authors are at bottom of article. Click here for larger image.
Implementing 5S
More important than arguing about the semantics of 5S is implementing a 5S program that achieves a clean and organized work area that stays clean and organized. This can be accomplished with the following five steps:
• Seri/sort. The work area, whether it's an office desk, workbench, or production machine, should be cleared of unneeded items such as documents or tools. Only those items that are needed should be stored directly on the work surface.
• Seiton/straighten. Items that are needed in the work area should be stored in an orderly manner. This makes it easier to find the tool and to quickly notice if a tool is missing at the end of a work shift.
• Seisō/scrub. The work area should be completely cleaned. Coffee stains should be removed from desks, and grease stains should be removed from machines. Chipped and peeling paint should also be touched up. This results in a much more professional-looking work area.
• Seiketsu/standardize. Individual workstations should be set up according to the same standard. This makes it easier to find tools and results in an orderly appearance in the work area.
• Shitsuke/self-discipline. 5S is not a once-a-year spring cleaning. It is a methodology that should be repeated at regular intervals. Equipment should be put away when it's not needed, and cleaning must be performed regularly. Self-discipline is needed, and a regular 5S schedule could also be helpful.
Regardless of the language used to describe it, a clean and orderly office or production floor speaks for itself. It's easier to locate tools and equipment in an organized and standardized work area. A cleaned and straightened work area also gives a better impression when customers visit. Developing self-discipline ensures that a clean and well-organized work area stays clean and well-organized.
References
1. Imai, Masaaki, Kaizen: The Key To Japan's Competitive Success, McGraw-Hill/Irwin, first edition, 1986
2. Imai, Masaaki, Gemba Kaizen: A Commonsense, Low-Cost Approach to Management, McGraw-Hill, first edition, 1997
3. Munro, Roderick A., Six Sigma for the Office: Spiral, ASQ, pocket edition 2002
4. Van Patten, James, "A Second Look At 5S," Quality Progress, Oct. 2006 (ASQ members only)
5. Kubiak, T.M. and Benbow, Donald W., The Certified Six Sigma Black Belt Handbook, Second Edition, ASQ Quality Press, second edition, 2009
6. Borror, Connie M., The Certified Quality Engineer Handbook, Third Edition, ASQ Quality Press, third edition, 2008
7. Bullington, Kimball E., "5S for Suppliers," Quality Progress, Jan. 2003, (ASQ members only)
8. Chapman, Christopher D., "Clean House With Lean 5S" Quality Progress, June 2005 (ASQ members only)
About The Author

Matthew Barsalou
Matthew Barsalou is a statistical problem resolution master black belt at BorgWarner Turbo Systems Engineering GmbH. He is an ASQ-certified Six Sigma Black Belt, quality engineer, and quality technician; a TÜV-certified quality manager, quality management representative, and quality auditor; and a Smarter Solutions-certified lean Six Sigma Master Black Belt. He has a bachelor's degree in industrial sciences, and master's degrees in engineering, business administration, and liberal studies with emphasis in international business. Barsalou is author of Root Cause Analysis, Statistics for Six Sigma Black Belts, The ASQ Pocket Guide to Statistics for Six Sigma Black Belts, and The Quality Improvement Field Guide.