Featured Video
This Week in Quality Digest Live
Mike Richman
Quality Insider
Book Review: Value Stream Mapping
How to visualize work and align leadership for organizational transformation
Published: Wednesday, February 5, 2014 - 16:57
The recently released book, Value Stream Mapping, by Karen Martin and Mike Osterling (McGraw-Hill, 2013), necessarily emphasizes using a tool, in this case the value stream map, to unlock enterprisewide performance improvement. As good lean practitioners, however, Martin and Osterling understand that tools can take you only so far; principles matter far more. As they write: "The broader use of value stream mapping [is] as a methodology to transform leadership thinking, define strategy and priorities, and assure that customers are receiving high levels of value."
That's it in a nutshell. That broad scope and focus on customers as the ultimate arbiter of an organization's quality often gets overlooked in books of this nature, which can sometimes get bogged down in the minutiae of a particular methodology. But there are no angels-dancing-on-the-head-of-pins arguments here, just good, practical advice for continuous improvement.
Of course, the entry point for that improvement is the value stream map, and the authors do a nice job here of describing value streams, current states, and future states within the framework of the processes that start with a customer request and end with customer fulfillment.
So why are value stream maps so important? Because in many organizations, no single person can adequately describe all the processes involved in satisfying a customer. A silo approach to work is the result, and that leads to the disease of suboptimization, where a micro-level approach to inputs and outputs cripples the organization's ability to improve and achieve its strategic mission.
Martin and Osterling give a pertinent example: "If one department successfully reduces its turnaround time, but the faster output merely causes a larger queue and/or more work for the downstream department, the improvement may have a negative impact on the performance of the overall system." In other words, small improvements that are not thought through on a grander level may actually worsen an organization's quality in the long run.
Allowing team members to see and understand how work really flows (or, more often, doesn't flow) within and between teams provides an immediate appreciation for what needs to change to achieve desired results. Comparing the current state map with the ideas for a future state helps to quickly shape the way forward for managers and team members alike.
There is often a psychological benefit to the process as well. Making the connections between functional areas visual often eradicates misunderstandings and bruised egos. Teammates begin to see that inefficiencies come not from malicious individuals but from calcified systems with broken process flows that have been put into place and often left unchanged for years.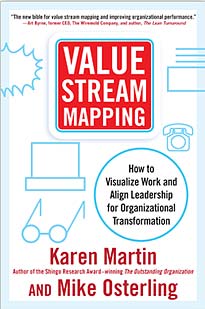 Replete with dozens of charts, graphs, and of course, maps, Value Stream Mapping offers an exceptionally illustrative approach to what is, after all, a visual process. In the appendixes, Martin and Osterling provide sanitized but real-world examples of successful value stream maps for organizations operating in healthcare, purchasing, repair services, shelving systems, and software development. Although each of these sectors has its own unique inputs and outputs, the basic idea is that the strategic approach to the value stream (one that places the customer front-and-center) applies in practically any environment imaginable.
Wherever you are, whatever you do, if you have customers, then a better understanding of value stream mapping will help you improve. This book is a good place to start.
About The Author

Mike Richman
Mike Richman is Quality Digest's publisher.