This Week in Quality Digest Live
Jay Arthur—The KnowWare Man
Six Sigma
Why Six Sigma Isn't Sticky
We need to make it less scary
Published: Tuesday, September 25, 2012 - 11:17
I went into my local Barnes & Noble looking for a book and decided to check if they carried my book, Lean Six Sigma Demystified. There were four rows of business books on management, leadership, sales, and so on. The "quality" section, consisting of about 15 titles, was on the bottom shelf of the last row of books.
You would think that if there was a methodology that would help most companies cut costs by a third, double profits, and boost productivity that it would get more play in bookstores. It doesn't.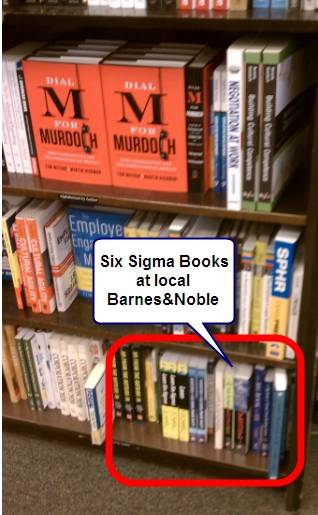 Six Sigma just isn't sticky
Whenever I mention Six Sigma to anyone there are two reactions:
• If they've never heard of it, they say: "That sounds complex. Are you an engineer?"
• If they have heard of it, they grimace and say: "Isn't that just for manufacturing?"
Why Six Sigma isn't sticky
Six Sigma enjoyed a certain celebrity glow when Jack Welch still ran General Electric and embraced the methodology. Since then, Six Sigma's star has been on the wane.
Here's some reasons why Six Sigma isn't sticky:
• The phrase Six Sigma sounds complex, mathematical, or statistical, which turns most people off.
• The two-to-four week trainings required to become a Green Belt or Black Belt has created too high a bar to even get started.
• The obsession with statistical perfection espoused in these trainings makes the average person cringe.
What would make Six Sigma more sticky?
I often tell people that the essential methods and tools of Six Sigma aren't that complex and don't take more than a day to learn; it's people and cultures that are hard to change.
There's more than 50 years of research in how to make an idea stick in a culture. Check out The Diffusion of Innovations, by Everett Rogers (Free Press, 2003). For a more popular version of these ideas, read Ideavirus by Seth Godin (Hyperion, 2001). Download it for free online.
To make Six Sigma sticky it first it has to be desirable (relative advantage). It surprises me that leaders don't seem to realize that Six Sigma will save them a third of total costs, double productivity, boost profits, and so on.
Then, it has to fit in with the culture and practices (compatibility). Innovation cultures are naturally resistant to improvement cultures and vice versa. Almost every business has Microsoft Excel, so Six Sigma tools that work in Excel will be easier to deploy and use.
Then make it easy to take a test drive (simplicity and trialability). Currently, Green Belt and Black Belt trainings make it hard to try Six Sigma. That's why I put a free, self-paced "Money Belt" training up on YouTube (www.lssmb.com). It's essentially Yellow Belt training, but it's focused on getting results with Six Sigma, not certifications. Students can also download a free 30-day trial of the QI Macros for Excel to do their "dojo" course exercises.
Then, make it easy for others to see your successes (observability). The fastest and stickiest way for an idea to travel through a culture is by word of mouth or word of mouse. The Internet makes it easy for people to share ideas, but we seem to keep our successes under wraps. The American Society for Quality (ASQ) recently announced that it had 100 case studies on the website, but you can only access them if you're a member. No wonder membership is declining.
To accelerate Six Sigma, we need lots of case studies in various formats widely available on YouTube, SlideShare.net, iTunes, etc. If you've got a case study, take a few minutes and post it.
Finally, I think we may have to rename Six Sigma to something more exciting like "process innovation" or something similar. Total quality management was too scholarly. Six Sigma is too complex and statistical. We need a name that doesn't invoke fear or dread. We may have to get rid of DMAIC and DMADV and opt for something simple and direct. I use FISH—focus, improve, sustain, and honor.
In our obsession with numbers and statistics we've overlooked the human element that is essential to Six Sigma's success. We need to lower the bar of entry into the world of Six Sigma. We need a staircase that will make it easy for people to ascend to Green Belt and Black Belt levels of knowledge, not in one big vertical jump, but a series of simple steps.
And I think we need to take our focus off of "belts" and instead focus on results. The more we share our results and successes, the easier it will be for others to observe the results and want to join in.
It's up to you. Do you want to make Six Sigma more edible and more desirable by the masses? Or are you going to insist that it remain a secret society of specialists?
Based on my local Barnes & Noble, Six Sigma has become passé. Time to rethink our approach. It isn't working.
About The Author

Jay Arthur—The KnowWare Man
Jay Arthur, speaker, trainer, founder of KnowWare International Inc., and developer of QI Macros for Excel, understands how to pinpoint areas for improvement in processes, people, and technology. He uses data to pinpoint broken processes and helps teams understand their communication styles and restore broken connections. Arthur is the author of Lean Six Sigma for Hospitals (McGraw-Hill, 2011), and Lean Six Sigma Demystified (McGraw-Hill, 2010), and QI Macros SPC Software for Excel. He has 30 years experience developing software. Located in Denver, KnowWare International helps service and manufacturing businesses use lean Six Sigma tools to drive dramatic performance improvements.