This Week in Quality Digest Live
Shellye Archambeau
Quality Insider
What is Your Company's Cost of Poor Quality?
Tools for calculating and reducing it
Published: Monday, August 23, 2004 - 22:00
"Quality is never an accident, it is always the result of an intelligent effort"
—John Ruskin (1819-1900)
A manufacturing company had annual sales of $250 million. Its quality department calculated the total cost of repair, rework, scrap, service calls, warranty claims and write-offs from obsolete finished goods. This aggregated cost, called cost of poor quality (COPQ) amounted to 20 percent of the annual sales. A 20 percent COPQ implied that during one day of each five-day workweek, the entire company spent time and effort making scrap, which represented a loss of approximately $200,000 per day.
Experts have estimated that COPQ typically amounts to 5-30 percent of gross sales for manufacturing and service companies. Independent studies reveal that COPQ is costing companies millions of dollars each year, and its reduction can transform marginally successful companies into profitable ones. Yet most executives believe their company's COPQ is less than 5 percent, or just don't know what it is. All levels of executives recognize that quality is an absolute necessity to survive and succeed in today's business environment. The figure below provides a framework for calculating COPQ as a percentage of sales.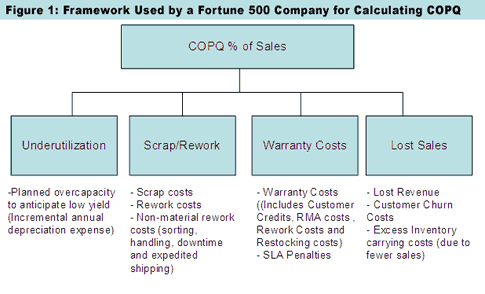 Click here for larger image
In a recently published book, Success through Quality (ASQ Quality Process, 1st edition, 1998), author Timothy J. Clark estimates COPQ for an average company at about 20 percent of sales. The range varies to less than 1 percent for companies who have truly achieved "Six Sigma," about 15 to 25 percent for companies that are at the four sigma level and about 25 percent to 40 percent of revenue for companies that are at three sigma levels. A large Fortune 500 communications company calculated its COPQ at 8.6 percent of sales in 2002 and has set a goal of 5.4 percent for 2005, which will result in a savings of nearly $1 billion per year.
COPQ in a supply chain
The COPQ of individual suppliers participating within a supply chain has a cumulative effect on the COPQ of the OEM shipping the end product (see figure below). As a result, companies are working proactively with suppliers to reduce their COPQ. Many OEMs are also implementing supplier charge-backs (also called cost recovery), when a supplier is charged for the additional cost incurred by the OEM due to nonconforming components and materials and late deliveries. A charge-back system is an effective way to introduce business discipline and accountability into the supply chain. OEMs use it as a "stick" for their suppliers to drive them to collaboratively identify the root cause of quality problems and to implement corrective actions.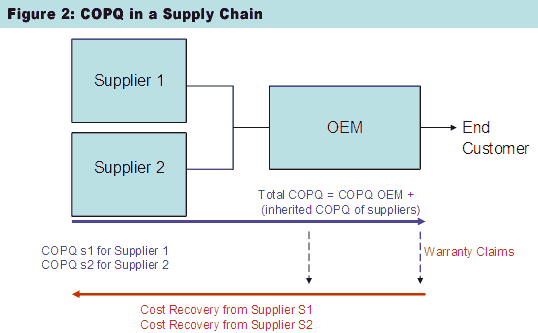 Reducing COPQ
Systematic reductions in the cost of poor quality can be attained by implementing a quality management system that provides an integrated and closed loop corrective action process. In a manufacturing organization, when deviations, nonconformance, out of specifications, quality incidents or customer complaints occur, corrective and preventive actions need to be initiated to remedy the problems.
Once a quality problem has been identified, the first step is to initiate an investigation to properly identify the root cause of the problem. After it's been identified, corrective action (CAPA) items are created and routed for approval. When approved, appropriate changes are implemented in the environment and then the CAPA is closed out. These changes may include amendments to a documented procedure, upgrading the skill set of an employee through a training and certification process or recalibrating the manufacturing equipment. In addition, the system may capture COPQ associated with that nonconformance and use that information to initiate and complete a cost recovery process with a supplier.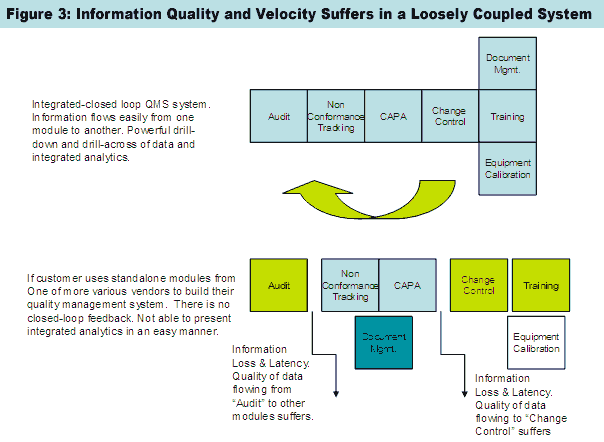 It's critical to deploy a closed-loop, integrated quality management system, rather than a set of loosely connected modules from one or more vendors. Integration ensures the information flows out the corrective action process with a high degree of accuracy and velocity without falling through the cracks. It also ensures the entire change control process is auditable end-to-end—a critical requirement to support FDA 21CFR Part 11 and the Sarbanes-Oxley Section 404 audit criteria.
The QMS system should also be Web-based so the suppliers can easily participate in the quality management process. The suppliers often use the same plant to manufacture products for multiple OEMs. As a result, they can't be forced to install different systems for different OEMs at the same plant to support their respective quality needs. Hence the OEM has to rely on process and product quality information from the supplier's quality system. That information usually doesn't integrate well with the OEM's own systems and is frequently not available in a timely manner. A Web-based QMS allows the OEM to make the application available without requiring the supplier to implement the system at their site. As a result, the supplier can provide relevant quality information about the shipment to the OEM even before it ships from the supplier's dock. If there are quality issues with any supplier component, manufacturers can take appropriate preventive action even before it arrives or take it out of the supply chain to reduce their own COPQ. QMS systems that don't support Web architecture make it difficult for a supply chain participating-OEM to reduce its effective COPQ.
Cost of poor quality results in millions of dollars in lost earnings every year, yet most executives can't accurately state the COPQ from their organization. Organizations must develop processes to measure and track COPQ and deploy integrated quality management systems to systematically reduce their COPQ.
About The Author

Shellye Archambeau
Shellye Archambeau is a recognized leader in quality compliance. She has a proven management track record and more than 18 years of experience driving sales growth in the technology industry. Prior to joining MetricStream, Archambeau was chief marketing officer and executive vice president of sales for Loudcloud Inc., responsible for all global sales and marketing activities. There, she led the transformation into an enterprise-focused company while growing sales 50 percent year-over-year. In June of 2000, she was recognized by Internet World as one of the Top 25 "Click and Mortar" executives in the country.