Featured Video
This Week in Quality Digest Live
Jay Arthur—The KnowWare Man
Six Sigma
Six Sigma Tricks of the Trade: Less Tricks, More Trade
Begin with a toolbelt, not the toolbox
Published: Thursday, December 10, 2009 - 05:00
After a meal at a local Chinese restaurant, my fortune cookie said, "If you keep too busy learning the tricks of the trade, you may never learn the trade." When I think about how this applies to Six Sigma, it seems obvious that far too much Six Sigma training is dedicated to the tricks of the trade and not enough to the actual trade.
The long tail of Six Sigma tools
To fill the long weeks of Six Sigma training, most trainers cover every tool in the toolbox as if they are equally important. One trainer admitted that their Black Belt training for health care included three days of design of experiments (which health care never really needs).
In any profession, there are a handful of tools that are used all the time and a slew that are used once in a very long while. This is true of Six Sigma; there is a "long tail" of tools.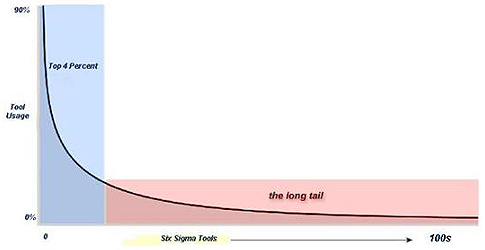 Master the top 4 percent
One of the principles of adult learning is that participants must use what they've learned in 72 hours or they lose 90 percent of what they've learned. Most Six Sigma training is done in a week-long format. This means that by Thursday, participants have forgotten Monday; by Friday they've forgotten Tuesday; and by Monday of the following week they've forgotten most of the previous week.
I know what a lot of trainers are thinking: "But we have case studies they do in class." I have found that unless people apply Six Sigma methods and tools to their own work environment, it just doesn't stick. Classroom case studies are nice, but they won't add money to the bottom line, and that is unacceptable.
Master these tools first
A handful of tools (the top 4%) such as control charts, Pareto charts, and fishbone diagrams will solve 90 percent of common problems with defects. If there's a lot of variation (I call it deviation), throw in a histogram or two. Master these tools first. Then add the long tail of tools as needed. (Admit it; that's how your home toolkit grew from a hammer, a screwdriver, and a wrench into a toolbox of gadgets.)
Use company data
Use data from the company, not case study data, to tailor the learning to the participants. Using the company's data, these tools can be learned and applied in a day, not a week.
Learn the trade, not the tricks
In school, we learned reading, writing, and arithmetic, but we didn't learn calculus right out of kindergarten. We shouldn't expect employees to skip grade school and start college, but that's what we've done with Six Sigma by covering the long tail of tools—tools they will rarely use.
Let's start teaching people how to solve common problems in their business. Let's make them successful with the top 4 percent of tools and then add the long tail as needed. I run into people I trained 15 years ago that are still using these tools in whatever job they've taken. When they pull their improvement stories out of their desk to show me, I feel good knowing that the one-day training stuck in their skull and took root and flourished.
Let's teach them the trade, then the tricks of the trade. It's hard to make money in a training business that way, but it's a powerful way to deliver bottom-line savings and boost profits.
About The Author

Jay Arthur—The KnowWare Man
Jay Arthur, speaker, trainer, founder of KnowWare International Inc., and developer of QI Macros for Excel, understands how to pinpoint areas for improvement in processes, people, and technology. He uses data to pinpoint broken processes and helps teams understand their communication styles and restore broken connections. Arthur is the author of Lean Six Sigma for Hospitals (McGraw-Hill, 2011), and Lean Six Sigma Demystified (McGraw-Hill, 2010), and QI Macros SPC Software for Excel. He has 30 years experience developing software. Located in Denver, KnowWare International helps service and manufacturing businesses use lean Six Sigma tools to drive dramatic performance improvements.