This Week in Quality Digest Live
Chip Johns
Lean
Improving Manufacturing Processes Through Lean Implementation
Making it possible to try new ideas is fundamental to continuous improvement
Published: Wednesday, April 22, 2015 - 15:07
Reducing waste, implementing efficiency-promoting practices, and continuously improving operations are the main goals of lean manufacturing ideology. These tasks may seem daunting for a manufacturer at the start of an improvement program, but there are many concrete steps that can be taken to shift the culture at any company.
For many companies, all it takes to dramatically increase efficiency and reduce waste is a commitment to dive right in and a willingness to try new and creative ideas to find out what works best. If you are able to simplify your manufacturing tasks, increase spatial and workflow organization, take steps to reduce errors, and listen to employees on the manufacturing floor, your company will begin to see reduced waste, improved employee morale, improved efficiency, and a greater ability to manufacture products on a predictable timetable.
The following tips can help send you on your way toward all of these goals and change the way your company operates to be ready for improvement at all times.
Simplify manufacturing tasks
At the heart of waste reduction and increased efficiency is simplifying manufacturing tasks. Without a critical eye toward opportunities for simplification, manufacturing tasks throughout your operations become inefficient, which can lead to wasted time and resources, inconsistent product quality, and a number of other negative outcomes. Finding an appropriate method for simplifying manufacturing tasks is therefore an important first step in any company's improvement.
Take, for example, Butler Automatic, the inventor of the zero-speed, nonstop automatic film splicer. Butler equipment eliminates downtime due to web changes for the packaging industry. Given that promoting efficiency is a key part of Butler's business, the principles of lean are integral to the company's own manufacturing practices.
When Butler Automatic began to solidify its commitment to lean manufacturing practices, it had to find a simplification method that was right for its specific type of manufacturing. Because Butler builds configured machines and products that are all the same conceptually but each is slightly different to be perfectly tailored to its end use, a practice known as cellular manufacturing was implemented. Cellular manufacturing is highly useful for companies that build machines that must be configured exactly right the first time.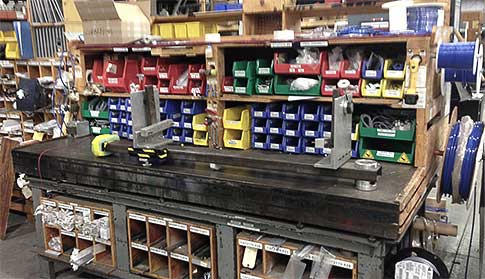 Implementation of cellular manufacturing at Butler Automatic has simplified manufacturing tasks and led to reduced waste of time and materials.
With this method, cells are set up on the manufacturing floor for each step in the manufacturing process and for each different component of the final product. The individual cells are tailored to their function in terms of materials, tools, and design. In this way, efficiency is increased and waste reduced because all the appropriate materials and tools are already at workers' fingertips.
Cellular manufacturing also calls for the same process to be followed each time a certain part is produced or altered. Possible errors are reduced by this increased repetition, and operator training is made simpler. Perhaps most important to the lean manufacturing process, repetition makes it easier to make iterative changes and track whether these changes have a positive effect on the overall efficiency of the process. Continuous improvement will be addressed later on in this article, but it is a key component of every aspect of lean manufacturing practices.
Although cellular manufacturing isn't the only way to simplify manufacturing operations, it is one of the most effective and provides an excellent example for the positive outcomes that can result from implementing lean practices. Cellular manufacturing may be right for your business, or you may want to try to find a different way to simplify tasks. Either way, finding a way to simplify your manufacturing process that leads to repeatable quality and easily traceable results is an important first step in improvement.
Increase organization
In addition to simplifying processes, organizing your manufacturing floor and workflow can greatly increase efficiency. Spatial organization of tools, materials, and manufacturing space cuts down on search and transport times. Neat and orderly workspaces help workers to feel more relaxed and enable them to work quickly and efficiently. General cleanliness from dirt, dust, and spills is important, and not just because of the positive effect on worker morale; cleanliness improves workers' safety and final product quality. Cleanliness is fairly easy to maintain if cleaning supplies are visible and readily available. Organization, on the other hand, usually requires a more codified system.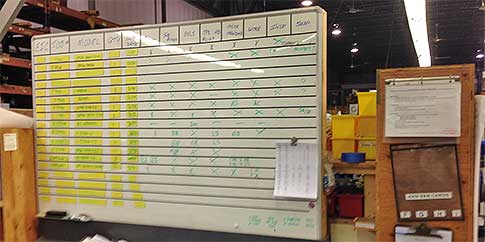 Visual systems, like the pictured job board, help to increase organization on the manufacturing floor and streamline the production process.
Visual systems are particularly useful when it comes to manufacturing organization. Job boards directly on the manufacturing floor, for example, help to convey instructions and customer needs directly to those who need them. These boards can include what jobs are currently on the manufacturing floor as well as their status, instructions, or any other relevant information for managers, operators, and other staff. Similarly, job boards can include more detail about each individual product and can be made accessible to all workers who need access to that information.
Take steps to reduce errors
Errors are an inevitable part of manufacturing, regardless of the level of automation, organization, and process simplicity. Recognizing common sources of errors beyond organizational issues and working to improve them can help to limit those errors and therefore positively affect your process.
For instance, the number of times a part or product is handled often leads to an increase in the likelihood that an error will occur. Conversely, limiting the handling of a part or product will decrease the chance that an error will occur. Taking steps to limit material handling is one way of promoting error reduction in your process. For Butler Automatic, reducing material handling took the shape of introducing a vendor-managed inventory (VMI) process.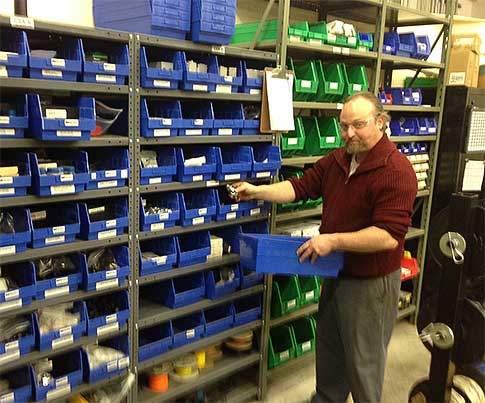 The combination of cellular manufacturing and vendor-managed inventory (VMI) has drastically reduced errors in the Butler Automatic manufacturing process.
Although some may think that VMI increases the likelihood that errors will occur on the part of vendors, in reality, VMI is much more than shifting responsibility and handling time. VMI helps to reduce the total inventory in the system and reduce each individual component's amount of handling by essentially extending the vendor's factory or warehouse into your own manufacturing facility. The vendor places inventory right into manufacturing cells or other use areas, cutting out the need to receive, handle, count, and shift components from receiving to their point of storage and then point of use.
In addition, creating standard procedures whenever possible can help to reduce errors. Increased repetition means simpler operator training and increased familiarity with the process. Simplified operation has the added benefit of making it easier to train your workforce across different parts of the manufacturing process. Cross-trained workers help to increase workforce flexibility and therefore efficiency.
Listen to employees and constantly improve
Cross-training workers throughout your manufacturing process has benefits beyond flexible work assignments. Cross training gives employees a broader look at the entire manufacturing process, and makes it more likely that they will be able to come up with creative solutions for increasing efficiency and continuously improving your processes. Continuous improvement can't work when implemented as a top-down process because executives and even managers often don't have hands-on experience with the process that is most important to finding new and better ways of doing things. Throughout the process workers must feel free to think creatively about the work they and their peers are doing, and imagine ways to make that work more efficient with greater quality control.
Employee empowerment and buy-in to a continuous improvement process occurs in something of a positive feedback loop. When employees see their own or their co-workers' ideas being implemented, they become more likely to speak up when they have an idea. This is especially true when ideas are encouraged, and those who attempt to innovate aren't stifled when their ideas don't work.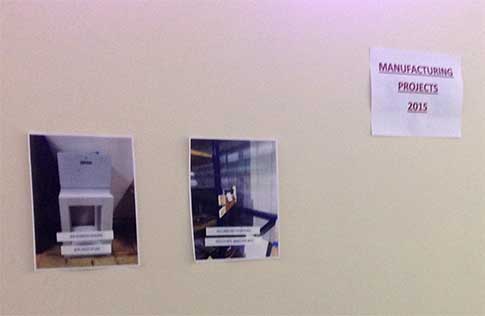 Employee pride and buy-in to a company's commitment to continuous improvement is key to lean manufacturing success.
One of the most important things to recognize about implementing lean manufacturing practices is that not every step toward continuous improvement will improve processes. Some ideas will be tested and not work well. Don't be afraid to take a step backward and start over when something doesn't work the way you imagined it. You can always take a step back, but unless all employees feel that their ideas are valued, you won't always be able to take interesting, creative steps forward.
Butler Automatic celebrates innovation by photographically documenting process changes as they occur, and crediting employees who have worked to come up with and implement these changes. This lets employees know how far they have come in generating improvements, and therefore increases employee pride and satisfaction. The level of pride that employees take in their work means that they, and their peers, are more likely to continue doing that work to the best of their abilities, and constantly find new ways to do it better.
Overall benefits of lean manufacturing
Successful lean manufacturing initiatives lead to a wealth of benefits, including increased efficiency, higher throughput, more predictable timing of the manufacturing process, and therefore a greater ability to forecast production schedules and meet product deliveries. Butler Automatic, for example, has had a lean outlook on manufacturing for many years but took great strides forward in simplifying and improving their process in 2014. As a result, on-time delivery improved from an average of 77 percent before 2014 to 97 percent during 2014. Butler Automatic products are components of larger packaging lines, so on-time production is critical. Lean manufacturing practices have led to huge strides forward in keeping production on time.
In addition, the practices described in this article led to a better-trained, more flexible workforce. That training, combined with encouraging employees' ideas and a clean and safe work environment, has led to a happier, more productive, and more loyal staff. With a group of people who take great pride in their work and who enjoy doing it, continuous improvement could be a natural, long-lasting result and a way of life at your company.
About The Author

Chip Johns
Chip Johns is the president and COO of Butler Automatic, the inventor of automatic splicing technology. Prior to Butler, Johns built Vanguard Sailboats from a start-up company into an industry leader through organic growth, new product development, and several acquisitions. In addition to his role at Butler, Johns is one of the founders of a private equity investor group targeting middle-market manufacturing companies, and has served as a strategic advisor to established and start-up manufacturing companies.