This Week in Quality Digest Live
Quality Insider
The Scanning of Historic St. Luke's Church
Combining a laser tracker and scanner reduced the time and effort for this tricky job
Published: Wednesday, August 1, 2012 - 11:23
St. Luke's Church of Smithfield, Virginia, dates back to 1632. As the oldest surviving Gothic building in the United States, St. Luke's Church is a historical landmark that is very significant to the Smithfield community and surrounding area. Despite being carefully preserved by a dedicated group of volunteers, St. Luke's is cracking and settling.
Like many historic buildings, St. Luke's lacks any real structural documentation, so how much damage the building is incurring over time is largely unknown. Furthermore, if the church incurred any significant damage from natural disaster, it would be very difficult to restore this important historical landmark.
St. Luke's Church; however, has a special benefactor. New River Kinematics' sales engineer, Will Austin, is a Smithfield native with close ties to the church; in fact, his parents were married there in 1975, and he has family on the board of Historic St. Luke's Restoration Inc.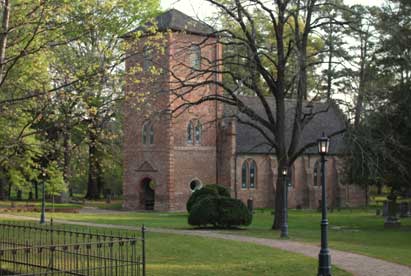 Having studied mechanical engineering and worked in the measurement group at the Newport News Shipyard before joining NRK, Austin brings a specialized set of skills and tools to the preservation of St. Luke's Church. While the earthquake of 2011 spared the church of any damage, the earthquake damaged several other historical buildings in the area, and it was this event that set Austin into action to document St. Luke's church in a three-dimensional way.
To carry out his mission, Austin enlisted the help of Ron Hicks, president, and Ryan Grelinger, application engineer, of API Services. The API Services team provided a full 3D laser scan of the church, both interior and exterior, in just a few hours, and the process required only one application engineer.
The primary workhorse of the operation was a special scanner produced by Surphaser that is designed to take millions of measurements as it rotates on a rigid tripod. The Surphaser is well-suited for this task because it has the capability to measure a range from 0.2 m to 70 m, providing ultra-low-noise, submillimeter data at a rate of up to 1.2 million measurements per second. Although St. Luke's is relatively small for a church, it is not a small building. Much like with a camera, the scanner cannot visualize the entire church from one position. In fact, the scanner had to be moved through 13 stations to fully visualize the exterior of the church, and through an additional nine stations to scan the interior. The beauty of a scanner is that it can essentially cover the surface of the church with incremental measurements. However, like a spray paint can, a scanner cannot provide full coverage and record everything you want to measure. There are areas that are well covered and areas that are missed, depending on how the "spray" of measurements hits the church. To fill the gaps, a Leica Total Station TDRA6000 was used as well. The total station is like a theodolite regularly used in construction projects, except it has the added benefit of delivering a range measurement, as well as an angle and inclination, at a very high accuracy.
Like a jigsaw puzzle, each of these scans and total station measurements must fit together to create a 3D representation of the church that can be later used for its inspection and repair. Traditionally, these scans have to be independently registered together to analyze the 110 million point measurements taken in the 22 scan stations and total station measurements. However, SpatialAnalyzer provides a number of simplified solutions and powerful tools to accelerate this process.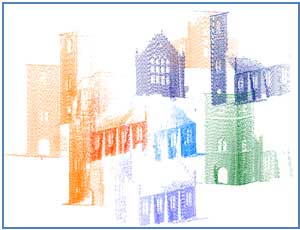 There are many ways that SpatialAnalyzer can fit scans together. For example, in many industrial measurement situations, tooling balls are placed in the view of each of the scanner stations. SpatialAnalyzer can automatically search the scan data, extract the exact center of each sphere, and align the scans based on these "control points." Alternatively, if a CAD model of the church existed, the scan data could be quickly aligned to the model. However, in this case without a reference model or location points, Austin and Hicks employed an even easier method. They used a third instrument, an API T3 Laser Tracker, to take measurements of each scanner location while still in the field, a process known as "SMART scanning." By combining a laser tracker system and 3D laser scanner, the SMART scanning process reduced both the time and effort associated with the job, in turn reducing overall costs.
Using SpatialAnalyzer, the scanner was located by means of the laser tracker before starting each new scan. To do so, several tracker measurements were taken from location points placed on the scanner. This was simplified through the use of SpatialAnalyzer Remote, an iOS phone app that functions as a remote control for the tracker. This allowed users to walk to the scanner, set a spherically mounted retroreflector (SMR) in a locator on the scanner, use SpatialAnalyzer Remote to trigger a tracker measurement, and continue through the locator measurements. The greatest advantage to locating the instrument prior to taking the scan measurements (rather than returning to the lab with a scatter of unregistered scan data), is that users can observe the scan in SpatialAnalyzer in real time, in a registered position. This allows for real-time monitoring for areas of low scan coverage and allows users to decide about the need for additional scan locations, which prevents return trips to fill data gaps. After the entire scan of both the inside and outside of the church, a process that took less than six hours, the resulting file contained 110 million point measurements from 22 scan locations, all aligned to a unified coordinate system.
Back at the lab, SpatialAnalyzer's Unified Spatial Metrology Network (USMN) feature was used for instrument shot error estimates and advanced fitting techniques to further refine the instrument locations and hone in the measurements to their optimal capability. Once assembled in the software, the church can be literally picked up and rotated to be viewed from any perspective.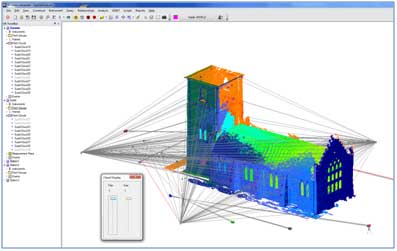 SpatialAnalyzer provides a suite of tools to enter the church clip to the points of interest and visualize its internal structures for detailed analysis. In this case, a simple floor plan was first constructed by building a virtual plane through the church and filtering the scan data within a certain proximity to the pane. Doing so created a true measurement of wall thickness and placement at the height of that plane. This was done at several heights throughout the church, creating a layout of both the church and its internal structures. This provided a submillimeter measurement of the placement of the internal structural components such as the pews and pulpit in relationship to the walls, columns, and supports.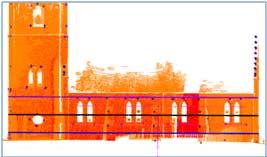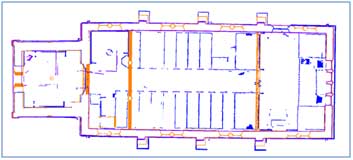 An advantage of the complete scanning approach is that any particular aspect of the structure can at any time be extracted and examined in greater detail. For example, if fire damaged the pulpit inside the church, it would be possible to rebuild these structures based on the scan data of these feature alone. SpatialAnalyzer allows users to draw a clipping box around any particular set of data and isolate it, so that only data within this defined box of clipping planes are shown. The box can then be easily moved about the data, expanded, and contacted while acting as a magnifying glass to capture only the relevant data to the particular analysis. This data can then be subsampled to create another file that can create dimensions, measure angles, and re-create these features.
An example of the power of this tool is shown below.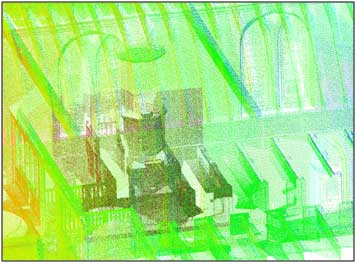 A picture of the pulpit shown within the other scans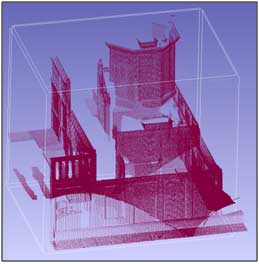 A view of the pulpit using the clipping planes tool.
API Services and New River Kinematics intend to continue their joint efforts to preserve St. Luke's Church. Future plans include an additional scan later this year and subsequent scans in the years to come to analyze changes in the church's structure. Since a full scan has been completed, only a quick subsample of measurements will be necessary for comparison to the master data set. Should major shifts in the church occur, they will be easily recognizable through comparison to this original data set, and steps can then be taken to protect this priceless historic site.
About The Authors

New River Kinematics
New River Kinematics (NRK) is an engineering company focused on creating high quality software that provides comprehensive production solutions in a variety of industry settings (aerospace, shipbuilding, energy, and satellite). We use our comprehensive toolkit of software components, custom software development skills, and engineering expertise to solve engineering problems quickly and efficiently.

API Services
API Services, a metrology and machine tool calibration service company, has been in business since 2008 and is headquartered in Newport News, Virginia. API Services offers machine tool calibration and repair, contract measurement services, tracker and software training, on-site laser tracker calibration and certification, 3-D laser scanning, customized maintenance and support services, and you can rent or be trained on API equipment. Visit www.apitechnical.com for more information.