This Week in Quality Digest Live
Rob Fenn
Standards
Maintaining an ISO Management Standard
The three-year certification cycle explained
Published: Wednesday, January 29, 2014 - 09:42
O ne reason why ISO's management standards are so highly regarded is that in order to claim ongoing certification, organizations must be audited continually to ensure they still meet the requirements of their chosen standard. This independent verification gives clients and other stakeholders the reassurance that certified organizations really do "walk the talk."
After achieving ISO certification, organizations are granted certification for a three-year period, subject to ongoing reassessment from their chosen certification body. Now read on to find out how this could work for your company.
Gaining initial certification
The first step toward achieving certification is the stage 1 audit. This assessment reviews your current management system arrangements and verifies how close you are to meeting your chosen standard's requirements. The outcome is a plan of action to enable readiness for the stage 2 conformity audit. Many organizations find that they already have a number of required processes in place; they just need better documentation and communication of what processes are mandatory, and who has responsibility for what.
Once you are confident that everything is in place, the stage 2 audit is arranged to verify your conformity to your chosen standard. Assuming all goes to plan, your auditor will confirm that you are to be recommended for certification. This recommendation will then be reviewed as part of an exacting approvals process prior to certification being granted.
Surveillance audits
ISO management standards focus on continuous improvement, and this is something that is looked for during surveillance audits. You must be reassessed at least annually, although depending on the size and complexity of your organization, you may need to be visited more frequently.
Successful surveillance audits are a result of continued buy-in from your management and staff, together with effective internal audits and management reviews to ensure everyone is singing from the same hymn sheet.
The surveillance audit is not required to be as comprehensive as the stage 2 audit, and its duration will be influenced by the scope and complexity of your management system and the results of any previous audits. Two years of surveillance audits are then followed by the recertification audit.
The recertification audit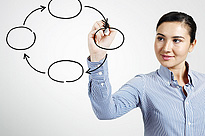 The final part of the certification cycle is the more comprehensive recertification audit at the conclusion of the third surveillance year. Based on this visit, there will be a recommendation made about certification renewal for another three-year cycle, together with any adjustment required to the ongoing surveillance plan based on observed trends throughout your certification cycle.
First published Jan. 14, 2014, on the British Assessment Bureau blog.
About The Author

Rob Fenn
Rob Fenn is a director at the British Assessment Bureau, a UK-based certification body. Fenn is an experienced published writer and speaker on ISO's management standards, with a keen interest in helping organizations achieve engagement and reap maximum benefit from implementation.