This Week in Quality Digest Live
Dirk Dusharme @ Quality Digest
Six Sigma
A Kata for Developing Solutions
Creating a Toyota-style system involves developing your own solutions.
Published: Thursday, June 10, 2010 - 06:00
For more than 20 years, Toyota's methods, known as "lean," have made headlines. And that's how long engineer, researcher, and author Mike Rother has been involved with the subject. Like many others, Rother began with Toyota's production tools. And like many others, he found that these are difficult to put into practice at other companies. So he studied Toyota's management approach, and his new book, Toyota Kata: Managing People for Improvement, Adaptiveness, and Superior Results (McGraw-Hill, 2010) describes what he found. In the book, Toyota actually plays a secondary role because the ways of thinking and acting that Rother discovered and describes are universally applicable. They do, however, present managers with some new tasks.
For more information on Toyota Kata, visit Rother's home page.
Rother spoke with Quality Digest Daily about his findings and the changing responsibilities of managers.
Quality Digest Daily: From what I understand, you were never a Toyota employee, so how did you get these insights?
Mike Rother: Not being a Toyota employee turned out to be an advantage, because I had to figure things out myself by trying them. It was six years of intense focus on the issue, with some good leads into Toyota and relationships with other companies that were kindly willing to experiment. We concentrated on what wasn't working as intended, investigating why, and trying again. After a while, I began to see patterns of thinking and behavior that are different from U.S. managerial routines. Toyota insiders often can't articulate the patterns, because they are immersed in a system invisible to them, and Toyota visitors don't see them at the surface.
During the late 1980s I, too, had begun asking why Toyota's productivity and quality were better than U.S. competition. Toyota was doing something differently and we wanted to know what it was. The differences we could see were the production methods such as kanban, heijunka, assembly cells, and so on. But transferring those methodologies to other companies never produced the continual improvement we found at Toyota. I wondered why it did not work, and that was the start of my most recent research. About halfway through that came the "eureka" moment: The issue lies less in the visible tools and techniques, and more in our attitude toward the tools—how we use them and what we seek to achieve with them.
QDD: What is the difference?
MR: In our companies we often define a goal, then make a plan for how to get there, then carry out the plan. Say we want to save costs by smoothing a production flow with heijunka. We'll calculate a leveled production pattern, try to implement it, and it doesn't work. Frankly, doing it that way wouldn't work at Toyota, either. At Toyota, a heijunka pattern is viewed more as a target condition to be approached step by step with the familiar plan-do-check-act (PDCA) methodology and a large bit of, "We are sailing into the unknown." Bottom line: We can't just adopt Toyota's solutions; we should find our own way ourselves.
That's the basis of the Toyota management system: To give employees a means to effectively go through the process of developing solutions. I call this the "improvement kata."
A kata is a routine or method that is practiced and used time and again, whereby it becomes second nature. The intention is to learn a desired habit, skill, and mindset. Some definitions of kata you might find are:  
A way of doing something
A pattern, form, routine, or method
A training drill
So what I mean by improvement kata is a routine by which nearly all employees participate in improvement and innovation in their daily thinking, acting, and reacting. With the improvement kata, we activate a great potential for creativity, problem solving, and adaptation. That, in turn, generates a company culture that achieves sustained competitive advantage through continual improvement and innovation.
QDD: You're using the words "improvement" and "innovation" together. What is the difference between those concepts?
MR: I think our understanding of what's behind those two terms is evolving. We have tended to define "lean" as eliminating waste, but we can now see that this concept is too limited. And we have tended to think of "innovation" as new solutions and levels of performance that come from periodic leaps by certain creative individuals, like the inventors we learned about in school. But this concept is also too limited. If you look closely, those inventors are standing on the shoulders of many others who went through thousands of plan-do-check-act cycles, which made feasible inventions like the telephone, the manned engine-driven airplane, the personal computer, and so on. Time erases the smaller steps and leaves us with the concept of innovation as periodic leaps from certain individuals.
I think a more useful definition of innovation goes like this: "New solutions and levels of performance, whether large or small, that come from many iterative cycles pointed toward a vision and conducted with special focus and energy." From studying Toyota I can say that's exactly what Toyota-style lean is. Lean and innovation involve using our ingenuity to develop ways of achieving something we want but can't yet do. That could be the ability to travel through the air, to operate an assembly cell with four instead of six operators (at the same output), to economically produce smaller batches (as a step on the way to a one-by-one flow for the customer), and so on. To me, lean and innovation overlap greatly.
QDD: Are you saying the definition of lean is not "eliminating waste?"
MR: That definition of lean is what researchers call "knowing that" knowledge, as opposed to "knowing how" knowledge. Such a definition describes facts and information, but not how to do something.
Here's a problem with the "eliminating waste" definition of lean. According to brain research, the neural circuits that constitute our current habits or patterns of thinking and acting—our current way of doing things—will automatically predominate unless we specify and repeatedly practice a different pattern and thereby develop new neural pathways. So we can say "eliminate waste" all we want, but unless leaders and managers can describe how to actually do that—in a way that is clear enough to be learned through every day's practice—then not much is going to change. Not because people are bad, but because of how our brains work.
Eliminating waste is one outcome of a systematic way of thinking and acting that is taught to everyone at Toyota and used in everyday work. The knowing how is the improvement kata, which is Toyota's fundamental approach for continuously improving, evolving, and innovating throughout the organization. But the improvement kata is not Toyota-specific. It is based on science and human psychology, and is universally applicable.
QDD: What is the improvement kata?
MR: In general, one can say that what is given to employees at Toyota is not solutions but an effective way of developing solutions. At many other companies, it's the other way around. We decide via a return-on-investment calculation whether to pursue a goal, and make a plan for how we believe we will reach it. The plan lays out steps, and responsibility for those steps is assigned to individuals. People concentrate on the steps assigned to them.
But when we face a challenge, large or small, this approach is a dead end, because it involves deciding and planning based on existing knowledge. How can we know at the beginning what the steps will be that will best bring us to the desired destination? How can we predefine solutions when we do not know what we will encounter after the first few steps are taken? And if that's true, how can we calculate in advance what the costs will be? Yet we do have time and budget constraints. So there is a paradox, and the improvement kata is designed to deal with that.
To cope with this dilemma and to mobilize the ingenuity of its employees, Toyota teaches an iterative approach. Although Toyota does plan in detail, the plan is seen more as a hypothesis than a decree. Toyota assumes that the path to a goal is largely in the dark, and that there are several as-yet-unknown ways to achieve the goal. Imagine you are at the beginning of a path holding a flashlight, but the light only illuminates part of the trail. When you take a step forward, you may spot things—an obstacle or an idea for a solution—that were not apparent back when you were calculating and planning. Toyota uses what it learns from those discoveries to take steps, if necessary, other than those listed in the plan to reach the goal in a creative manner within the quality, cost, and time parameters.
Toyota operates with a long-range, customer-oriented vision, defines interim goals and, perhaps most significantly, teaches all its members how to work scientifically through the grey area that lies between here and the next goal. To make people effective problem solvers and comfortable with the uncertainty of the path, they are coached in practicing the improvement kata, which can be summarized by figure 1.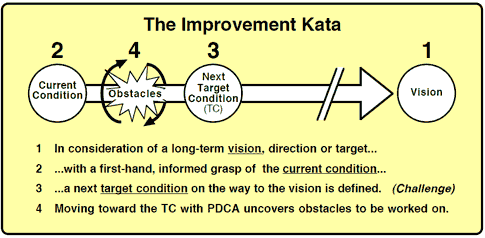 Figure 1: The improvement kata
In every day's work, using the improvement kata to move toward the next goal—what I call the "target condition"—involves continually repeating the following pattern:
Where do we want to be by when?
Where are we now?
What now stands in our way?
What is the next step?
In principle, this pattern is iterative discovery via the PDCA cycle, although a difference in how Toyota uses PDCA is that there it is made instinctive through repeated practice in short cycles, like the movement sequences in martial arts.
QDD: So what is the role of the manager in this system?
MR: The manager's task is to ensure that people learn and utilize the improvement kata.
First, the manager sets the example himself. Second, he coaches employees in practicing. Reading, seminars, and so on don't change behavior, as brain research confirms. Only through experiences do we form new neurological circuits, and the more we use those circuits, the more solid they become. Beginners need closer coaching than advanced students, who in turn are increasingly able to coach others. To assess where people are and guide them into the corridor of thinking and acting prescribed by the kata, the manager has to know the improvement kata from his own experience.
Assessing is done via observation and questions. The intention behind these is not to exercise control or have the learner guess a solution the manager has in mind. The manager is asking questions simply to learn how the person is thinking and acting, and she compares that with the pattern of the improvement kata. If, in practicing the kata, the employee arrives at a good solution that is not the one the manager would have introduced, that is accepted. It is the employee who has the task of achieving the desired condition, whereas the manager has the task of teaching her people the improvement kata.
In sum, you can say that the improvement kata is a way of mobilizing human ingenuity through good management.
Editor's note:
Mike Rother is  an engineer, teacher, and author on the subjects of management, leadership, improvement, adaptiveness, and change. He has been a researcher of manufacturing and management issues since 1998, and studying Toyota since 1990, which has brought him to many companies and hundreds of factories around the world. Rother has been an associate of the Industrial Technology Institute in Ann Arbor, Michigan; the University of Michigan College of Engineering; the Fraunhofer Institute for Manufacturing Engineering and Automation in Stuttgart, Germany; and the Technical University Dortmund in Germany.
About The Author

Dirk Dusharme @ Quality Digest
Dirk Dusharme is Quality Digest's editor in chief.