Featured Video
This Week in Quality Digest Live
Taran March @ Quality Digest
Quality Insider
The Future's So 3D
Rapid prototyping puts quality in consumers' hands
Published: Thursday, February 24, 2011 - 05:30
Back when I was yardstick high, a well-dressed couple on TV kept breaking into the show I was watching to enthuse about a new technology that was going to cook a complete steak dinner during the hour-long program. It was an early demonstration of an appliance that would become both more efficient and commonplace: the microwave.
I'm reminded of that incident as I read about technology's new wunderkind, 3-D printing, variously known as additive manufacturing, fused deposition modeling, selective laser sintering, and multi-jet modeling. Whether a do-it-yourself kit, desktop model, or factory-floor production system, their basic function is the same: to read pretty much any 3-D file—STL, WRL, PLY, or SFX—and convert it into a tangible object made from a variety of materials.
I find this fascinating, a magic-wand-meets-ultimate-engineering moment in human development. And if the word online is any indication, so do many others, the most zealous of whom consider 3-D printers harbingers of a new industrial revolution.
Welcome to "mass customization," as Peter Weijmarshausen, CEO of New York-based Shapeways, dubs it. Shapeways sells 3-D-printed gadgets, jewelry, home décor, and more, all of which can be personalized by the buyer, and also uploads custom designs, prints the objects into existence, and ships them out.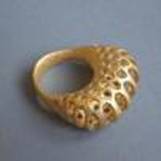 Polyoptic ring from Shapeways
Fit to print
To render a complicated computer-aided design (CAD) model into a 3-D prototype in a matter of hours (or less) is noteworthy, but when the considerable savings in resources and a sky's-the-limit potential for design are added, big players sit up and take notice. Particularly during the past year, the technology has morphed from a prototype aid into a profitable alternative for short-run and specialty manufacturing. Hewlett-Packard, late to the party, now considers 3-D printers serious contenders for manufacturing investment. Its partnership last year with Minneapolis-based Stratasys, a 3-D printer manufacturer, whereby HP markets that company's systems under its own DesignJet label, has been extended for another year. Stratasys itself is blooming: As well as achieving ISO 9001:2008 certification this month, it also posted a 47-percent jump in systems sold, compared to this time last year.
HP's DesignJet starts at about $6,400. Other contenders, which can run anywhere from $900 to upwards of $100,000, include Z Corp.'s ZPrinter 350, Objet Geometries' Connex 350 and new desktop Alaris, Solido3D's SD300 Pro3D, and MakerBot's Cupcake CNC. (More on this enterprising company later.) Besides service providers like Shapeways, manufacturing-oriented rapid-prototypers like Quickparts.com, 3-D Systems, and NeoMetrix use 3-D printing for quick, usually three-day, turnarounds to customers.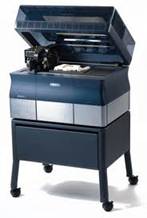 Alaris 30 3-D printer
The technology clearly has found its commercial momentum since its wobbly beginning in the late 1990s with the automotive industry. Inventor Charles Hull, who first developed stereolithography in 1984 and later co-founded the rapid prototyping company 3-D Systems, ushered in the process; although 3-D printers as we see them today really didn't take off until 2002. Wohlers Associates, a rapid-product-development consulting firm, notes that sales of 3-D printers have recovered from a three-year doldrums to show a 13.9-percent growth last year, compared to 3.3 percent during the worst of the economic downturn. Frost & Sullivan consulting estimates an $859.4-million revenue worldwide for 3-D printing by 2013.
Simple and brilliant
Early 3-D printers were limited to a single material, often a plastic and sawdust mix that could not hold up to high temperatures, humidity, or quality-control tests. Now a range of plastics, waxes, resins, ceramics, metals, and papers are available in multiple combinations. The opaque-white prototypes commonly seen hot off a 3-D printer are usually acrylonitrile-butadiene-styrene (ABS) plastic or stereolithography (SLA) resin. These are strong enough for functional testing and use in aerospace, automotive, and electronics applications. Some high-end printing systems can produce metal parts in stainless steel or titanium. Recently, the U.S. military used 3-D printers as part of the manufacturing process for unmanned aerial vehicles.
The printers use multiple jets to squirt out building material in ultra-fine layers based on computer-generated STL data. The material, which fills the printer's bay up to the printer's extrusion head, is heated to a semiliquid state, forced through the extrusion tip, and laid down on a modeling base. The print head moves according to the CAD's X-Y coordinates, while the modeling base shifts downward along the design's Z axis as each ultra-thin layer is produced. Objects are grown from the bottom up—hence the term "additive manufacturing"—and each layer is hardened using ultraviolet light. Then any support material, used to fill the object's spaces while it's being built, is removed.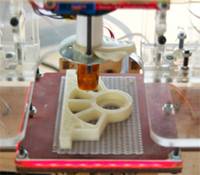 Extruder head on the Cupcake CNC
Reducing the inspiration-perspiration ratio
Design engineers have been quick to see the benefits of 3-D printers, which offer more leeway with prototypes. An expensive bottleneck during the design phase, prototypes traditionally have required time-consuming outsourcing and sometimes elaborate machine setup. The printers can produce prototypes more cheaply than computer numerical controlled (CNC) machining or injection molding, and vastly reduce the waste material that accumulates when an object is formed from a solid block. Given this leeway in the design budget, engineers have the luxury of printing numerous models to fine-tune their designs while significantly cutting time to market.
From a quality perspective, more time and clarification during the design phase ultimately means more quality assurance built in. Customers are able to test, catch errors, and suggest redesigns to products early on, which can save thousands of dollars in rejected product and scrap. Giving a toolmaker the chance to fiddle with an accurate, working prototype results in a more accurate part—and price quote. Better product decisions can be made.
This is particularly true for medical science, which has used the technology to good effect in implants and prostheses. Start-up company Within Technologies in London is currently developing 3-D-printed titanium femur implants that resemble bone and match a patient's skeletal structure. More whimsically, San Francisco-based Bespoke Innovations is experimenting with printing customized artificial limbs in embroidered leather or shimmering metal that will cost a fraction of comparable ones made traditionally. Dental reconstruction was one of the first practical applications of the technology outside the realm of prototyping.
Nurturing innovation
Ronald Hollis is CEO and co-fonder of Quickparts.com, where he puts his Ph.D. in engineering to creative use in the niche market of rapid prototyping. As the name implies, a quick quote and turnaround of prototypes or short runs are fundamental to the company's online service. Quickparts was "developed to defragment the fragmented process of outsourcing custom manufactured parts," according to the website. An innovator himself (his first job out of college was to help design the space station Freedom), Hollis wryly refers to his business as "the Home Depot for the custom-design market." Customers can visit online, upload CAD data, pick a prototyping process and material, get a quote, and click to finish the deal.
"We're a tinkering nation," Hollis says. "With easy access to CAD data through Google SketchUp and using a 3-D printer, consumers are empowered to be creators. Additive manufacturing has no respect for complexity. Anything you can slice into layers can be reproduced."
About a third of the orders Quickparts receives is for product analysis and quality control. But requests for short manufacturing runs are increasing, which Hollis reads as a boon rather than a competitive hazard. "The 3-D market is a threat we forecast," he says, and likens Quickparts' customer fulfillment to a small business or graphic designer stopping at Kinko's to make copies.
"Let's say a customer needs something quickly, made in a certain color and of high quality," says Hollis. "He's probably discovered along the way that the laws of physics and engineering are not the laws of manufacturing. Engineers will make the prototypes and drafts, then bring them to us and say, 'I need 50 out of this color.' They are able to take more design risk because of rapid prototyping."
Designers also appreciate that 3-D printers allow them to market their ideas without first building a factory to do so.
Hollis sees 3-D printing's greatest value in building quality into a design before manufacturing it. "Rapid prototyping empowers engineers with knowledge in real time," he says. "And it allows engineers to be more accountable for their designs." He is generous in his praise of Stratasys, which he says has done much to promote and nurture innovation. "They have helped make 3-D printing a real industry, especially when they partnered with HP," he says. "That has started to drive dollars into the industry."
Although 3-D printing technology is still about 80-percent prototyping, it is moving into "direct digital manufacturing" of end-use products such as tools, fixtures, masters, and go/no go gauges. The process is most cost-effective when used for low-volume, short runs or as a bridge to tooling. But that hasn't stopped Stratasys from jumping into the risky waters of innovation. It has partnered with the handful of engineers behind the Urbee hybrid vehicle, whose body is made entirely on a 3-D printer.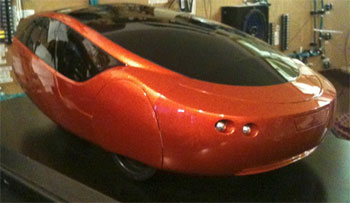 Stratasys is a development partner on the Urbee hybrid, with a body made on a 3-D printer.
Awesome Inc.
Poster children for 3-D printing's manufacturing free-for-all are undoubtedly RepRap.org, a movement started by Adrian Bowyer, senior lecturer in mechanical engineering at the University of Bath, England, which seeks to circumvent manufacturing distribution through its free, self-replicating 3-D printers; and Brooklyn-based MakerBot Industries, which sells do-it-yourself printer kits for the home hobbyist or mad scientist. Both outfits use open-source code for their machines, and both are intent on getting the technology into every home.
Congregating around MakerBot's two affordable printers, the Cupcake CNC and Thing-O-Matic, is a loose community of tinkerers, experimenters, and oddballs who report on breakthroughs, frustrations, and what-ifs brought to life. A cruise through Thingiverse, the site's home-grown gallery of printed projects, shows that necessity isn't always the mother of invention. I'm particularly taken by the bathtub U-boat and atomic sun.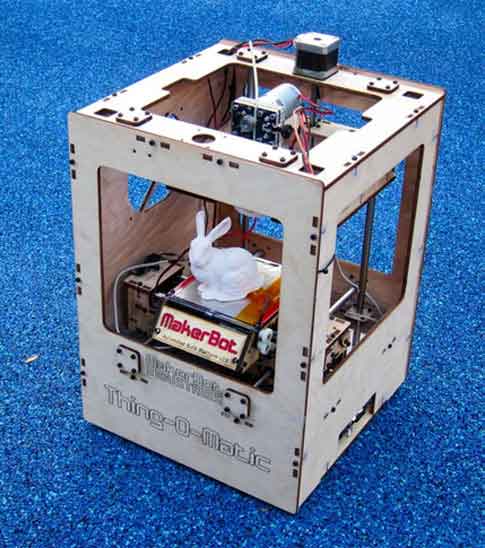 The site offers a candid perspective on a technology poised to go wide, as they say in Hollywood. It's a friendly and encouraging community. "We needed a doorstop yesterday, so we printed one out," MakerBot co-founder Bre Pettis told Business Insider. "Rather than go out to be a consumer and buy something that's been manufactured overseas and put on a boat and brought to store on a truck, you can go to your living room."
Schuyler St. Leger's video, "Why I Love My 3-D Printer" captures the enthusiasm and creativity surrounding this brave new technology. However it evolves (and you can be sure this is just the beginning), this kid has a great future awaiting him, if not as an inventor, then as a first-rate comedian.
About The Author

Taran March @ Quality Digest
Taran March is Quality Digest's editorial director. A 30-year veteran of publishing, March has written and edited for newspapers, magazines, book publishers, and universities. When not plotting the course of QD with the team, she usually can be found clicking around the internet in search of news and clues to the human condition.