Featured Video
This Week in Quality Digest Live
Bob Sproull
Quality Insider
Focus on the Limiting Factor, or Improvement Processes Will Fail
Identify, exploit, and subordinate
Published: Tuesday, October 23, 2012 - 11:13
Much of my career has been spent helping manufacturing companies improve their profitability. Although most improvement experts in the world use lean Six Sigma to initiate improvements, it's been my experience that the element of focus is missing.
By focus I simply mean where I focus my improvement efforts. In my earlier days, I truly believed that I should be improving the entire process, like trying to solve world hunger, but for the past 10–15 years, I've changed my approach. Yes, I'm still an avid user of lean and Six Sigma, but this different approach has made a significant difference in the speed and magnitude of my clients' bottom-line results. The effectiveness of this approach has enabled the expansion of my client base from mostly manufacturing to service industries like hospitals and maintenance organizations.
I want to start this article by explaining my integrated methodology and then demonstrate, through a brief fictitious case study, how this method works well in a healthcare environment. As I said, I still use lean and Six Sigma to reduce waste and variation, but the difference is where it all takes place. In addition to lean and Six Sigma, I now use the theory of constraints to identify the focal point of my improvements.
The theory of constraints has been around since the mid-1980s, when Eliyahu M. Goldratt introduced this strategy in his book, The Goal: A Process of Ongoing Improvement (North River Press, 1984). Goldratt introduced his Five Focusing Steps as follows:
1. Identify the system's constraints.
2. Decide how to exploit the system's constraints.
3. Subordinate everything else to the above decision.
4. Elevate the system's constraints.
5. If in the previous steps a constraint has been broken, go back to step 1, but don't allow inertia to create a system constraint.
Although these five steps seem simple enough to understand, for many people the connection to traditional improvement methods was never made. To help people better understand this connection, I found it necessary to use simple graphics to demonstrate what these five steps mean in real life. In other words, I believed if people and companies understood what Goldratt was really saying, then they might better embrace this new process of ongoing improvement. With this in mind, I decided to demonstrate the concept of a physical constraint through the use of a piping diagram with different diameters, as seen in figure 1.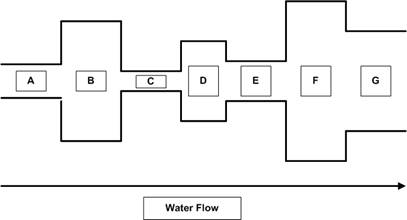 Figure 1. Piping diagram
To make this point, I asked people a very simple question: If you wanted to increase the flow of water through this system, what would you do, and why would you do it? Invariably the answer was that we'd have to increase the diameter of section C because its diameter is limiting flow. So I asked: Would increasing the diameter of any other pipe result in more throughput of water? Again, everyone answered no.
Next, I introduced a simple four-step process used to produce something… anything, as seen in figure 2. In this process, the individual cycle times are listed at 1, 10, 3, and 2 days respectively for steps 1, 2, 3, and 4. I asked: If you wanted to increase the throughput of product through this process, what would you do and why? About half of the people stated correctly that we would have to reduce the cycle time of step 2 because it takes the longest amount of time.
Then I asked if reducing the cycle time of any other step would increase the process throughput, and all answered no, only step 2. When I asked what would happen if you ran step 1 to full capacity, most people answered correctly that excess inventory would build up in front of step 2. And to my final question: What speed should steps 1, 3, and 4 run at? Bingo, they all understood that it would only make sense to run at the same rate as step 2.
With these two simple drawings, we were able to understand the concept of "identify, exploit, and subordinate." Once this was understood, then understanding where to focus our improvements was easy: on the system constraint. Let's look at our hospital example.
When you think about it, being in a hospital atmosphere is really not much different than being in a manufacturing setting. The patients, for example, are what go through the various hospital process steps. The patient enters the hospital, let's say via the emergency room (ER), and is observed by a doctor for symptoms. The doctor may have tests run to verify what the symptoms might be suggesting, and to decide on treatment and whether to treat the patient in the ER or admit the patient to the hospital for treatment. In this case study, the process is the time being taken to admit the patient into a hospital unit.
If you were to create a high-level process map of what takes place in a hospital scenario, it might look something like figure 3. This scenario isn't much different than what you might see in a manufacturing setting, so doesn't it make sense that those same process improvement tools and techniques might work in a hospital?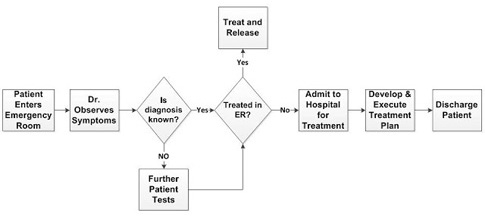 Figure 3
Let's add some estimated times to each of the process steps and see if we can make some sense as to why this decision time seems to be taking so long. Figure 4 shows the same process we just observed, but estimated cycle times have been added. We are only interested in the time it takes to admit and not the time it takes to treat and release the patient. With this in mind and remembering the piping diagram and the simple four-step process presented in figures 1 and 2, what would you do?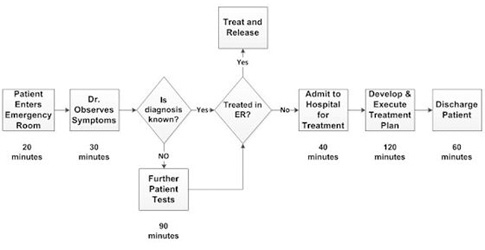 Figure 4: Patient demand rate is one patient every 50 minutes
Let's assume that the patient demand rate is such that it surpasses the current capacity of our process. If, for example, the patient demand rate was one patient every 50 minutes, then to satisfy that demand it would be necessary to reduce the processing time to at least that rate. In other words, we are interested in speeding up the process for admitting the patient to the hospital from the ER to at least one patient every 50 minutes. Which process step is the system constraint, or maybe I should ask it this way: Which process step would you focus your improvement effort on to improve throughput through the ER?
The first two steps—patient enters ER, and doctor observes patient's symptoms—are fine. Each of those steps can handle one patient every 50 minutes. The most significant amount of time in figure 4, the step that will cause patients to back up in the waiting room, is the time waiting for the patient test results to come back so the decision as to whether the patient is treated and released or admitted into the hospital can be made.
Since we have completed Goldratt's first step, identifying the system constraint, we now have to decide how to exploit the constraint. Here's where we utilize lean and Six Sigma. We focus on the constraint, the time it takes for further patient testing, and look for waste and variation only there. Maybe the people performing the tests are using batches instead of one-piece flow. Or maybe the request for testing is taking too long to reach the testers. Or maybe even the time required to take a sample of blood is taking too long or maybe a combination of all of these. Each scenario is different, but when we find the sources of delays in the constraint and reduce their impact, voila, we have a shorter time required to admit the patient. It's important to note that speeding up any other step will not reduce the time it takes to admit a patient.
In this example we see that identifying the system constraint and then focusing our improvement effort there, and only there, yields the greatest opportunity for improvement. One of the reasons that lean Six Sigma initiatives are failing is because maniacal approaches are taken to fix everything. In reality, finding and focusing improvement efforts only on the system constraint will always yield the biggest payback.
About The Author

Bob Sproull
Bob Sproull, a senior business consultant at Novaces, is a lean Six Sigma Master Black Belt and a theory of constraints Jonah. Sproull has served as a vice president of quality, engineering, and continuous improvement for two manufacturing companies and has an extensive consulting background in healthcare, manufacturing, and MRO, and focuses on teaching companies how to maximize profitability through lean, Six Sigma, and constraints management. He is the author of three books, including The Ultimate Improvement Cycle: Maximizing Profits Through the Integration of Lean, Six Sigma, and the Theory of Constraints (Productivity Press, 2009) and with co-author Bruce Nelson, Epiphanized: Integrating Theory of Constraints, Lean and Six Sigma (North River Press, 2012).