This Week in Quality Digest Live
Quality Digest
Quality Insider
The End of The Road For General Motors Corp.
Unless it starts paying attention.
Published: Monday, December 12, 2005 - 22:00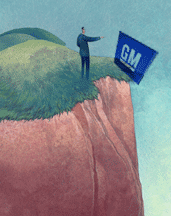 "
Es ris
!" ("It's snapped!") This apocalyptic line from Richard Wagner's Götterdämmerung (Twilight of the Gods) referred to the thread of fate or destiny that the three
Norns
, or Fates, had woven since the dawn of time. This ill omen portended the opera's inevitable tragic conclusion. This year's events paint an equally nonexistent future for General Motors Corp. If cutting worker benefits and closing plants are the best solutions the company can offer, I can't see how it's going to stay in business or continue to pay dividends. GM's chief problems are the cost of company-paid health care and an antiquated product-distribution system that adds 20 percent or more to the price of every new car. Getting the United Auto Workers union to agree to shift some health care costs to workers and rewarding blue-collar workers for their cooperation by cutting 30,000 jobs addresses neither issue. Henry Ford would probably have considered these actions evidence that the company's management team really doesn't know what to do.
Ford wrote in My Life and Work that cutting wages is the easiest and most slovenly way to handle the situation. It's in effect making labor suffer for the managers' incompetence. Every depression period is a challenge manufacturers face to put more brains into their businesses. And they can overcome through management what other people try to overcome by wage reduction.
According to Ford, trying to solve problems with wage reduction, or by implication benefit cuts and plant closings, before anything else is changed evades the real issue. By tackling the real issue—the cost of health care—first, job and benefit cuts should be rendered unnecessary.
The health care issue
Blanton Godfrey stated in the Quality Digest article "Managing Key Suppliers": " Health care providers' cost of poor quality is estimated to be as high as 30–50 percent of the total paid for health care. For some companies the cost of employee health insurance is now higher than profits."
For GM, health care costs more than $5 billion a year, of which 30 to 60 percent ($1.5 to $3 billion) pays for the cost of poor quality. Dividing this among 565 million outstanding shares translates to $2.65 to $5.30 per share, or 10 to 20 percent of the company's current market capitalization. GM wouldn't tolerate this kind of performance from its part–suppliers, as it already demands that they meet the requirements of the ISO/TS 16949 standard. Conversely, GM is unwilling or unable to apply the same standard to health care providers that treat GM employees.
In fact, the Automotive Industry Action Group has worked with the American Society for Quality to develop "Quality Management Systems: Guidelines for process improvements in health service organizations." This document tailors the internationally known ISO 9001 standard specifically for health care providers.
If GM can't implement a spoon-fed, off-the-shelf-solution from its own industry association, it's hard to see anything but a very grim prognosis for the corporation.
GM also keeps complaining about the incentives it has to offer to move unsold vehicles off dealer lots, even though there's also an off-the-shelf solution to this problem. I advocated in The Way of Strategy (Quality Press, 1994) that automakers manufacture cars to-order to cut the dealers' nonvalue-adding overhead and profit, and to remove the cost of carrying millions of dollars of inventory out of the supply chain. However, I was hardly first with this idea. Ford and Samuel Crowther wrote in My Life and Work (Doubleday, Page & Company, 1922), "We make cars to sell, not to store, and a month's unsold production would turn into a sum the interest on which alone would be enormous."
The Internet's e-commerce capability makes this concept even more obvious. As Bill Gates described in his book Business@The Speed of Thought: Using a Digital Nervous System (Warner Books, 1999), "You can imagine the day that a customer in a dealer's showroom or at home uses a PC to order over the Internet exactly the car and options he or she wants and then gets delivery within a few days." Former Ford CEO Jacques Nasser also said that automakers should build cars to-order, the way Dell makes personal computers.
If GM adopted this approach, it wouldn't have to offer incentives to move unsold vehicles off the dealers' lots and customers would no longer pay for the inefficiency of the existing distribution system. Building cars to-order is about the only edge GM would have over the Chinese-built Chery and the company had better leverage its advantage quickly if it expects to survive into the next decade.
About The Author

Quality Digest
For 35 years Quality Digest has been the go-to source for all things quality. Our newsletter, Quality Digest, shares expert commentary and relevant industry resources to assist our readers in their quest for continuous improvement. Our website includes every column and article from the newsletter since May 2009 as well as back issues of Quality Digest magazine to August 1995. We are committed to promoting a view wherein quality is not a niche, but an integral part of every phase of manufacturing and services.