This Week in Quality Digest Live
Bob Cramblitt
Quality Insider
Accelerating Quality Assurance and Conformance
Get it right, quickly, with help from computer-aided inspection processes
Published: Friday, March 15, 2013 - 09:10
Throughout history we've seen it: innovation held back by some elemental impediment in the product development pipeline. Computing speed slowed by balky I/O buses or insufficient software. Super-fast trains derailed by tracks that can't handle their speed. Design innovation slowed by red tape and poor internal communication.
When it comes to advanced manufacturing for jet engine turbines, there is a long-standing issue with inspection and quality control bottlenecks. Using rapid technologies such as computer-aided design (CAD), computational fluid dynamics (CFD), and 3D printing, companies can progress from concept to finished part faster than ever before. But when it comes to measuring conformance of that part, companies often step back and rely on quality assurance forms that haven't changed appreciably in decades.
Building on a CAI legacy
One of the companies making a concerted effort to ensure that the advanced manufacturing superhighway doesn't slow to a rural two-lane road when it comes to quality assurance is Level 3 Inspection (L3I). Its tools for keeping traffic moving are digital technologies and proprietary methods based on Geomagic Qualify computer-aided inspection (CAI) software.
Level 3 Inspection can make a valid claim at being there at the beginning of widespread innovation in CAI using white-light scanners. L3I co-founder Scott McAfee was part of the remarkable F135 jet engine project during the early 2000s. The most powerful turbine jet engine ever built, the F135, is thought to be the first military jet engine delivered both on time and under budget.


Level 3 Inspection's Smart Inspection Station, based on white-light scanning and Geomagic Qualify software, provides a comprehensive shop-floor solution.

The legacy of the F135 lives on at L3I: Half of the company's employees are from Pratt & Whitney, and the company remains a Pratt & Whitney Technology Business Partner. But during the past decade, L3I has established its own reputation based on extensive knowledge of blueprint interpretation, design intent, and integrated CAI processes built on Geomagic Qualify.
"We consider ourselves master practitioners in white-light scanning and CAI, using the best tools and expertise to accelerate manufacturing process optimization, or what our clients call 'dialing in' the process," says Bill Greene, L3I's co-founding director.
Dialing into additive manufacturing
A recent example of this dialing in is a multi-airfoil vane project for Morris Technologies, a Cincinnati company recently purchased by GE Aviation that specializes in additive manufacturing of jet engine parts. The multi-airfoil vane is part of a Pratt & Whitney airfoil assembly, so it benefited from proprietary processes developed by L3I for Pratt & Whitney products.
Morris defines additive manufacturing—also known as direct metal laser sintering (DMLS)—as "taking digital designs from CAD software and laying horizontal cross-sections to manufacture the part. The process creates the layered cross-sections using a laser beam to melt the raw material."
These parts tend to be lighter than traditional forged parts because they don't require the same level of welding. Additive manufacturing also generates less scrap material during the fabrication process.
Additive manufacturing is part of the burgeoning 3D printing movement often used to produce prototype parts or designs. In Morris Technologies' case, however, it produces a finished production part.
The challenge from a quality assurance standpoint, according to Greene, is ensuring that these parts meet or exceed the quality and conformance of traditional investment-casting parts, and that the speed gained by the DMLS process isn't impeded by CAI.
"The key is being able to rapidly dial in the additive manufacturing process to get conforming parts in very few process-refinement iteration steps," says Greene. In other words, getting it right quickly.
The Smart approach to CAI
L3I was able to optimize CAI faster and better than Morris Technologies had ever seen by using four basic steps in its trademarked Smart process.
1. Scan the part to develop the detailed 3D SmartScan file (.stl) using the Smart Inspection Station, a high-resolution, white-light scanner that is preprogrammed to inspect specific parts. At the push of a button, the Smart Inspection Station can scan, compare, measure dimensions, conduct geometric dimensioning and tolerancing (GD&T), and issue graphic inspection reports.
2. Align the part scan to the provided CAD model to develop the SmartCompare file (.pdf), which is a dynamic color plot showing dimensional conformance of the actual part to the CAD model used to create it. This is done using Geomagic Qualify.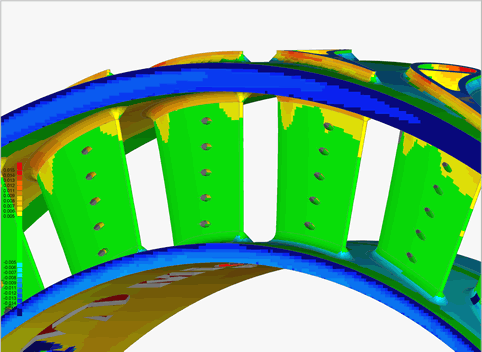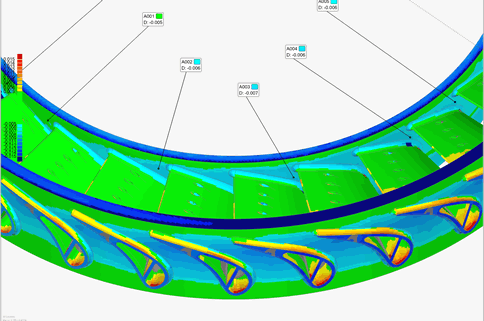 3. Perform the full CAI process using the dimensional extraction routine in Geomagic Qualify to compare the part to the CAD model. The results are output as SmartInspect or SmartFAI (first-article inspection) files in MS Excel.
4. Organize the CAI results into a comprehensive SmartInspection Portfolio (.pdf) and deliver it by secure FTP server to Morris Technologies.
The initial implementation of the new CAI process took several days, but L3I was able to subsequently optimize it to meet Morris Technologies' request for a 24-hour turnaround for repeat parts inspection.
The major challenges, according to Greene, weren't typical ones of geometry, part features, blueprint interpretation, or extreme inspection requirements. It came down to integrating processes to minimize human data-entry errors and automating CAI efficiency and production throughput as much as possible.
"Automation programming and process scripting in Geomagic Qualify, combined with our proprietary technology implementations, made it all possible," says Greene.
One of the key areas of automation is an L3I-proprietary routine implemented within Geomagic Qualify that extracts, reports, and compiles measured airfoil (MA) data in the format required by Pratt & Whitney's PWAirfoil software.
"This potentially saves weeks of time that would otherwise be needed for programming, formatting, and compilation of MA data," says McAfee. "That's not even mentioning the time it would take to demonstrate correlation of results, which we've already done and had approved by Pratt & Whitney."
Faster and better view into DMLS
"Typically several iterations were required by Morris Technologies to dial in the process using CMM data and some limited laser scanning," says McAfee. "Each iteration could take 40 hours or more, with weeks of calendar time in between. We think we can cut iterations required to dial in the process in half, potentially saving weeks in the additive manufacturing process."
The graphically rich reports generated by Geomagic Qualify and L3I's SmartInspection Portfolio have given Morris Technologies the ability to rapidly focus on the problem areas in the part's design, thereby saving time and money.
"Our view of what our [DMLS] process is yielding has increased dramatically, thanks to what L3I has been able to show us," says Zack Fieldman, engineering manager for Morris Technologies and its sister company Rapid Quality Manufacturing. "And we're able to quickly get feedback as we make this system rock solid."
For L3I it's another step in its ongoing quest to make CAI an accelerator, rather than the traditional decelerator, in the advanced manufacturing cycle.
About The Author

Bob Cramblitt
Bob Cramblitt is a writer and communications professional specializing in computer graphics, CAD/CAM, performance benchmarking and IT issues. He's based in Cary, North Carolina.