This Week in Quality Digest Live
Thomas R. Cutler
Operations
Layered Process Audits Are Proving Their Popularity
They make quality a shared responsibility at all levels
Published: Monday, September 28, 2015 - 12:33
Established in 1982, the Automotive Industry Action Group (AIAG) is a nonprofit association with a diverse group of stakeholders—including retailers, suppliers of all sizes, automakers, manufacturers, service providers, academia, and the government—working collaboratively to streamline industry processes via global standards development and harmonized business practices.
Quality, product development, and customer satisfaction were on the agenda for the AIAG Quality Summit held last week in Novi, Michigan. Attendees from leading automotive manufacturers to tier 1 automotive suppliers discussed quality processes to design, develop, and launch new products and vehicles that will satisfy the immediate customer, and enhance the end-consumer experience. Proactive and preventive quality measures and systems were examined.
One topic discussed was layered process audits (LPA), which have become quite popular and are often a mandatory requirement for automotive suppliers. Developed by Chrysler, LPAs offer organizations a chance to lower their cost of quality.
LPAs are a system of process audits performed by multiple layers of supervision and management to monitor operations and verify process conformance on an ongoing basis. LPAs provide an ongoing chain of simple verification checks that ensure a defined process is followed correctly. For example, a shift manager performs an audit of a block-machining line at the beginning and end of each shift. He looks to see if unattended blocks are tagged or identified; verify if operators are frequently making visual, hand, and measurement inspections; and check a random shadow board to assure all of the tools are present.
The shift manager represents the first layer of the block-line audit. A second layer of management, which could include process engineers, quality engineers, manufacturing support personnel, or even human resources staff, performs the exact same audit on a less frequent basis. A third layer (the number of layers in an LPA system can vary greatly from facility to facility, based on need), might include the plant manager or even executive staff, who again perform the exact same audit, just less frequently.
The effects of properly conducted layered process audits can substantially reduce the number of operator errors. As a result, they have spread to industries outside of automotive, including aerospace, aviation, and most recently, the food sector, propelled by the Food Safety Modernization Act.
"Manufacturers of all types are operating with thinner margins with increased exposure to end customers," says Eric Stoop, CEO of Ease, a software company focused on manufacturing. "Manufacturers in aerospace, food processing, and health science are searching for continuous improvement initiatives that will help control established processes to gain back margins, and layered process audits are a great way for teams in any industry to verify critical processes and improve quality."
LPAs are a powerful management tool that can improve safety and quality, and reduce costs by amplifying problem-solving systems and making continuous improvement almost routine. Through observation, evaluation, and conversations on the manufacturing floor, these checks ensure work steps are performed properly.
Software can help organizations implement an LPA system quickly and optimize existing quality checks to achieve the greatest benefits. LPA software typically gives management more immediate insight into key performance indicators (KPIs) and nonconformances. It facilitates easy and efficient scheduling for mitigation activities across the organization. Coverage, conformance, and completion drill-down reports can supply full visibility into audits by type and location, quickly identifying an organization's most chronic process failures.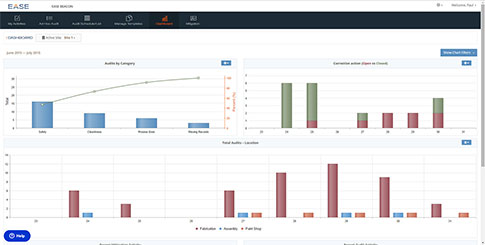 Click here for larger image.
LPA interactions open communication channels between managers and frontline workers, which in turn helps process engineers to identify and ask the right questions. Unlike other quality audit processes and procedures, all management layers, top to bottom, must participate in the immediate containment of nonconformances found.
LPAs must have a documented structure (just as quality management system standards require) with pre-determined audit levels and frequency of audits. These audits focus on process operations and ensuring error-proofing devices are working properly, not on finished product inspections.
Excessive process variation is the single largest cause of manufacturing quality problems. This often results from a failure to reinforce process corrective actions or from not following the required steps and methods. LPAs reduce this variation along the manufacturing line up through the ranks of plant management. When conducted properly, LPAs drive cultural change to improve quality, reduce scrap and rework, and reduce customer rejections.
"We're seeing manufacturers increasingly search for ways to develop a company culture centered on quality," Stoop notes. "Layered process audits give leaders an opportunity to connect and engage with their team on the shop floor and make quality a shared responsibility at all levels."
About The Author

Thomas R. Cutler
Thomas R. Cutler is the President & CEO of Fort Lauderdale, Florida-based, TR Cutler, Inc., (www.trcutlerinc.com) Cutler is the founder of the Manufacturing Media Consortium including more than 6000 journalists, editors, and economists writing about trends in manufacturing, industry, material handling, and process improvement. Cutler authors more than 500 feature articles annually regarding the manufacturing sector and is the most published freelance industrial journalist worldwide. Cutler can be contacted at trcutler@trcutlerinc.com and followed on Twitter @ThomasRCutler.