Featured Video
This Week in Quality Digest Live
Taran March @ Quality Digest
Operations
Rocks, Riches, Rust
U.S. steel industry tests its mettle in a global market
Published: Thursday, September 28, 2017 - 12:03
One thing you can say about that critical commodity called steel: It gets around. Ancient ironware excavated in what is now Turkey has been dated to 1800 B.C. Some 1,200 years later, blacksmiths in Sri Lanka employed furnaces driven by monsoon winds to produce a high-carbon steel. The Tamils of southern India enjoyed a lucrative steel trade with the likes of Alexander the Great.
Romans, Chinese, and Syrians all added improvements to this metal wonderworking that could turn chunky iron ore into swords and sewing needles. Europe came late to the game—circa 700s—but its steel mills were precursors to the first factories of the Industrial Revolution.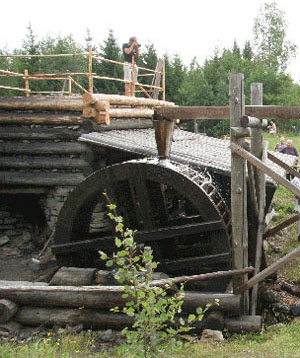 A modern representation of a medieval steel mill in Sweden
Then it was America's turn.
You could say, and probably should, that for all its durability, steel has eluded the permanent grasp of most of its makers. Its wandering history has followed humans' own meandering course of exploration and trade, never lingering in one place. By 1450, as the Silk Road collapsed, European smiths were selling steel to the Ottoman Empire—returning the commodity, in effect, to its point of origin.
Steel's history nobly demonstrates our fascination with making things and, perhaps most significant, improving them. How we learned, outside a chemistry class, that carbon improves iron's strength and flexibility is one of those cheering human tendencies that help counterbalance our less laudable traits. We've tinkered with steel making for millennia and still do. Last year, for instance, researchers in South Korea developed a strong, light aluminum-steel alloy that might be suitable for the aircraft and auto industries.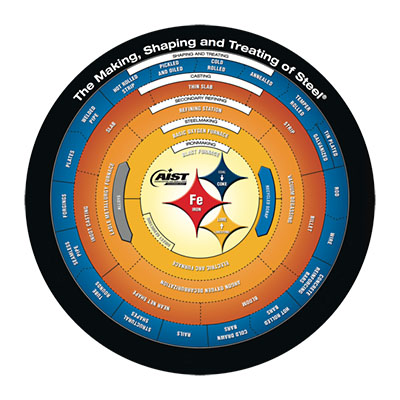 The "steel wheel," depicting the production process from raw materials to finished product. (Click for larger image.)
America's steel heyday straddled the late 1800s and first half of the 20th century. The Civil War skyrocketed demand for the stuff, as did the transcontinental railway, whose early iron rails could withstand only a couple years of use. We had places to go and things to build (the first skyscraper rose in Chicago in 1883); the country needed steel like fire needs oxygen.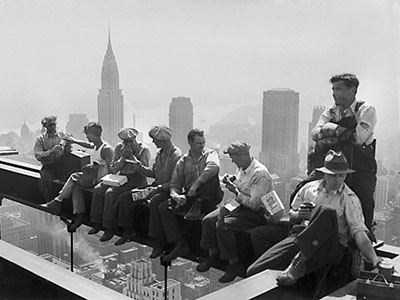 The iconic image, above, of Depression-era builders atop a New York skyscraper in progress. Note the lack of safety gear compared to that in the modern version, below, taken in London.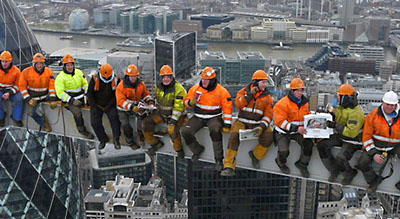 At that time American steel was largely produced by means of a basic oxygen furnace, which took raw materials—iron ore, coke, limestone—and converted them into the finished product. This technique was a large-scale version of the method invented during the 1850s by Sir Henry Bessemer, who used an open hearth and oxidation to remove impurities in the iron. (For an interesting alternate tale to Bessemer's achievement, read Herbert Casson's anecdotal history of U.S. steel making.) By the 1950s, the electric arc furnace had muscled in. It uses scrap steel—the metal is wonderfully recyclable—rather than raw materials, a lean innovation that served U.S. companies like Nucor well.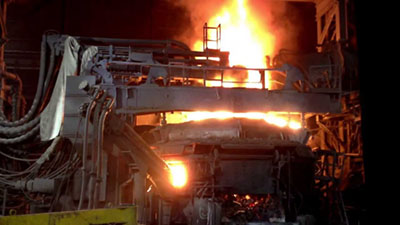 An electric arc furnace
Fast-forward a few decades, and here we are, the landscape replete with skyscrapers, and global consumption of the metal, according to some reports, already past its peak. Where does that find U.S. steel producers?
For Leo Gerard, international president of the long-handled United Steel, Paper and Forestry, Rubber, Manufacturing, Energy, and Allied Industrial and Services Workers International Union (USW), it found him testifying in May before a committee tasked with investigating "unfairly traded imports" so that the U.S. Secretary of Commerce could make recommendations about it to President Trump. At issue is whether certain member countries have failed to abide by World Trade Organization policy and flooded the international market with steel products they can no longer absorb in their own slowing economies. The committee must determine whether this constitutes an issue of national security.
For Gerard, it certainly constitutes a major frustration. Despite the U.S. steel industry's efforts to streamline and innovate, it still struggles to compete globally, given the current low price of steel products internationally.
"America's steel mills are far from the smoke-belching 'rust belt' images that many still have in their minds," he told the committee. "Here in the United States, a combination of massive investments in plant, equipment, technology, and people have made our plants some of the most efficient on earth. Labor productivity has seen a five-fold increase since the early 1980s, going from an average of 10.1 man-hours per finished ton of steel to an average of 1.9 man-hours per finished ton in 2015.... I fear that lack of action [on the federal government's part] and continued decline of U.S. steel making will reduce the basic skilled human resources necessary to produce steel products in the country anymore, weakening our national security and economy."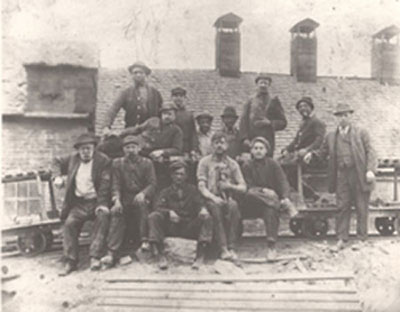 "Basic skilled human resources," circa 1860s, outside a steel mill in Pennsylvania
Kevin Kearns, president of the United States Business and Industry Council, was more blunt in an opinion piece he wrote for The Hill in March:
"U.S. Steel spent millions of dollars in recent years to pioneer a new, lighter, higher-grade steel product for use in automobiles and elsewhere—just what competitive American companies are supposed to do. But there's a kicker. As is increasingly the case, the Chinese hacked the firm's computers and stole the advanced formula. And now, surprise, a Chinese firm, Baosteel, is selling a similar high-tech steel in the U.S.—and at such a cut-rate price that U.S. Steel can't match it."
China disagrees with this assessment, as a July report in China Daily indicates. "The U.S. purchased just 0.9 percent of Chinese steel exports in 2016, according to a report from Peterson Institute for International Economics.... At the end of 2016, 20 U.S. trade remedies against steel mill imports from China were in effect."
Economists and steel-dependent industries in the United States are against government action in support of the steel industry. "Tariffs, quotas, and other trade measures meant to protect one industry can, and often do, have significant damaging effects on other domestic industries," notes a report by the conservative Heritage Foundation. "Imposing such measures on the basis of national security when the targets are basic commodities, such as steel, will increase the cost of one of the most crucial intermediate goods for the U.S. manufacturing and construction industries."
"Inevitably, the imposition of across-the-board higher tariffs or other restrictions on imports of steel into the United States would only widen the existing price gap by increasing the price of U.S. steel and thus the cost of U.S.-built vehicles," wrote U.S. automakers in May, in an open letter to the president.
Should the Secretary of Commerce recommend action, it likely would take the form of tariffs. Politico's Adam Behsudi reports that officials would probably recommend three options: 1) a 25-percent tariff on a variety of steel imports; 2) a tariff-rate quota system that would levy tariffs on steel imports when an import threshold is met; 3) quotas on steel imports to limit the amount allowed in the country.
To date, the Trump administration has held off on taking any action. "We're waiting till we get everything finished up between healthcare and taxes and maybe even infrastructure," the president told The Wall Street Journal in July.
Whatever happens in this ongoing saga, you can be sure that someone, somewhere will still be tinkering with iron ore and fire. Me, I'm betting on space explorers and entrepreneurs to become the new steel barons in years to come. Something to think about as we head toward Manufacturing Day on Oct. 6. (Incidentally, Quality Digest is hosting a Test and Measurement Expo on that date in lieu of our usual Quality Digest Live, with live demonstrations, interviews, and analysis. Check it out.)
About The Author

Taran March @ Quality Digest
Taran March is Quality Digest's editorial director. A 30-year veteran of publishing, March has written and edited for newspapers, magazines, book publishers, and universities. When not plotting the course of QD with the team, she usually can be found clicking around the internet in search of news and clues to the human condition.