This Week in Quality Digest Live
Ryan E. Day
Operations
Quality Control in the Home-Brewing Vertical
A hands-on approach
Published: Thursday, April 20, 2017 - 12:03
I like my job in journalism. I get some interesting invitations from some interesting people. Last Friday my inbox greeted me with "The American Homebrewers Association (AHA) is throwing a rally in Chico! Let us know if you'd be interested in a press pass or an interview with an AHA representative ahead of the event." A press pass to a beer-brewing rally, hmm. Why yes, I believe quality control in home-brewing does fall into my bailiwick.
The event to "celebrate the joys of home-brewing and connect beer enthusiasts from all over California..." was held at Sierra Nevada Brewing Co. and featured a VIP brewery tour, beer samples, gifts, and prizes.
"People don't get into home-brewing because they want to make bad beer," says Matt Bolling, events coordinator at the AHA. "Home-brewing takes a lot of time and effort, so you want to make sure that you're making a product that tastes good, and that you can be proud of and share with your friends and family."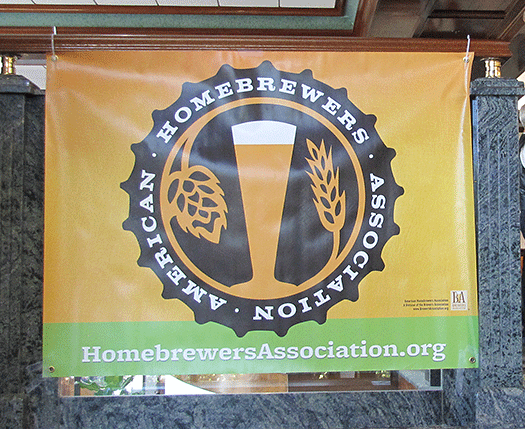 The American Homebrewers Association (AHA) flying its colors at the home-brewing rally in Chico, California
My wife and I occasionally brew kombucha tea at home, and much of the process is similar. I know from experience that when it comes to fermentation, things can go south in a hurry, so I wanted to know what the AHA had to say concerning quality control in home-brewing.
QC basic No. 1: sanitization
"The AHA has taken up the mantle of promoting quality in all craft beer and home-brewing," says Bolling. "Although there is an aspect of creativity and art in home-brewing, you need to make sure that you're not taking any shortcuts. Thorough cleaning and sanitation is vital, making sure you have healthy yeast for your brew is critical, and making sure that your beer isn't exposed to oxygen after fermentation or bottling is also very important to home-brewers."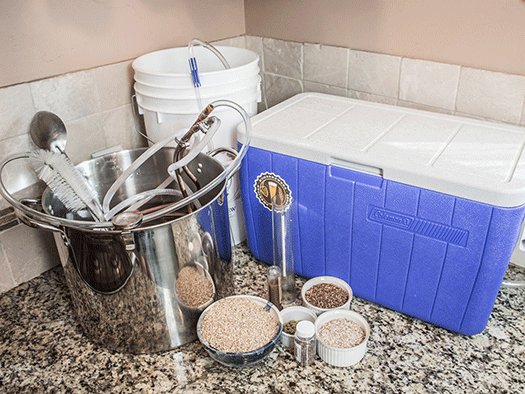 QC best practices in home-brewing begin with sanitized equipment and quality ingredients.
Sanitization seems like a no-brainer, but Bolling continues.
"That's probably the single biggest threat for home-brewers," he says. "Walk into any home-brewing supply shop or home-brew club meeting, or join a home-brew forum and announce interest in beginning home-brewing, and the first thing you hear is "sanitize, sanitize, sanitize." And if you think you're done sanitizing—sanitize again!"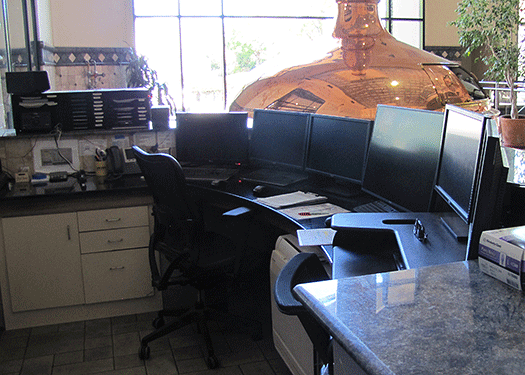 Sierra Nevada Brewery takes its QC seriously with high-tech monitoring throughout the entire beer-making process.
QC basic No. 2: sensory evaluation
"Sensory evaluation is really going to help you dial in your beer and your processes to make great beer," explains Bolling. "If you don't know what diacetyl tastes like, or if you don't know what oxygenation does to beer when it's done fermenting, then how can you make good beer? You don't even know what to look out for. So, we're promoting that home-brewers need to have a keen, educated palate. These are things that we are always promoting through every outlet we have."
Now this is the point where I could make lighthearted jokes about sensory input and QC of alcoholic beverages, but the AHA takes education, training, and fostering good QC pretty seriously.
"They need to be tasting their product the whole time," says Bolling. "All the way from raw ingredients through the brew day through fermentation and, obviously, the end product. You need to have a honed palate to be able to recognize what's wrong or what's right with your beer."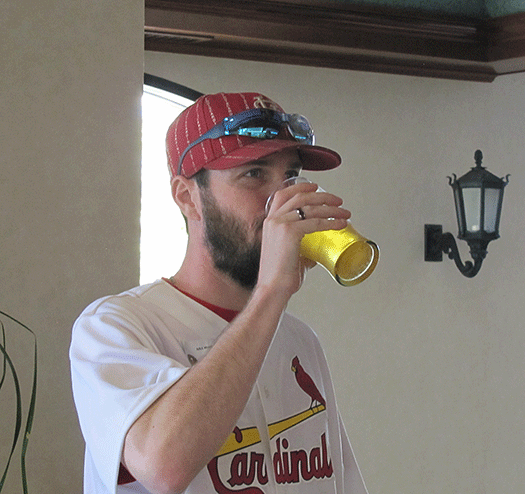 Rally attendee demonstrates the fine art of sensory evaluation.
Well, I'm all about educating my beer palate (I couldn't resist), but how does one gain the experience needed to graduate from imbibing to evaluating?
Tribal knowledge
"Whenever a home-brewer is really getting into the hobby, one of the best resources they can have is getting into a local home-brewing club," says Bolling. "They share what they're doing, and they're able to reach into a pool of knowledge that they didn't have. I credit a lot of my own knowledge in home-brewing to my local home-brewing club. Nothing beats joining a local club. You are there with people who can teach you things about your beer right there in front of you.
"The AHA publishes Zymergy magazine, which has all sorts of home-brewing recipes, tips and tricks, and all sorts of things you want to know about the hobby," Bolling continues. "There's no greater pool of resources available to you. You can go onto the AHA website and get recipes from award-winning brewers. Sure, you can also go onto the web at large and find endless recipes, but who knows how legitimate they are? Sometimes you get what you pay for. There are also numerous seminars on our site that are available to AHA members only that are given by some of the top brewing minds in the whole world."
Parting shot
"There's an infinite number of ways to make beer," says Bolling. "It's not rocket science unless you want it to be. But no matter how you do it, you want to make sure your equipment is sanitary and that you're following all the right steps to make sure you have healthy fermentation. The philosophy of the AHA is to have fun, but also make sure that you follow best practices in the course of your processes."
So in a nutshell—keep it clean, and taste it a lot. I got this.
About The Author

Ryan E. Day
Ryan E. Day is Quality Digest's senior editor for solution-based reporting, which brings together those seeking business improvement solutions and solution providers. Day has spent the last decade researching and interviewing top business leaders and continuous improvement experts at companies like Sakor, Ford, Merchandize Liquidators, Olympus, 3D Systems, Hexagon, Intertek, InfinityQS, Johnson Controls, FARO, and Eckel Industries. Most of his reporting is done with the help of his 20-lb tabby cat at his side.