Featured Video
This Week in Quality Digest Live
Douglas C. Fair
Operations
A Global View of Quality
Monitoring and analyzing data across the supply chain
Published: Thursday, January 14, 2016 - 15:56
When a consumer goes to purchase a new car, the first thing they'll notice is the vehicle's make. Yes, the car may say "Toyota" or "Ford" on the outside, but what's on the inside? In reality, the car's components—from the tires to the transmission—are typically manufactured by third-party vendors and suppliers. These and a myriad of other vendor-made parts are assembled in OEM factories all over the world, where the final product comes to life.
Today's supply chain has become increasingly global, as manufacturers in all industries (not just automotive) rely on various suppliers, plants, and assembly lines across the world to create a consistent, safe, and high-quality product with the lowest overall cost. However, for large, multinational organizations, it becomes difficult to ensure consistency without the ability to closely monitor global supply chain operations across the enterprise.
Visibility from top to bottom, east to west
First of all, manufacturers must understand that in the global supply chain, each step of the process, from raw materials to the final product, affects their hierarchy of personnel invested in the quality of their products. From a leading fast food company that receives its lettuce from a local farmer and a high-end furniture company that anticipates the arrival of natural wood for its cabinetry, to pharmaceutical packaging companies and defense contractors that expect quality plastics and metals for their products, every manufacturer needs to understand how the manufacturing process affects quality at every step of the supply chain.
However, for as long as many quality engineers and managers can remember, the primary focus has been monitoring operations on the individual plant floor. The goal was to catch product variations as soon as possible when a machine, process, or specification went out of an acceptable limit. To achieve this, many organizations implemented manufacturing execution systems (MES), statistical process control (SPC), and other quality programs to further their lean manufacturing and Six Sigma initiatives. Although this sets manufacturers in the right direction, it is no longer enough.
Leveraging technology to achieve visibility
It's time to turn, once again, to technology—this time, in the form of enterprise quality management software. By leveraging an enterprise quality solution with cloud and mobile capabilities, manufacturers can easily integrate every plant, supplier, and executive office into one centralized quality program. When powered by an SPC engine, a quality solution can collect and standardize manufacturing data from each site in real time and present it to users in a single repository. The ability for each player to see manufacturing processes in real time—i.e., 100-percent supply chain visibility—arms each person, from the plant floor to the executive office, with the information necessary to more efficiently and effectively complete their own job.
Moreover, enterprise quality software is able to tie suppliers into the picture. By monitoring suppliers' operations, manufacturers can verify that the components they receive meet their quality standards before they are incorporated into their products—even before the products are shipped from supplier to OEM. For example, a U.S.-based bicycle manufacturer used a cloud-based quality system to obtain a real-time view of its suppliers' processes in China. Now, the company can correct out-of-spec component products before they are even shipped.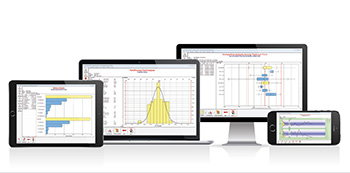 Figure 1: With a cloud-based enterprise quality management solution, users can access vital data any time and from any device.
Geographic, cultural considerations
When working with a global supply chain, it's important to recognize the varying technological capabilities of the dispersed geographical areas. The beauty of a quality solution with cloud-based capabilities is that manufacturing plants with limited manufacturing IT infrastructure, but local Internet connectivity, can fully integrate live production data into the repository. Alternately, a supplier in a location that doesn't have reliable Internet access can use smartphones or tablets to collect and send data to the quality system. This technology is able to break through geographical, cultural, and infrastructural barriers to connect the entire supply chain.
For example, a food and beverage leader used a cloud-based solution to standardize quality across 143 plants around the world. To address the standardization across geographies, the company's technology team worked closely with the vendor to employ user-based permissions and preferences that immediately recognize a user's location, preferred language, level in the corporate hierarchy, and required view of the software. As a result, line operators in Istanbul log into a screen written in Turkish and customized for real-time quality check alerts and data entry, while quality managers in Mexico log in to see dashboards and reports for data analysis in Spanish. Since deploying the solution, the company quickly saw time and cost savings, a reduction in maintenance, and an increase in operational efficiency.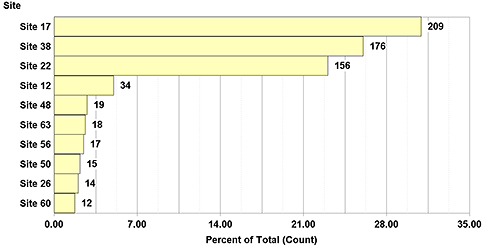 Figure 2: A Pareto chart of exceptions sorted by site and ordered by the 10 worst sites across an enterprise. Notice sites 17, 38, and 22 are clearly showing more issues than the other sites.
Finding the value in data: actionable insight with enterprise manufacturing intelligence
The technology is in place, and everyone is connected and monitoring data in real time across the entire supply chain. Now what? In addition to obtaining instant insight into enterprisewide operations, quality professionals can use the same data—in its "second life"—to obtain manufacturing intelligence that can be used to improve global operations.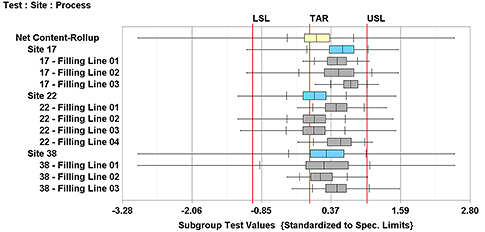 Figure 3: A box-and-whisker plot of a key characteristic (i.e., net contents) for Site 38, sorted by production line and product. From this plot it's clear that Product A on Filling Line 01 has the most variation across all products run at Site 38.
With the ability to slice-and-dice the data and perform in-depth, comparative analyses in an enterprise quality solution, manufacturers can pinpoint areas across the globe for continuous improvement and the greatest opportunities for cost savings. They can even conduct cross-plant comparisons to identify and replicate best practices for improving overall operations.
Staying competitive in the global manufacturing market is an ever-present challenge. By leveraging technology through enterprise quality management software, end-to-end supply chain visibility is now a reality. Every level of an enterprise now has the ability to maximize global competitiveness while cutting costs and delivering the most reliable, highest-quality products that their customers demand.
About The Author

Douglas C. Fair
A quality professional with 30 years' experience in manufacturing, analytics, and statistical applications, Douglas C. Fair serves as chief operating officer for InfinityQS. Fair's career began at Boeing Aerospace, and he worked as a quality systems consultant before joining InfinityQS in 1997. Fair earned a bachelor's degree in industrial statistics from the University of Tennessee, and a Six Sigma Black Belt from the University of Wisconsin. He's a regular contributor to various quality magazines and has co-authored two books on industrial statistics: Innovative Control Charting (ASQ Quality Press, 1998), and Quality Management in Health Care (Jones and Bartlett Publishing, 2004).