This Week in Quality Digest Live
L.S. Starrett Co.
Metrology
Starrett to Showcase Full Complement of Metrology Solutions at IMTS 2018
Robot-served vision, new force-testing products, and electronic gauges at booth No. 135532
Published: Wednesday, July 11, 2018 - 11:00
(L.S. Starrett: Athol, MA) -- The L.S. Starrett Co., a global manufacturer of precision measuring tools and gauges, metrology systems, and more, will be demonstrating a range of its latest solutions at IMTS, taking place Sept. 10–15, 2018, at McCormick Place in Chicago. The Starrett booth, No. 135532, will be located in the Quality Pavilion, East Hall. Visitors to the booth will be able to learn about automated vision technology and optical measuring systems, force-testing equipment, surface measurement, hardness testing, new electronic digital measuring tools, and wireless data collection to support manufacturing' s transition to Industry 4.0.
Among several hundred products and solutions that Starrett will feature at the show is the company' s innovative HVR100 "FLIP" Digital Video System, the industry' s first vision system to work upright vertically, or on its side horizontally, for application versatility. One of these systems will be demonstrating a fully automated metrology solution where the HVR100 will be served by a robot loading parts on the machine's work stage. The HVR100 provides rapid measurement results and features a large field of view, automatic part recognition, and powerful, easy-to-use measuring tools.
In addition, Starrett will be demonstrating its AVR300 Automatic Vision System, ideal for repetitive measurements and automatic comparison to CAD files, featuring both zoom optics and interchangeable telecentric lenses for micron-level resolution and accurate field-of-view measurements.
A compact, economical, benchtop optical comparator, model No. HE400 with a 16-in. screen, as well as two horizontal digital video comparators—model HDV300, featuring new updates; and model HDV500—will also be showcased in the Starrett booth. These systems combine vision and optical comparator technology, optimizing the best features of both technologies, with an interchangeable lens mounting system, go/no-go digital overlay capability directly from part CAD files, real-time video edge detection, and more.
Other metrology products at the Starrett booth will include force-testing systems, highlighting the company's launch of its entry-level L1 computer-based force-testing products. Optimized for production and quality control testing, the systems are easy to set up, operate, and maintain for performing a wide range of testing—from load, limit, and break testing to cyclic count testing and more.
Starrett will also be displaying a broad range of precision measuring tools, featuring electronic digital micrometers, indicators, height gauges, as well as the new Bluetooth-enabled bore gauges for wireless data acquisition via data collection devices and systems such as Starrett DataSure. Wireless acquisition will play a key role in supporting data-intensive Industry 4.0 initiatives.
Rounding out the Starrett range of measuring solutions at booth No. 135532 will be a display of Starrett True-Stone engineered granite metrology bases, and surface and hardness testers.
"With new products, the latest technology, and automation, we are looking forward to offering manufacturing professionals a full range of accurate, productive metrology solutions at IMTS," says Emerson Leme, head of the Metrology Equipment Division at Starrett.
In addition to its booth presence, Starrett will be presenting "Walk-Up Metrology" at the IMTS conference sessions. The presentation outlines the capabilities and use of a vision and multisensor system, and explains how it's effective for a wide range of measurement applications. The presentation, to be given by Mark Arenal, general manager of Starrett Kinemetric Engineering, will cover how companies can experience a rapid pay back on versatile walk-up metrology systems, which offer a versatile range of uses, from engineering and development and reverse engineering, to quality control and inspection.
The Walk-Up Metrology presentation will be held Tues., Sept. 11, 2018, from 11 a.m. to 11:55 a.m. in room W192-B in McCormick Hall. For more information and to register, visit http://www.imts.com/conference.
To address the company' s commitment to education and workforce development, Starrett will be participating in the Smartforce Student Summit designed to introduce students to exciting careers in advanced manufacturing by offering hands-on challenges, learning labs, and more, located in booth No. 215020.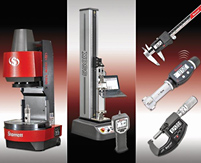 About The Author

L.S. Starrett Co.
The L.S. Starrett Co., founded in 1880, manufactures more than 5,000 variations of precision tools, gauges, measuring instruments, and saw blades for industrial, professional, and consumer markets worldwide. Starrett, a company that has set the standard for fine precision tools in industry for more than 123 years, has rightfully earned the title "World's Greatest Toolmakers."