This Week in Quality Digest Live
Olympus
Metrology
Olympus Releases Inspector Series 5.2
A unique approach to cleanliness analysis
Published: Friday, November 30, 2012 - 11:26
(Olympus: Center Valley, PA) -- Designed to provide customers with an effective and streamlined solution for quantifying microscopic residue, defects, and foreign particles, the newly released OLYMPUS Inspector Series 5.2 delivers accurate and reproducible data required to determine if manufactured parts meet quality specifications. The OLYMPUS Inspector Series is especially critical to industries with worldwide manufacturing locations, including the automotive, aerospace, heavy equipment, and medical device industries.
Olympus provides a single-source solution for automated particle counting that includes Inspector Series software, an optical microscope, digital camera, and motorized stage. Backed by comprehensive customer support, the Inspector Series now incorporates a particle standard designed to verify system performance.
The OLYMPUS Inspector Series is designed specifically for use with 47 mm membrane filters and is used by manufacturers to check the overall cleanliness of parts by filtering rinse fluid, then optically measuring and counting particulates up to several billion per filter. Advanced image analysis is also available, and particulate detection accuracy is improved with focus-mapping solutions for advanced materials with varying topographies.
The Inspector Series is extremely flexible and can be customized to adhere to internal company standards as well as today's most stringent international quality standards including ISO 16232 and ISO 4406/4407.
"The OLYMPUS Inspector Series maximizes safety and reliability while saving time and money by providing accurate analysis data during the manufacturing process," says Jennifer Wrigley, product manager at Olympus. "By counting, measuring, and classifying microscopic contaminants and particles, manufacturers can determine the cleanliness of the parts and fluids that impact the performance, lifetime, and reliability of their products."
For more information on OLYMPUS Inspector Series 5.2, visit olympus-ims.com/microscope/filter or contact an Olympus sales representative.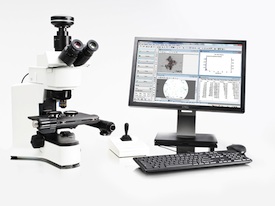 About The Author

Olympus
Olympus is a precision technology leader in designing and delivering innovative solutions and breakthrough technology in product design and functionality in its core business areas: cameras and audio products, industrial measurement and imaging instruments, life science imaging systems, and medical and surgical products. Olympus also serves health care and commercial laboratory markets with financial, educational, and consulting services. Olympus NDT Inc., located in Waltham, Massachusetts, is the U.S. marketing, manufacturing, and sales headquarters for ultrasonic and eddy current testing instruments.