This Week in Quality Digest Live
Teledyne DALSA
Metrology
Multicamera GEVA 400 Vision System Features Intel Quad-Core ATOM Architecture
Low power consumption, solid performance for wide range of applications
Published: Wednesday, February 20, 2019 - 13:00
(Teledyne DALSA: Billerica, MA) -- Teledyne DALSA, a Teledyne Technologies company and global leader in machine vision technology, announces a compact, low-cost vision system for multicamera applications.
The GEVA 400 system offers excellent cost savings for multicamera vision applications, such as final inspection of large assemblies. The four Power-over-Ethernet (PoE) gigabit-compliant camera ports are compatible with a wide range of cameras, including Teledyne DALSA's industry leading Genie Nano GigE. Adding cameras is easy with commercially available network technologies, allowing for large configurations at much lower system costs. The GEVA 400 features the latest Intel quad-core ATOM architecture, and offers low power consumption and solid performance for a wide range of machine vision applications. In addition, the system can be easily expanded with an optional PL-USB companion module that offers I/O expansion and easy integration for up to four GigE cameras.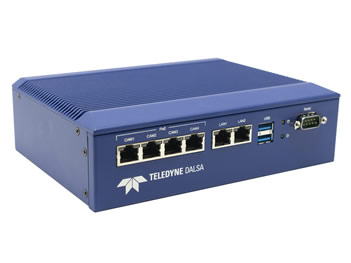 "Our new GEVA 400 system offers excellent cost/performance for a range of multicamera applications," says Steve Geraghty, general manager of Teledyne Digital Imaging US. "Complete with our trademark-embedded vision software, the GEVA 400 delivers a robust, reliable, and cost-effective solution for manufacturers across all industry segments."
In addition to the four PoE camera ports, the GEVA 400 includes ethernet and serial ports for communicating with third-party devices, four USB ports for set-up and run-time control, and a factory-enterprise, dedicated display.
Vision solutions on the GEVA 400 are set up using Teledyne DALSA's integrated iNspect or Sherlock software applications. iNspect software is easy to use and requires little or no prior vision experience, while Sherlock offers greater flexibility to tackle more challenging inspection tasks. Both software packages offer a wide selection of tools and capabilities for applications requiring positioning, identification, verification, measurement, and flaw detection.
Key features and benefits
• Quad core Atom @ 1.8 GHz for low-cost multicamera deployment
• 4 GB program memory, 256 GB SSD storage
• 4 GigE camera ports with PoE
• 2 GigE communication ports for third-party interfacing
• Four USB ports, one RS-232, VGA, and HDMI for direct connect display with high resolution
• -20° to 50° C operating temperature
• Fanless design provides a rugged and reliable platform for factories
• 55 × 145 × 198 mm, DIN-mount design makes the GEVA 400 easy to mount, consumes less panel space
• I/O support via external PL-USB, makes it easy to integrate with Genie cameras
• Win10 IoT-embedded 64-bit O/S with write filter protects drive image when power is lost
• iNspect Express and Sherlock 64-bit software for greater performance and efficiency
For more information about the GEVA 400 system, visit the vision systems section of the Teledyne DALSA website here.
About The Author

Teledyne DALSA
Teledyne DALSA is part of the Teledyne Imaging group and a world leader in the design, manufacture and deployment of digital imaging components for the machine vision market. Teledyne DALSA image sensors, cameras, smart cameras, frame grabbers, software, and vision solutions are used in thousands of automated inspection systems around the world and across multiple industries including semiconductor, solar cell, flat panel display, electronics, automotive, medical, packaging and general manufacturing. For more information, visit www.teledynedalsa.com/mv