This Week in Quality Digest Live
Quality Digest
Metrology
Microwave Network Analyzer
Published: Wednesday, September 12, 2007 - 22:00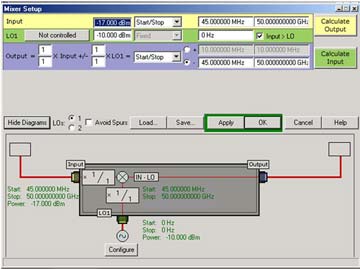 (Agilent Technologies Inc.: Santa Clara, California) -- Agilent has announced the availability of a new embedded local oscillator (LO) measurement capability for its PNA Series network analyzers. With its ability to accurately test frequency converters without having to directly access a common reference signal, this new measurement capability sets a new standard for radio frequency and microwave test engineers and technicians working on wireless and satellite communications systems.
Agilent's embedded LO measurement capability can be used with arbitrarily narrow-bandwidth devices—something not possible with methods requiring amplitude and complex modulation. Results from the new embedded LO measurement capability essentially match those achieved by phase locking two independent LO sources. On a typical Ka band satellite converter, delay accuracy as small as 125 ps has been achieved.
Typically, methods for characterizing the magnitude, phase and group-delay responses of a mixer require access to the LO. In satellite systems, though, the LO may be internal to the frequency converter and not accessible. Previous measurement methods also assume that the reference mixer must be driven with an identical LO frequency as the device-under-test (DUT); having an embedded LO precludes this. Agilent's new embedded LO measurement capability addresses this challenge by allowing users to accurately measure the relative phase and absolute group-delay responses of a DUT with a built-in LO source, and without having to access a common reference signal. A simple two-step calibration allows users to spend more time measuring their devices. Testing conditions have been optimized for maximum throughput without compromising quality.
A key aspect of this method is its ability to track the intermediate frequency (IF) of the DUT. This allows the frequency of the external LO—used for the reference channel mixer—to be adjusted to accommodate offset and drift in the DUT's embedded LO source. The phase of the DUT's IF is also tracked to accommodate phase shift or slight frequency error. Tracking is done using software techniques that do not require additional phase-locking hardware or added pilot tones.
The Agilent PNA Series of network analyzers consists of three families: the PNA, PNA-L and premier-performance PNA-X. The series builds on Agilent's 40-years of experience in the field to deliver microwave network analysis with speed, accuracy and versatility. Its architecture includes high quality, stable hardware, and flexible software.
For more information, visit www.agilent.com/about/newsroom/presrel/2007/10sep-em07143.html
About The Author

Quality Digest
For 35 years Quality Digest has been the go-to source for all things quality. Our newsletter, Quality Digest, shares expert commentary and relevant industry resources to assist our readers in their quest for continuous improvement. Our website includes every column and article from the newsletter since May 2009 as well as back issues of Quality Digest magazine to August 1995. We are committed to promoting a view wherein quality is not a niche, but an integral part of every phase of manufacturing and services.