Featured Video
This Week in Quality Digest Live
PQ Systems
Metrology
Latest GAGEpack Predicts Potential Failures, Expands Barcode Capability
Stay one step ahead of your work and prevent costly failures
Published: Tuesday, February 3, 2015 - 11:50
(PQ Systems: Dayton, OH) -- Predicting potential failure of calibration equipment is possible with the latest release of GAGEpack from PQ Systems, allowing users to stay one step ahead of their work and preventing costly failures.
A Global Wear Trend Analysis tool in the application quickly analyzes previous calibration results to find gauges that are predicted to fail in the near future, using a line of best fit calculation.
Other features in the new release of GAGEpack include expanded barcode capabilities with new, two-dimensional barcode capabilities and an available design wizard. Two-dimensional barcodes can store more information than that offered by single-dimension barcodes. Expanded options include printing of 2D barcodes for status and location choice lists as well as commands, gauge information, and even a freeform setting. The software supports the nine most common two-dimensional barcode types.

GAGEpack is a powerful gauge calibration solution that maintains complete histories of measurement devices, instruments, and gauges. To guarantee timely calibration, the software provides a variety of tools, such as:
• Calibration schedules and reports
• Alerts about failed and past-due calibrations
• Gauge location and status tracking
• Gauge repair records
• Audit trail for traceability
—A Task tab with a "To do" list
—Gauge event alert system
Additional features in the GAGEpack solution include:
• Added "Save to file" for batch report destinations, including printers, emails, or .htm files that can be viewed in Excel or any browser.
• New settings that save time during calibration events. As you complete your calibration steps, GAGEpack will update the Overall result (Pass/Fail) on the fly, based on results. It will reduce errors while entering results and save countless mouse-clicks moving forward.
• Improved features on the Chart Calibration history screens, with easy navigation through historical data for your calibration steps without needing to right-click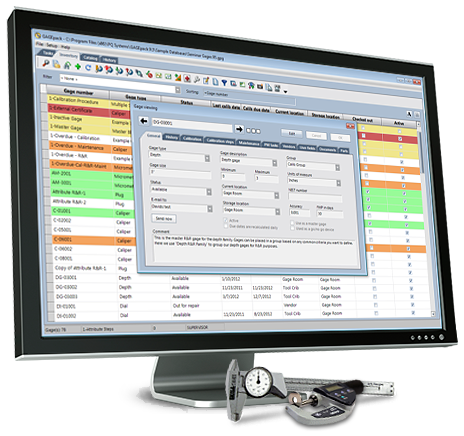 About The Author

PQ Systems
PQ Systems www.pqsystems.com is a privately-held company headquartered in Dayton, OH, with representation in Europe, Australia, Central and South America, Asia, and Africa and customers in more than 60 countries. For more than 30 years, the company has been helping businesses drive strategic quality outcomes by providing intuitive solutions to help manufacturers optimize process performance, improve product quality, and mitigate supply chain risk. The company's scalable solutions include SQCpack® for data analysis and statistical process control and GAGEpack® for system management. PQ Systems' world-class consulting, training, and support services ensure that clients receive the maximum return on their software implementations