This Week in Quality Digest Live
NewTek Sensor Solutions
Metrology
Introducing MBB Series of Ultra-Precision Dimensional Gaging Probes
They're spring-loaded AC LVDTs ideal for roundness measurements, automotive testing and materials testing
Published: Wednesday, January 23, 2019 - 12:00
(NewTek: Pennsauken, NJ) -- NewTek Sensor Solutions introduces the MBB Series of ultra-precision dimensional gaging probes engineered for highly accurate and repeatable measurement of dimensional parameters in a variety of quality control, industrial metrology, and inspection equipment applications.
Offering excellent linearity, great precision, and infinite resolution, these spring-loaded AC LVDTs (linear variable differential transformers) are ideal for use in roundness measurements, automotive testing, metal component gaging, and materials testing.
The MBB Series gaging LVDT probes feature a stainless-steel probe assembly and 8 mm diameter housing protected to IP-65. High-precision linear ball bearings provide for smooth probe movement with excellent repeatability and without stiction. Incorporating a linear ball bearing assembly fitted to a nonrotating probe shaft, the MBB Series gaging probes produce an output voltage linearly proportional to the probe's shaft position with minimal radial play. The use of an AC-operated LVDT for probe-shaft displacement reduces errors due to friction, resulting in a highly precise measurement of the position of a target surface.
More precise substitutes to mechanical position indicators and digital dial gages, the MBB Series of LVDT-based dimensional gaging probes are extremely reliable with greater than 100 million cycles with linearity of less than 0.05 percent of full range. MBB Series gaging probes are available in three standard ranges: ±.040 in. (±1.0 mm), ±0.100 in. (±2.5 mm), and ±0.200 in. (±5.0mm). Units are available in 0.315 in. (8 mm) and 0.375 in. (9.5 mm) diameters.
NewTek offers DC-operated signal conditioners such as the NTC Qwik-CAL signal conditioner that combine with the MBB dimensional gaging probes to create a complete linear position gaging system that outputs statistical quality control data on manufactured parts. Mounting several gage probes in suitable fixtures also creates a system for "go/no/go" inspection of complex mechanical parts.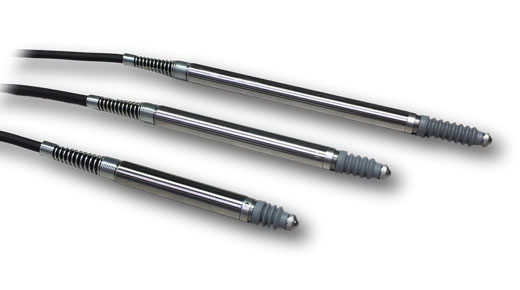 NewTek Senor Solution's new MBB Series of ultra-precision dimensional gaging probes are spring-loaded AC LVDTs (linear variable differential transformers).
About The Author

NewTek Sensor Solutions
NewTek Sensor Solutions designs and manufactures standard and customized position sensors for industrial applications and harsh environments.