This Week in Quality Digest Live
Quality Digest
Metrology
3-D Verification of Propeller Dimensions
Published: Wednesday, August 8, 2007 - 22:00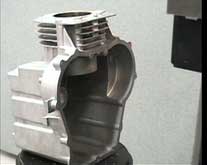 (Metron: Seattle, Washington) -- McCauley Propeller Systems, a manufacturer of aircraft propellers, recently installed and began using an automated laser-scanning system from Metron Systems. The system allows McCauley to rapidly confirm the 3-D quality of propellers, thereby decreasing inspection time and increasing the quality of the company's manufacturing processes.
Previous methods that McCauley used for determining whether an airfoil was within specification took more than an hour per blade. The current process, using the Metron G2 laser-scanning system, takes less than six minutes and gathers significantly more useful data. This rapid characterization of complex airfoil surfaces allows McCauley to reduce inspection costs, increase inspection accuracy, and improve the production process.
"The Metron laser-scanning system has exceeded our expectations," says Steve Reynolds, quality manager at McCauley. "The Metron team has been very responsive to our requirements and supportive of our verification process."
Metron Systems Inc. can be found on the Web at metronsys.com . To visit McCauley Propeller Systems' Web site visit www.mccauley.textron.com/home.html.
About The Author

Quality Digest
For 35 years Quality Digest has been the go-to source for all things quality. Our newsletter, Quality Digest, shares expert commentary and relevant industry resources to assist our readers in their quest for continuous improvement. Our website includes every column and article from the newsletter since May 2009 as well as back issues of Quality Digest magazine to August 1995. We are committed to promoting a view wherein quality is not a niche, but an integral part of every phase of manufacturing and services.