Featured Video
This Week in Quality Digest Live
DeFelsko
Metrology
Introducing the Next Generation PosiTest AT-A Automatic Adhesion Tester
Compensates for misalignment with a self-aligning actuator
Published: Wednesday, December 23, 2015 - 11:59
(DeFelsko: Ogdensburg NY) -- DeFelsko is excited to announce the next-generation PosiTest AT-A Automatic Adhesion Tester. The American-made PosiTest AT series measures the adhesion of coatings to metal, wood, concrete and other rigid substrates.
New features include a larger, impact- and scratch-resistant color touchscreen display with keypad; user-adjustable pull rate, pull limit, and hold time; and the ability to record the results as pass/fail and the nature of fracture—e.g., cohesive, adhesive, and glue failures.
Wirelessly connect to your smart device using DeFelsco's free app to create and share customized, professional reports. Add images, notes, and more using the camera and keyboard—ideal for capturing a picture of the dolly face.
Each PosiTest AT compensates for misalignment with a self-aligning actuator, enabling evenly distributed pull-off force on both smooth and uneven coating surfaces. Conforms to national and international standards, including ASTM D4541 and ISO 4624.
Call DeFelsko at (800) 448–3835, or visit www.defelsko.com for more information.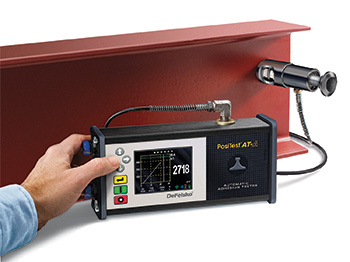 About The Author

DeFelsko
DeFelsko Corp. a U.S. manufacturer of coating thickness gauges and inspection instruments, has been delivering simple, durable and accurate gauges since 1966. Family owned and operated in northern New York, their state-of-the-art facility houses research, development, manufacturing, quality, sales, and service departments. At present DeFelsko has more than 70 models of coating thickness gauges and inspection instruments designed with unequaled handling characteristics and easy, trouble-free operation. They are simple to use and employ leading-edge technology, and come with a 30 day money-back guarantee.