This Week in Quality Digest Live
inTEST Thermal Solutions
Metrology
Temptronic ThermoStream Promotes Rapid Circuit Design of Power Devices
Automates temperature cycling by interfacing with Keysight B1506A analyzer
Published: Wednesday, October 7, 2015 - 15:44
(inTEST Thermal Solutions: Mansfield, MA) -- The integration of rapid temperature cycling with the Keysight B1506A Power Device Analyzer has been introduced by inTEST Thermal Solutions and Keysight. The Temptronic ThermoStream temperature forcing system automates temperature cycling of power devices by interfacing with a specially designed enclosure from Keysight.
Programmable control of ThermoStream systems permit a wide range of temperatures, from –100°C to +300°C. With fast thermal cycling rates, the ThermoStream promotes rapid circuit design of power devices such as IGBTs and MOSFETs.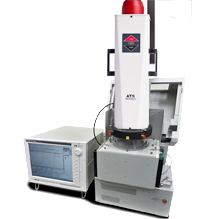 Programmable hot and cold thermal cycling adds to the previously announced capability where power devices are in contact with an inTES Thermal hot plate integrated in the analyzer's test fixture.
These thermal products are manufactured by inTEST Thermal Solutions, located in Mansfield, Maine.
About The Author

inTEST Thermal Solutions
inTEST Thermal Solutions specializes in the design and manufacture of thermal environments for electronics temperature testing and conditioning, and industrial process cooling. Thermal equipment includes temperature forcing systems, thermal chambers and platforms, and process chillers. inTEST is recognized for expertise on extreme thermal environments, -185°C to +500°C, and rapid transitions between desired temperatures. The inTEST Thermal family includes three temperature-related corporations: Sigma Systems, Temptronic, and Thermonics.