This Week in Quality Digest Live
Danatronics
Metrology
ECHO FD Flaw Detector Now Available
It's extremely affordable and can use a wide variety of transducers
Published: Thursday, October 6, 2016 - 15:08
(Danatronics: Danvers, MA) -- Danatronics, developer and manufacturer of ultrasonic testing equipment, announces the ECHO FD, a handheld, digital, ultrasonic flaw detector. ECHO FD is extremely affordable, light weight, and easy to use. It is equipped with a 3.5-in. sunlight readable color display, peak memory, two independent gates, DAC curves, AWS software, and standard 2 GB micro sd card memory.
ECHO FD has a fast 60 Hz display update rate and an on-board re-chargeable battery in a custom case designed for IP67 with rubber boot and stand. ECHO FD can use a wide variety of transducers from 1-20 Mhz in contact, delay line, duals, immersion, and angle beam for your flaw detection applications. ECHO FD is proudly designed and made in the USA.
For more information, call, click, or write to (978) 777-0081, www.danatronics.com, or sales@danatronics.com.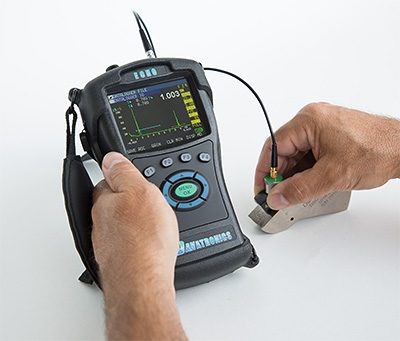 About The Author

Danatronics
Danatronics Corp. is a high-technology company specializing in the field of nondestructive testing (NDT). Danatronics combines the experience of more than 75 years of NDT know-how in the areas of ultrasonic transducers, thickness gauges, and flaw detectors as well as offerings in video inspection equipment. Its staff combines the talents of key personnel who have invented, developed, marketed, and sold ultrasonic NDT electronics on a global basis for the last four decades.