Featured Video
This Week in Quality Digest Live
Renishaw
Metrology
Renishaw Introduces Metrology Fixtures
Modular system is flexible, robust, and repeatable
Published: Monday, October 5, 2015 - 17:29
(Renishaw: Gloucestershire, UK) -- Renishaw will be demonstrating its new line of modular metrology fixtures for use on coordinate measuring machines (CMMs), Equator gauging systems, and multisensor inspection systems, at the upcoming Quality Show. Applying its 40 years of industrial metrology expertise, Renishaw offers a robust and flexible system for efficient and precise part holding. Fixturing plates have a hard-anodized coating of Nituff to resist wear and scratching. Steel components are black oxide-coated for improved durability, and magnetic standoffs are made with alnico magnets for temperature stability and wear resistance. To facilitate fast, reproducible setups and documentation to ISO and TS standards, each fixture plate has an etched alpha-numeric grid pattern, and each fixturing component has its own easily visible and identifiable part number. Most fixturing components are hand-tightened and require no special tooling.
Sold in preconfigured kits, the fixturing system for vision applications supports a variety of inspection tasks, regardless of part size, shape, and/or material. A comprehensive range of micro-components is available for very small parts, and clamps with soft tips are recommended for delicate workpieces. New features for vision and multisensor machine applications, such as quick load corners (QLCs) and interchangeable vision fixtures (IVFs) to further enhance system functionality. QLCs offer unique functionality for quick part turnaround, making quick and easy viewing and inspection possible. Each has built-in magnets so that Renishaw's acrylic plates can snap into a precise, repeatable position and can be loaded or unloaded quickly and easily. Steel pins are pressed into the sides of the acrylic plates to correspond with the magnets in the QLC. The edges of the QLC are serrated so that parts can be mounted and fixed directly against them using Renishaw M4 and M6 fixturing components for rapid, easy inspection. QLCs are specifically designed for use with all vision and multisensor machines. IVFs are custom-designed to enable fast and repeatable plate loading for larger vision and multisensor machines. Multiple plate set-ups are possible on a single machine bed to improve inspection process throughput and efficiency.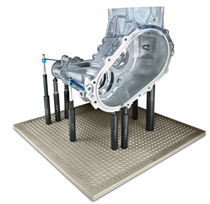 Renishaw fixtures for CMM and Equator gauges are also sold in preconfigured kits typically consisting of one base plate and a comprehensive selection of components, ranging from basic to advanced configurations. All kits include a component tray for organizing and storing the parts. Additional components can be purchased to increase the system's flexibility.
Modular fixturing has significant advantages over improvised methods, such as blue-tack or double-sided tape. Modularity eliminates the need to redesign and manufacture fixtures every time a new piece part is added to an existing inspection process. It also allows new inspection programs to be modeled and new fixture assemblies designed ahead of the manufacture of the first piece part.
For additional information on fixtures, visit renishaw.com.
About The Author

Renishaw
Renishaw is a global company with core skills in measurement, motion control, spectroscopy, and precision machining. Renishaw develops innovative products to advance operational performance—from improving manufacturing efficiencies and raising product quality, to maximizing research capabilities and improving the efficacy of medical procedures. Renishaw products are used in diverse applications including machine tool automation, coordinate measurement, Raman spectroscopy, machine calibration, position feedback, CAD/CAM dentistry, stereotactic neurosurgery, and medical diagnostics. Headquartered in Gloucestershire, United Kingdom, Renishaw's U.S. subsidiary is in Hoffman Estates, Illinois.