Featured Video
This Week in Quality Digest Live
Blue Ribbon Corp.

Metrology
Model BC001 Birdcage Submersible Level Transmitter
For years of trouble-free service life within even harsh environments
Published: Monday, September 21, 2015 - 12:44
(Blue Ribbon Corp.: Grand Island, NY) -- The model BC001 Birdcage submersible level transmitter from Blue Ribbon Corp. offers all-316-grade stainless steel construction for years of trouble-free service life within even the harshest of environments. An integral 3-in. sensing diaphragm eliminates process media clogging, a condition to which smaller level monitoring products are typically prone. This design also allows the Birdcage to read true level depth within foam environments, an accuracy advantage over radar and ultrasonic technology types. A protective stand-off baffle plate further eliminates the inherent risks of effluent sensor damage, particularly in applications where particulate matter may be present. The dual-sealed cable entry of the Birdcage Series is expressly designed to prevent leakage. Its Hytrel cable with integral vent is also impervious to many of the chemicals found in effluent waste. Units are offered with standard surge protection, helping to eliminate the risks of field failures caused by lightning or voltage spikes. The Model BC001 also features an intrinsically safe option for continued reliability within hazardous locations.
Blue Ribbon was the original innovator of the signature Birdcage submersible level sensor design, now an industry standard. As such, the company offers customers the value-added benefits of its nearly 20 years of field-proven expertise in the design and development of effective submersible level monitoring solutions. The Blue Ribbon Birdcage series is ideal for lift stations, wet wells, tanks, ponds, municipal water and wastewater, and other monitoring requirements. The series is also available with an optional extended five-year surge protection warranty, as well as a lifetime lightning protection warranty. Please consult the factory for details.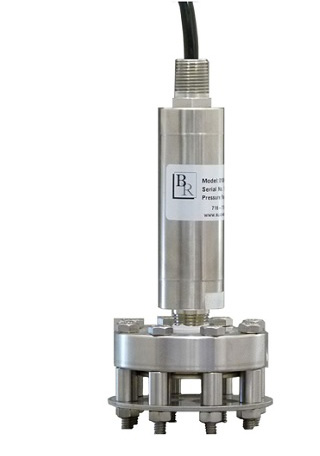 About The Author

Blue Ribbon Corp.
Blue Ribbon Corp. began by becoming a direct distributor of gauges and thermometers to satisfy the needs of OEMs, which required high volumes of low cost quality products.