This Week in Quality Digest Live
PCE Instruments

Metrology
New Borescopes With Hyperion Probes from PCE Instruments
Designed for workshops and the industrial sector
Published: Thursday, September 8, 2016 - 09:52
(PCE Instruments: Jupiter, FL) -- The manufacturer and supplier of high-quality measurement technology, PCE Instruments, has done a lot recently to increase their product portfolio by including some highly professional borescopes. The former PCE-VE series of industrial inspection cameras has been improved and expanded by some additional devices and is now called the PCE-VE N series. These borescopes can also be purchased with a special Hyperion probe with a 2-way, 4-way or 360 ° camera head. These Hyperion cables can be purchased optionally and are included in the standard delivery of the PCE-VE HR series.
One of the new HR endoscopes is the PCE-VE 370HR with a 1 m flexible cable or PCE-VE 370HR3 with a 3 m inspection cable. Both cables have a diameter of 6.o mm. The borescope is mostly used in workshops and the industrial sector, to look into the interior of machines, pipes, etc. It can save the user money as it makes it unnecessary to dismantle the machine, equipment, etc. to carry out maintenance work. An industrial borescope also enables operators to check filling levels, correct assembly of interior parts, and verify the completeness and location of certain parts within a machine or system, etc. The 360 ° addressable head makes the device very flexible to use, even in narrow spaces. The 4 LED lamps improve the illumination and thus the visibility in dark environments. The boost function improves the image quality in dark surroundings.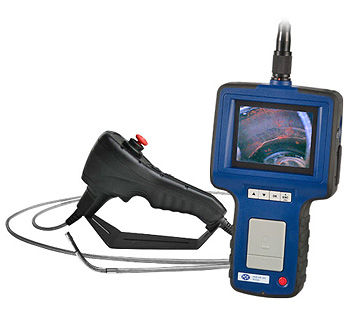 The images can be transferred to a computer for further analysis. A 2 GB memory card also allows you to save your recorded images.
Click here for further information.
About The Author

PCE Instruments
PCE Instruments is your global source for test instruments and digital measurement equipment device sales and service. PCE Instruments manufactures a wide range of test instruments (handheld and fix installed) for nearly all measurement parameters. We distribute our devices direct to you from our online catalog, and also sell top quality products made by other first class manufacturers.