Featured Video
This Week in Quality Digest Live
HEIDENHAIN Corp.
Metrology
RENCO Modular Rotary Encoders Ideal for Mobile Robots
Reliable motion and speed feedback control in automated guided vehicle (AGV) projects
Published: Wednesday, September 2, 2015 - 11:53
(HEIDENHAIN: Schaumburg, IL) -- HEIDENHAIN's RENCO brand of encoders are well-suited and available for use within a variety of mobile robot applications. Specifically, the modular RENCO R35i and RCML15 rotary encoders (new brochure available) have proven to be essential for motion and speed feedback control in automated guided vehicle (AGV) projects used in distribution warehouses, manufacturing plants, and medical facilities. The encoders' slim and lightweight design combined with their reliability is making them a popular go-to source for AGV feedback.
The RENCO R35i rotary encoder is particularly noted for its modular design without an integral bearing. It has a compact design with a 35 mm outside diameter and only 14 mm height as well as an easy, self-centering mounting, thanks to a patented slide lock. With its OPTO-ASIC technology, the RENCO R35i offers the greatest possible functionality with the smallest possible dimensions.
The RENCO RCML 15 rotary encoder offers similar reliability along with the OPTP-ASIC technology. It has a height of only 8.9 mm, offering an alternative to the R35i with a very low mounting profile.
AGVs are mobile wheel-based robots designed to carry a load through a facility without an onboard operator or driver. Due to new advancements of technologies used within the intelligent and flexible material handling field, many large warehouses and distribution centers have adapted to using AGVs. This switch has led to an increase in efficiency and a reduction in costs by automating some of the manufacturing facility or warehouse.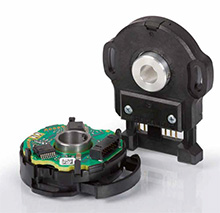 The RENCO brand R35i and RCML15 rotary encoders currently provide motion and speed feedback in AGV motors, which operate a multitude of the axes. The most common axis is the motors used on the AGV drive wheels. When using the RENCO encoders, an AGV system can accurately monitor and establish its speed with consistent repeatability. These aspects are crucial to the machines as they may need to interact directly with a person, and this level of quality is required in order to ensure the safety of the people involved.
The RENCO encoders' slim and lightweight design allows motor designers more flexibility, especially in these applications where space and weight are critical. The encoders combine brushless motor commutation pulses and incremental position feedback, which reduce cost while improving the performance and reliability of the brushless motor/encoder package.
Typical AGV applications include transportation of materials, storage and retrieval in support of picking in warehousing and distribution applications, carrying medical supplies and equipment within hospitals, and material handling within clean rooms in the semiconductor industry.
About The Author

HEIDENHAIN Corp.
HEIDENHAIN Corp. is the North American subsidiary of DR. JOHANNES HEIDENHAIN GmbH, international manufacturer of precision measurement and control equipment. HEIDENHAIN Corp. develops and manufactures linear scales, rotary and angular encoders, digital readouts, digital length gauges, computer numerical controls, and machine inspection equipment. HEIDENHAIN products are used in high-precision machine tools, for the production and processing of electronic components, for various telescopes and satellite receiving antennas, and in measuring and test equipment developed and built for many of the world's standards laboratories.