Featured Video
This Week in Quality Digest Live
Kreon Technologies
Metrology
Kreon Launches Ace Skyline
New product is an articulating arm with integrated scanner
Published: Tuesday, May 31, 2016 - 14:21
(Kreon: Limoges, France) -- At the recent Control tradeshow in Stuttgart, Germany, Kreon Technologies unveiled the Ace Skyline: a Kreon scanning arm with the powerful integrated 3D scanner Skyline that can be used for any application (e.g., 3D inspection, CAD comparison, reverse engineering, rapid protyping).
The Ace Skyline is the only scanner on the market to combine a wide laser line (200 mm), a maximum frequency of 300 lines per second, and a scanning speed of 600,000 points per second. The mix of speed and 200 mm laser line allows for fewer scan passes to digitize any part in record time. In addition, its 15 μm accuracy means that Ace Skyline can deal with the most challenging requirements.
Equipped with a high-definition camera and 2,000 noninterpolated points per laser line, Ace Skyline produces a high-resolution point cloud, catching the smallest details. Scan processes are shorter and more efficient.
Ace Skyline's blue laser scanner can digitize shiny or reflective parts. Coupled with its integrated probe, both contact and noncontact measurements are possible. Ace Skyline weighs less than 400 g, and an LED indicator helps the user to visualize instantly and precisely the ideal scanning distance. There is no external controller and no tools are required to change probes.
Ace Skyline will first be available with a 200 mm laser line width. Other versions, with different line lengths and accuracies, are planned to be launched by the end of the first quarter 2017.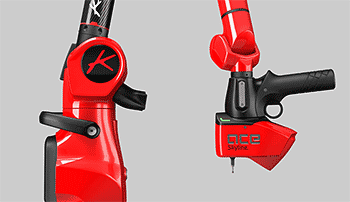 About The Author

Kreon Technologies
Kreon Technologies believes in fundamental values: performance, know-how, quality, innovation, and reliability. For more than 20 years, the Kreon company has implemented advanced technologies and manufactured systems with high quality materials. Product assembly is controlled each product is calibrated at every stage. The Kreon team is committed to providing customers with solutions, to help decrease production costs and time, to increase efficiency, and to control processes.